Articles
Financial literacy classes can help low-income kids see why they need the salary boost that comes from staying in school.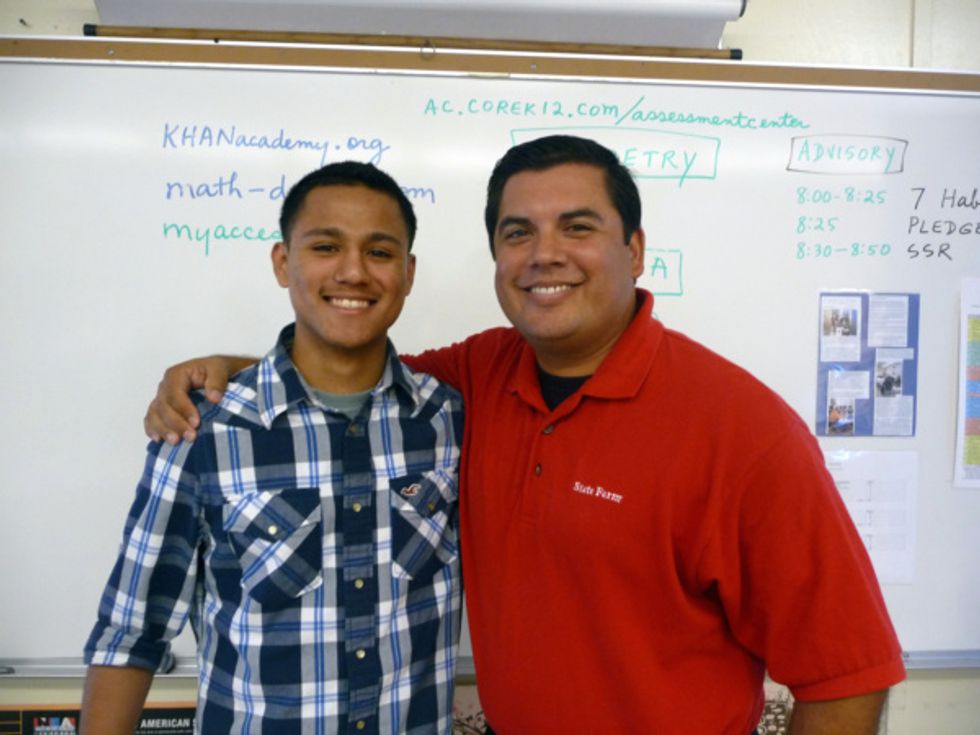 Could financial literacy be key to getting at-risk students interested in finishing high school and heading to college? At Avalon High, a 150-student continuation school that serves a majority low-income Latino population in Los Angeles, teens who weren't successful in traditional high-school settings are learning the basics of budgeting, credit, saving, and investing in their futures.
"I see myself in these kids. I was one of them," says Frank Leon, a successful State Farm insurance agent who grew up in the community and teaches financial literacy classes to Avalon's students as part of his company's national Make It Possible initiative. Indeed, Leon knows the name of the corner store where the kids buy snacks after school, and he's happy to explain the merits of putting money in a bank instead taking the risk of getting robbed after cashing a paycheck at the currency exchange.
---
With his keep-it-real style and cultural familiarity, Leon holds the attention of over 40 students at a time while discussing financial topics that put some adults to sleep. During his most recent class, Leon discovered that only one student in the room had any budgeting experience, so he had the class create a financial plan together.
The students debated how much they'd need to spend to rent a studio apartment, buy food at the local grocery store, and pay utility bills, all the while teasing Leon about how much it costs to house and feed his family of seven. When they discovered that in order to survive in Los Angeles for a year each one would need to earn at least $30,000, one shocked teen blurted out that she's "never leaving home." Then, Leon engaged the kids in a discussion about whether they'd be able to afford hanging out with their friends or buying the hot new Air Jordans.
Just when the teens were beginning to realize that they'd never have any extra spending money after paying for the basics, Leon explained why going to college is a good path toward earning enough money to survive. He put up a slide showing that the average annual salary for someone without a high school diploma is a mere $18,623—about $27,915 for people who managed to graduate from high school. "Do you have enough money to survive in L.A. if you stop going to school?" Leon asked.
The teens quickly acknowledged that they would not. When the students saw that the average salary for college graduates is $51,207—meaning they'd have enough money to pay for the basics, save some money, and buy a few extras—Leon didn't have to give a preachy lecture about the importance of continuing their educations.
Luis Vasquez, an 18-year-old senior at Avalon who has participated in Leon's classes for two years, says most of his peers don't think about the connection between education and being able to pay the bills. He believes all high school students would benefit from financial literacy classes: "It opens our eyes more so we can see that education is important if you want to earn a good salary." After Vasquez performed well in last year's class, Leon set him up with an internship at his State Farm office. Now, Vasquez says he plans to study business, law, or pharmacology in college and build a successfully, financially stable life for himself and his family.
Photo by Liz Dwyer