Articles
How To: 10 Ideas to Blow Up Your Block Party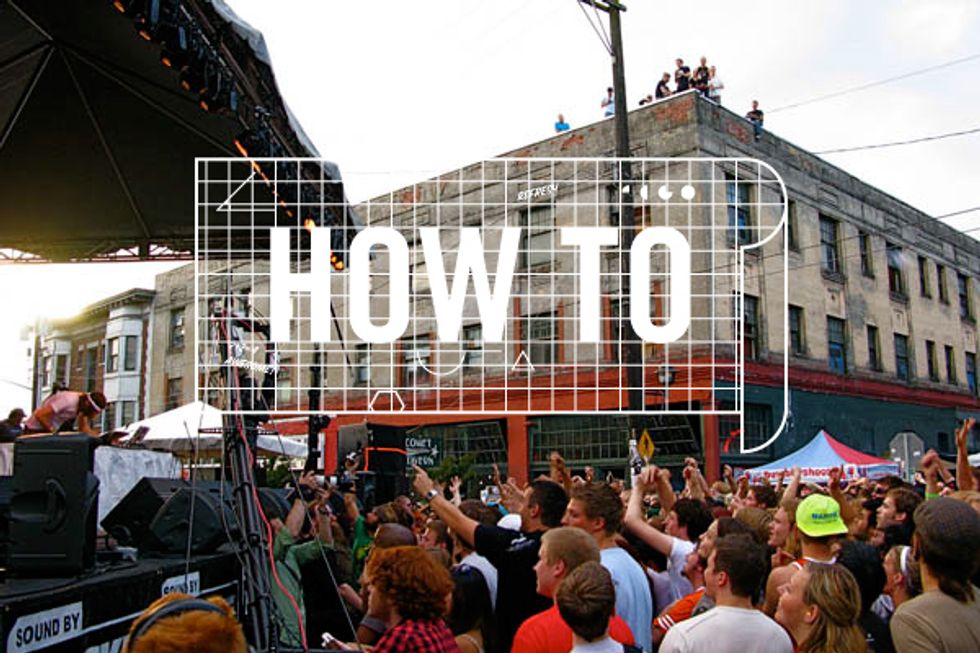 Summertime is just around the bend and you know what that means? Block party! If you live in Youngstown, Ohio, or the San Fernando Valley, no matter: block parties happen in city and suburb alike. But it'll take more than a bbq and a boom box to make it legendary...
---
A few of my favorite tips:
1) Share your skills. Ask your neighbors to participate in a skill share throughout the day. Create a schedule and invite people to teach classes like knitting, yoga, and gardening.
2) Make a reading room. When you think of a block party, you probably don't think books, but alas, reading rooms are a nice alternative to the loud festivities of the day. Invite a local author for a reading or host a children's storytelling hour. Trust us, people will love the chance to sit in and listen.
3) Build a photo booth. What's better than having your photo taken? Squeezing into a box to have your photo taken. All you need is a curtain, a stool, and lots of polaroid film, which you can easily find on Ebay. Don't have the time to build one? Try renting one instead.
4) Lift every voice and sing. What's better than the sweet voice of a child singing? A whole bunch of them. Give the kids a chance to get on stage for the first time. Not enough kids around? Bring in a DJ who can take requests and make the music experience more interactive. At the very least, send out a group email for requests and fill up your ipod democratically.
5) Bring in local vendors. Show your neighborhood some love and invite local vendors to display their wares. Classic block party hits: t-shirts with your neighborhood name, girl scout cookies, and homeade lemonade.
6) Invite the pound puppies. Your family needs a cuddly little kitten, right? Well, maybe not, but maybe your neighbors do. Invite a local shelter to set up shop. Many have mobile adoption vans they can bring by. Who knows, maybe you'll end up with a new roommate.
7) Play! You can't go wrong with classics like bobbing for apples, potato sack races, and hopscotch. But get creative—you've got Wii to compete with. Scavenger hunts: a big hit, and chalk, lots of it.
8) Make art. Could be the most labor intensive part of the day but you've got everyone in the same place at the same time. Why not put them to work? Doable projects include: a mural, community garden, and tree plantings.
9) Screen a summer classic. Borrow a projector, spread out some blankets and just as dusk arrives (and people are exhausted) start the film. Some favorite summer classics: Ghostbusters, Raiders of the Lost Arc, Super Fly, Do the Right Thing, and Fame.
10) Don't forget the ice cream truck! If you live in Los Angeles, invite Coolhaus to stop by. If you live somewhere else, just flag down your local truck the next time they're in the neighborhood and provide the date and time. They'll be more than happy to oblige.
Photo (cc) by Flickr user deejayres
This post originally appeared on www.refresheverything.com, as part of GOOD's collaboration with the Pepsi Refresh Project, a catalyst for world-changing ideas. Find out more about the Refresh campaign, or submit your own idea today.