Articles
Starting in July, a new program might allow kayak trips along the L.A. River. But it needs public support to make it happen. Here's how you can help.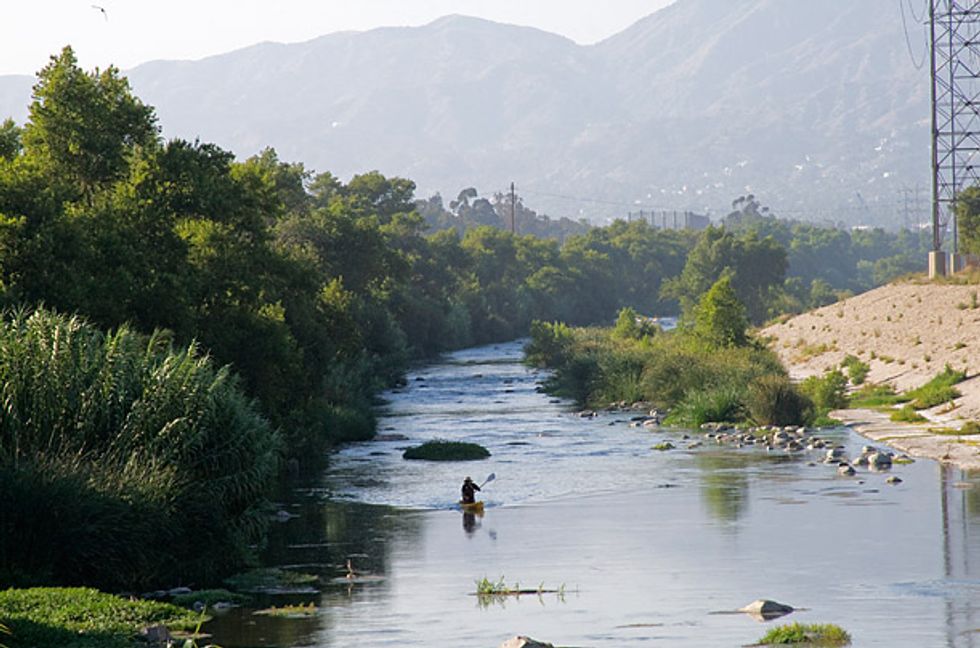 We were among the voices that cheered last year as the Federal Environmental Protection Agency overruled the U.S. Army Corps of Engineers and declared the whole Los Angeles River navigable and protected by the Clean Water Act. But according to environmentalists, that was only half the battle. "The Clean Water Act was about protecting the water and the watershed, but it didn't address the issue of public access to the river," says George Wolfe.
---
Wolfe is known to some of us as George the Commuter, who kayaked his way down the L.A. River to work in 2008 and captured it on YouTube. Despite repeated instances of people navigating the 52-mile stretch of the river, the question of who gets access to the river is still very murky territory. Wolfe says that there is still a lot of hesitation when it comes to opening up L.A.'s waterway to its public. Now the public has a chance to show its support for opening up access to the river.
[youtube]http://www.youtube.com/watch?v=0ro__HhM_3I
This July, Wolfe's LA River Expeditions might be granted the ability to work with Los Angeles Conservation Corps, Mountains Recreation Conservation Authority, and other partners, in running the pilot boating program within the boundaries of the Sepulveda Flood Control Basin, a three-mile stretch in Encino. If approved, ten to twelve prospective kayakers at a time will be let onto the river for a tentative fee of $50 each. Guides who are also park rangers for the Mountains Recreation Conservation Authority, all trained in search and water rescue techniques, will accompany groups "to provide the safety element so that the program can be approved and be successful," says Walt Young, chief park ranger.
The program is currently open for public comment, and needs your voice in order to be approved. Show your support by sending an email to the Army Corps addressed to Lisa Sandoval, U.S. Army Corps of Engineers, at lisa.m.sandoval[at]usace[dot]army[dot]mil by Thursday, June 30 at 5:00 p.m. Wolfe says that a final decision on being granted a permit might be known in early July. In the meantime, you can sign up for an LA River Expeditions trip and be the first to know when the excursions are approved.
Live in Los Angeles? Join GOOD LA and you'll get one good L.A. story (like this one!) in your mailbox each day. You can also follow GOOD LA on Facebook and Twitter.
Photo by Peter Bennett