Articles
As Los Angeles's River Runs Again, Designers Determine Its Course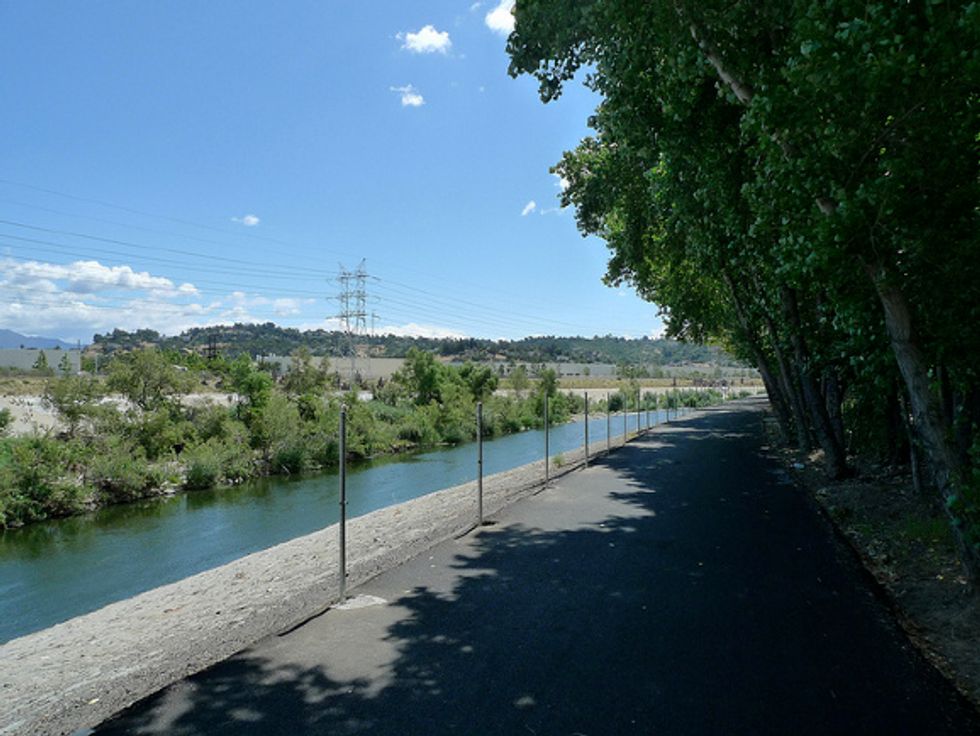 I have not studied the complete history of famous rivers, but I think I can confidently say that the Los Angeles River is having a big month. In fact, it may be the river's biggest month since February 1938, when, flood-fueled, it sloshed so far out of its banks that it busted down dams, destroyed thousands of houses, and killed around 100 people. Engineers at that time couldn't handle the task of taming the beast in a way that could assure ecological conservation, so they controlled it the only way they knew how: Those lovely concrete channels that let the water slice through the city faster than a flushing toilet.
---
Because of this unfortunate oversight, the Army Corps of Engineers determined that the Los Angeles River was not made up of "traditionally navigable waters." It is, by the way, technically navigable; many people have kayaked all 50 miles of it—including one Army Corps employee who lost her job. And not all of it is a concrete chute. But, deemed unnavigable, the river lost its shot at federal funding that could have helped to tidy it up, including dollars from the Clean Water Act.
[youtube]http://www.youtube.com/watch?v=gC-nbwbqNY4
So that's why July 7 was a really big day for the not-quite-river: Representatives from the Environmental Protection Agency stood on its banks and made a sweeping statement that reversed its previous decision. The Los Angeles River was once again a river.
A big reason that the EPA made that statement was because they plan to make an example of Los Angeles's watershed. If they can revitalize our little cement chute, there's great hope for everything from sustainably managing seasonal floods in urban areas to "daylighting" buried creeks which are buried below years of development. And it's especially important that Los Angeles is in such a parched corner of the west, where access to water is a bigger concern for some people than money. We can be a model for making rivers run safely, cleanly, and beautifully through other metropolises.
Thus comes the Los Angeles River's next big milestone: July 16.
On this day, I joined a dozen other people in jail. We were atop the blisteringly hot helipad for the Twin Towers containment facility, where the concrete seemed to simmer endlessly in all directions, then blur mirage-like into the distant concrete of the train yards, bus yards, scrap yards. Lewis MacAdams, who founded the Friends of the Los Angeles River 23 years ago, used to carry a fake L.A. Weekly press pass to gain access to this roof, which offers one of the only truly unimpeded views of the river and how it curves through downtown. He pointed out the various landmarks below, as well as an interesting detail: From here, you can actually see how Los Angeles is nestled in a very obvious river valley.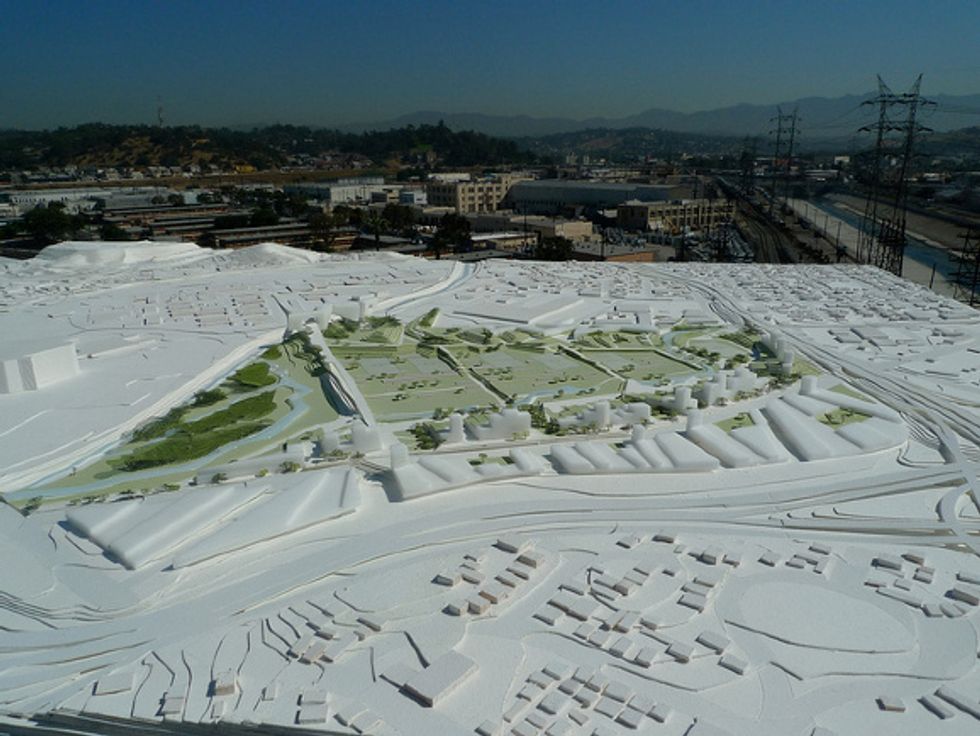 We stood here because it had the very best view of Piggyback Yard, a 125-acre site where shipping containers move from trains to trucks. It's not used nearly as much as it used to be, and in a few years, it will be up for sale. The Friends of the LA River are planning on transforming it into the tongue-in-cheek Piggy Backyard, a park and mixed-use development which will offer the first truly revitalized and redeveloped portion of the river.
The most exciting part of the plans, which were revealed on that helipad, is that Piggy Backyard would actually be the age-old solution to managing those outrageous floods the 1930s engineers couldn't envision. The plan would essentially turn Piggy Backyard into a mini-floodplain by either widening the river channel, or diverting a significant amount of water into wetlands. When large amounts of water came surging downstream, it would flow freely into the greenspace, perhaps rendering some of the park unusable, but actually allowing the water to sink down into the aquifer, instead of being pushed out to sea.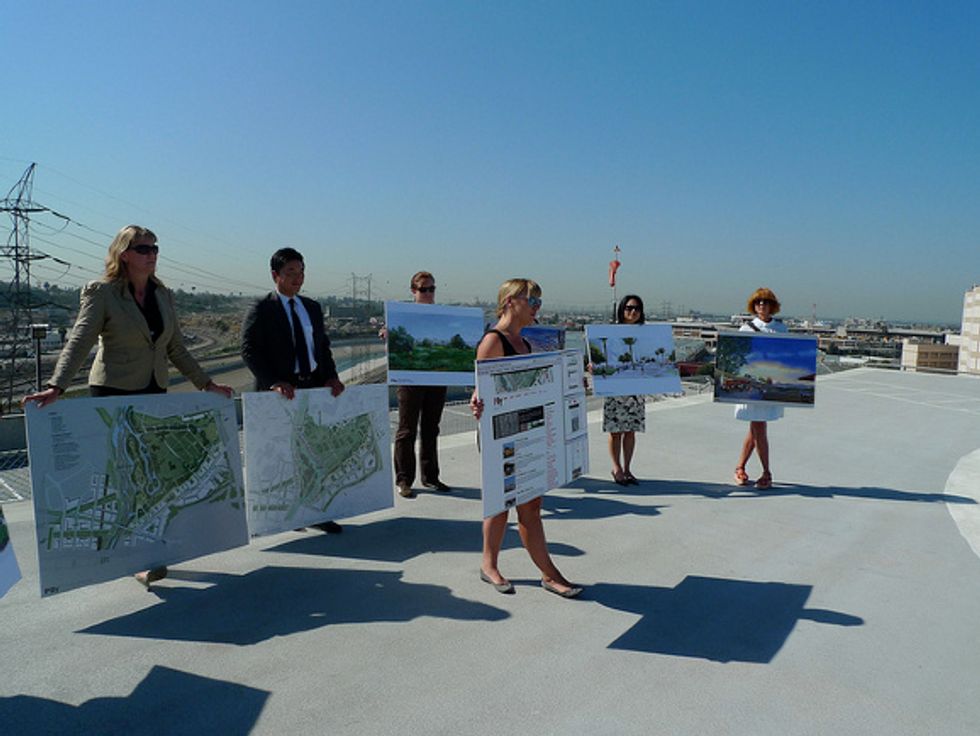 The team behind this plan is the PBy Collaborative Design Group, a collective made up of architects at Michael Maltzan Architecture, Perkins + Will, and Chee Salette Architecture Office, as well as Mia Lehrer, the landscape designer who was also part of 2005's Los Angeles River Revitalization Master Plan (and judge of our recent school garden design contest). Lehrer noted that the groundbreaking for another park, Civic Park, was happening simultaneously, about a mile away. While parks are always welcome in downtown Los Angeles, it seemed ironic to be moving buildings around to make room for greenspace, when there was such an opportunity to naturalize our greatest resource just a few blocks away. "We need to focus on the river," she says.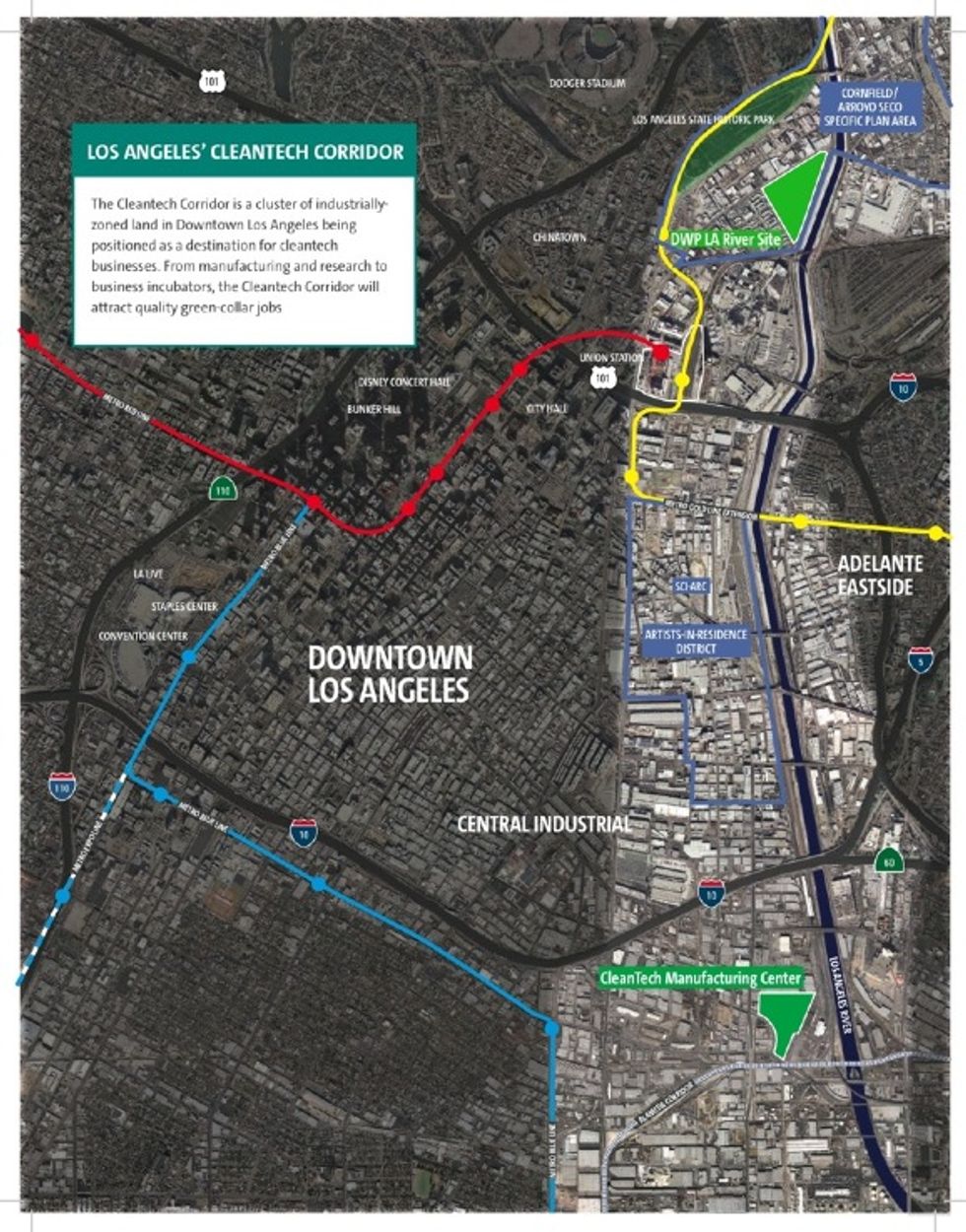 Thankfully, there's even more attention being heaped upon the river (told you it was a good month). Two years ago the Community Redevelopment Agency revealed a proposal for a Cleantech Corridor, a massive plan to retrofit the city's outdated manufacturing district for green industry and sustainable living, making one of the largest greentech districts in the country. This month, SCI-Arc and The Architect's Newspaper announced the Cleantech Corridor & Green District Competition, where designers will communicate their visions for what this area should look like. As you can see from the map above, the corridor follows the river like a spine, meaning more architects, designers, and planners will be offering their ideas for how an urban river can interact with progressive businesses and residents.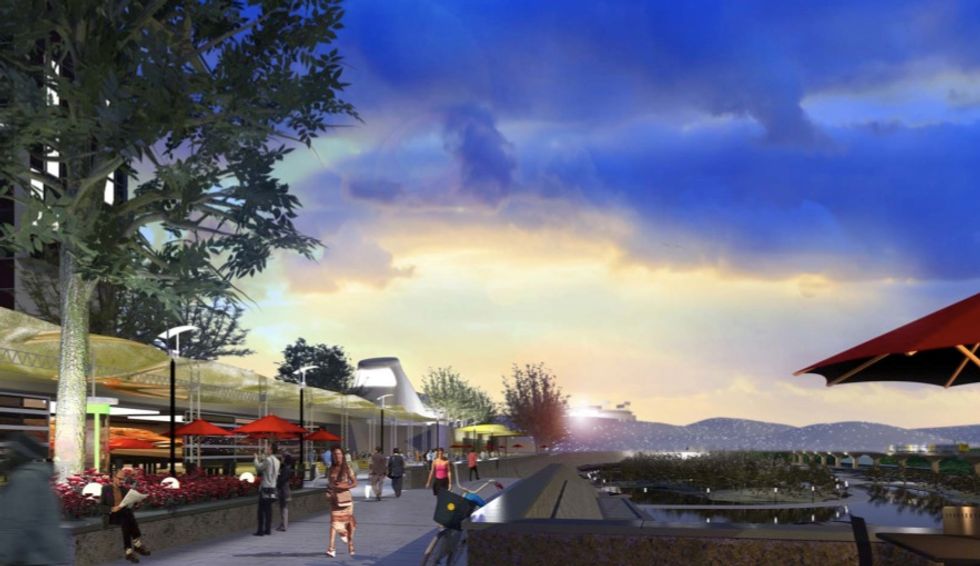 And yes, there's more. California's High Speed Rail system—the impending train network linking the state's major cities—is also intertwined with the river's future. Piggy Backyard is walking distance from Union Station, where the city's high-speed rail station will be constructed, and any routes in or out of that station must pass over (or under) the river channel. Once again, designers and architects are figuring prominently into that vision. RailLA, which we've written about here before, launched a call for ideas that will be featured in an upcoming exhibition, LA Beyond Cars: A Global Perspective on Rail and Public Space, which will open July 29 in the city. It's impossible to envision the river without rail—namely because it's a site so criss-crossed with train tracks—most of which will need to remain in place. But also because they both offer symbols of Los Angeles's greener future.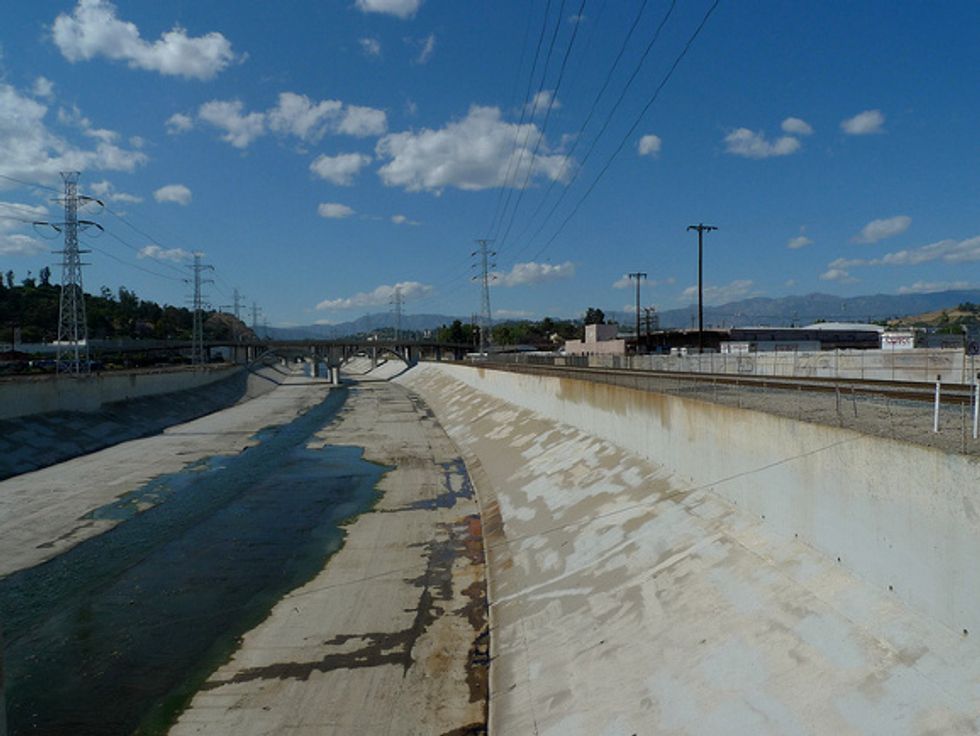 In my time in Los Angeles I have found that there are two kinds of residents: Those of us who become fiercely protective of the river, and those of us who quite honestly don't even know that it's there. On that sweltering morning, standing on a prison, disoriented by my first true 360-degree view of my city, I admit it took me a few minutes to find it. But it was there, a strip of dark blue-green ribboning its way through the chalk-white channel. After seeing the plans for its future, and the designers who are so invested in them, in my mind, I was already swimming in it.
Renderings courtesy of PBy Collaborative Group