Articles
How to Play in the Streets at CicLAvia This Sunday
Over seven miles of open streets leave plenty to the imagination. Here's how you can maximize your fun at CicLAvia this Sunday.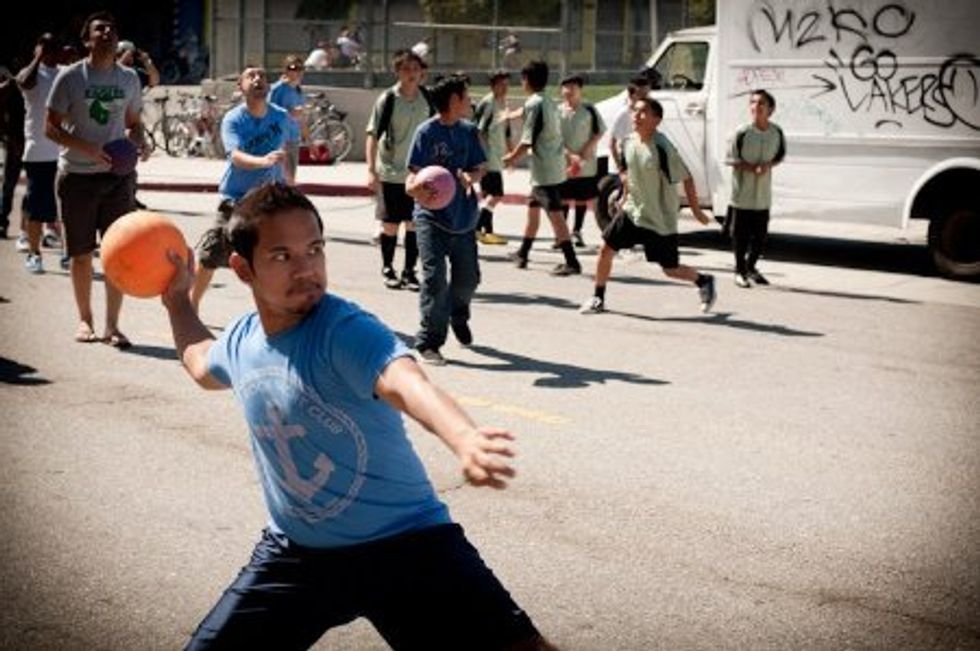 This Sunday,
CicLAvia
will open 7.5 miles of Los Angeles streets for walking, biking and skating. Which means you've got two days to make some decisions. Do you start at Hel-Mel and head to Boyle Heights, or go Boyle Heights to Hel-Mel? Wheels or feet? Beach cruiser or longboard? Curbside tamales at Mama's Hot Tamales or tantalizing mochi at Fugetsu-Do? Beer or water?
It's tough to decide, we know. But here are some of our picks for how best to enjoy L.A.'s open streets.
---
Start with a feeder ride: If you're coming from another part of the city, join one of the feeder rides that will be winding their way through L.A. in the early hours of the morning. With plenty of neighborhoods represented, you're sure to find a ride near you.
Go scavenging in Little Tokyo: Hidden Los Angeles is planning two scavenger hunts through the historic Japanese neighborhood. Register now or check in starting at 10:00 a.m. at the FamilyFinds table in the courtyard of the Japanese American National Museum; the hunt begins at 11:00 a.m.
Join the GOOD Book Club: Have you been reading Reyner Banham's Los Angeles: The Architecture of Four Ecologies? Us, too! Los Angeles Times architecture critic Christopher Hawthorne will be leading a discussion about the book at the 7th Street overpass over the 110 freeway starting at 12:00 p.m. More details here.
Dine and drink: We love CicLAvia's food truck and snack and bar and restaurant suggestions, including some usually-nocturnal locations which will be opening during the day Sunday—Mas Malo and Casey's open at 10:00 a.m., Seven Grand at 12:00 p.m.— just for you thirsty bikers.
Play dodgeball: The Eagle Rock Yacht Club will be back with what's now an official CicLAvia tradition: playing dodgeball on the streets of L.A. They'll be at 7th and Valencia starting at 12:30 p.m. Here's information and a map. Duck!
Come say hello to GOOD: We'll be stationed at a table on the north side of 1st Street between Spring and Main at the City Hall South Lawn rest stop. Take a load off and relax with us in the shade of City Hall.
Keep the party going: CicLAvia officially ends at 3:00 p.m., but the after parties will go until dark. Join us back at Atwater Crossing for the Rio Arriba Tour starting at 4:00 p.m., featuring cumbia music from Buenos Aires presented by Trent Wolbe and dublab.
And if you can't do it all, don't worry! The next CicLAvia is scheduled for July 10.
Photo by CicLAvia
Live in Los Angeles? Join GOOD LA and we'll introduce you to more people, projects, events and ideas that are making L.A. work. We're also on Facebook and Twitter.