Articles
GOOD Event: We're Throwing a (Fun) Fundraiser for CicLAvia
CicLAvia has scheduled three more dates in 2011! Help them open L.A. streets by coming to a party co-hosted by GOOD LA.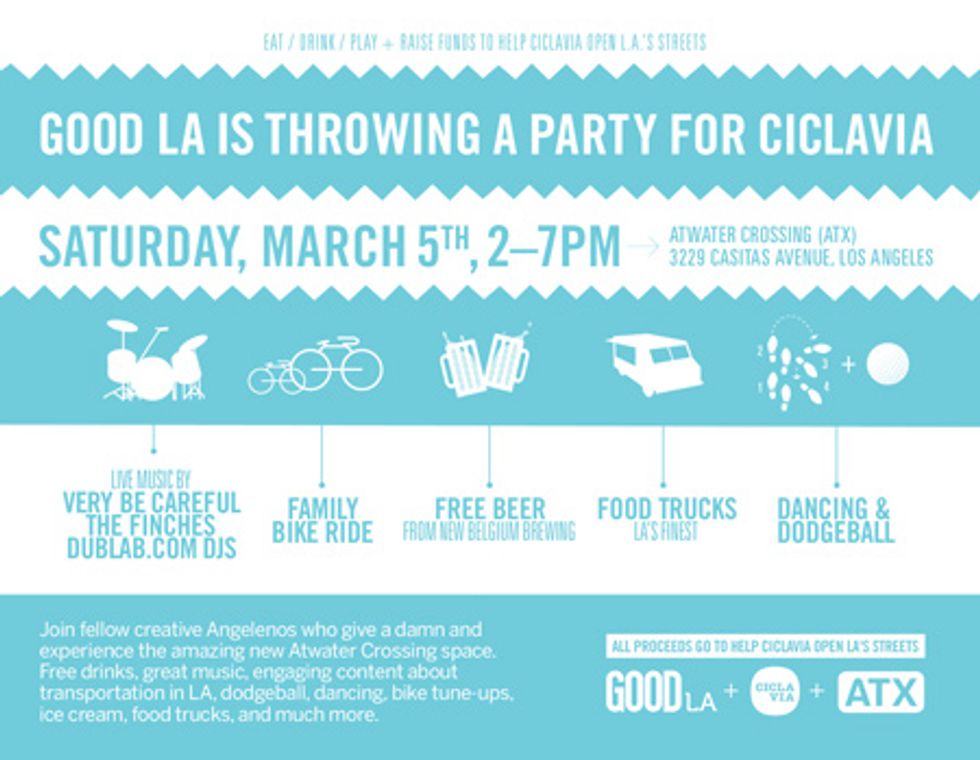 Last fall, we at GOOD, like tens of thousands of other Angelenos, participated in
CicLAvia
, a fun, free, family-friendly festival that closed 7.5 miles of Los Angeles streets. This year, CicLAvia is planning three more days of open streets for Los Angeles—
April 10
,
July 10
, and
October 9
. Mark your calendars! Knowing how expensive closing streets can be (especially here in L.A.), we wanted to help CicLAvia raise funds and awareness for one of L.A.'s most exciting events. So we're throwing them a party!
Join GOOD LA, CicLAvia, and Atwater Crossing (ATX) for an afternoon of street-inspired eating, drinking, and playing to help raise funds for their upcoming events. We'll be partying at Atwater Crossing, an exciting new creative and event space located in Atwater Village, and we'll have plenty of our friends on hand supplying food, drink, and fun. Bring your bikes, bring your donations, bring your friends!
---
Music by the amazing DUBLAB.com DJS!
Live Columbian vallenato music by Very Be Careful!
A folk pop performance by The Finches!
An eclectic-classical string experience by Telematique!
Experimental pop collage music by GANGI!
Sustainably-brewed beer by New Belgium Brewing!
Fine wines by Razor's Edge!
Refreshing coconut water by ONE Drinks!


Vietnamese bánh mì sandwiches by Nom Nom Truck!
Healthy Mediterranean/Middle Eastern food by Yalla!
Tasty Korean snacks and Korean pub grub by Ahn-Joo!
Delicious Indian cuisine by India Jones!
A variety of gourmet sliders by Slammin' Sliders!
Rocky road ice cream sandwiches by Coolhaus!
Locally-harvested citrus fruit provided by Food Forward!






Free Tasters From Food Trucks Throughout the Day:
Ahn-Joo Korean Snack Bar: Potato Snacks
Inda Jones: Frankies and Curries
Coolhaus: Ice Cream Samplers
Slammin' Sliders: Sweet Potato and Pepper Jack Croquettes and Signature Smoothies
Yalla: Tabouli





Join a Dodgeball Game hosted by our friends at the Eagle Rock Yacht Club!
Build a city with urban planner James Rojas! With hundreds of found objects and your own imagination, you'll be able to create your very own ideal community. Breaking the pinata full of candy and materials will begin at 4:30 p.m. Great for kids and adults alike!
Watch CicLAvia Films by Streetfilms, Madhouse Muse Productions, Ted Soqui, Will Campbell, Elson Trinidad, David Ramos + Ricardo Maldonado, Aaron Kuehn, Carlos Marques Marcet, Joe Anthony, Marie Sullivan, Ezra Horne and more!
Tune up at a Bike Clinic Workshop! These basic demonstrations at 3:00 p.m. and 5:00 p.m. will help you get ready to ride CicLAvia! Brought to you by the County Cycling Collaborative andBicycle Kitchen/La Bici Cocina Cooks.
Drop in to a Free Yoga Class at 3:00pm with veteran yoga teacher CJ Frogozo, from InYoga Center in Valley Village and Omkar 108 in Culver City.
Relax with a free mini-massage using the Grinberg Method, by Marcela Widrig from Bodies That Work!
Take a Family Bike Ride to the River led by Los Angeles River author Joe Linton! The ride will depart at 2:30 p.m., and return to the event between 3:30 p.m. and 4:00 p.m. Distance is just over 1/3 mile each way and all on very quiet residential streets. Pace will be very slow. The tour will visit the naturalized Glendale Narrows stretch of the river, which features an earthen bottom, tall willow trees, and lots of ducks and birds.
Saturday, March 5
2:00 p.m. to 7:00 p.m.

Atwater Crossing
3229 Casitas Avenue
Los Angeles, California, 90039


Ride your bike! Bike valet provided by the LACBC.
Or take transit! The 603 and 92 buses stop a few blocks away. Plan your trip at Metro.net
Purchase tickets here.
*No $20 tickets will be sold at the door*
Children 12 and under free with a paying adult.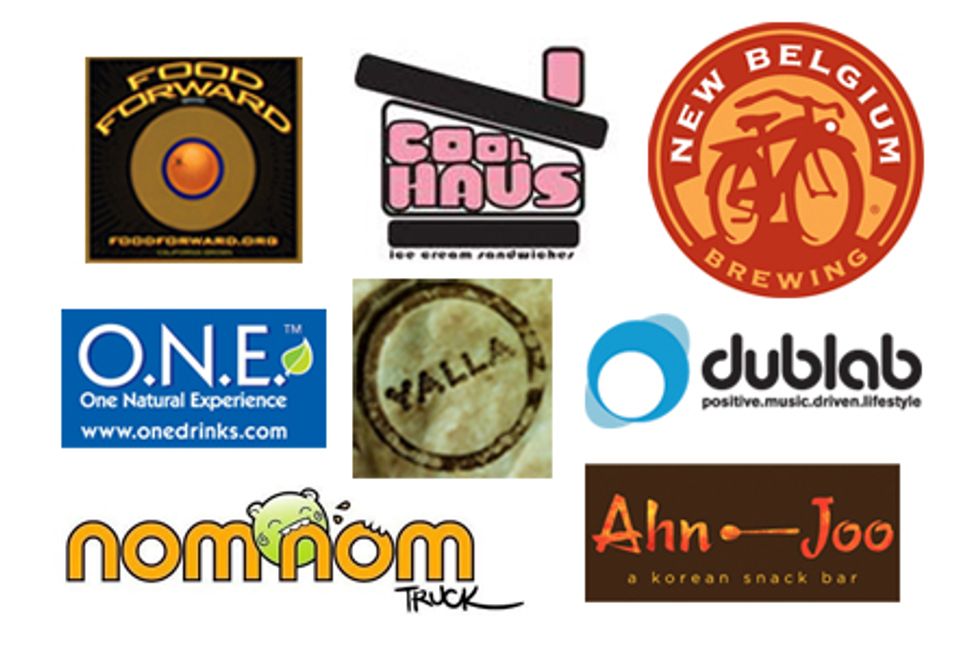 Want to bring CicLAvia to your neighborhood? There are meetings coming up in
Boyle Heights
to extend the route, as well as regular rides to explore new routes, like one that was recently held in
South Los Angeles
. Check the
CicLAvia blog
or follow them on
Twitter
for updates.
We'll see you on March 5 and then again at CicLAvia!
Illustration by Max Podemski and Jenn Su