Articles
Hustlin': How to Apply for Food Stamps
An eye-opening journey through the world of EBT cards.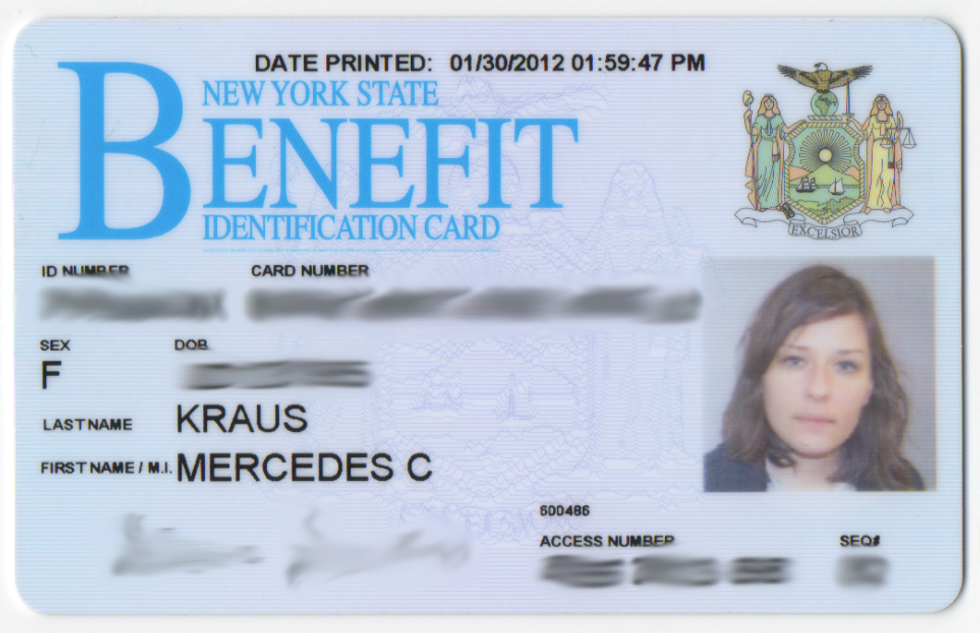 ---
\n
In our weekly
Hustlin'
series, we go beyond the
pitying
articles
about recession-era youth and illuminate ways our generation is coping. The last few years may have been a rude awakening, but we're surviving. In this edition of Hustlin', Mercedes Kraus guides us through the dizzying, eye-opening world of food stamps.
I watch the fallout of the recession from afar until one day I find myself in the middle of the storm. I must be brave. I am jobless, hoping to build my work into something that will give me career opportunities without dragging me back into the grueling, overworked lifestyle I'm used to. Everyone knows it's hard out there—one in seven Americans are on food stamps. Am I about to join their ranks?
At first, I tell everyone I'm "trying out freelancing." What that really means, of course, is that I'm taking odd jobs while endlessly applying to more "formal" full-time jobs. After a few months, I deplete my savings, and I'm buying almost everything on my credit card. I've been working at a restaurant that is quickly losing business (tips are scarce), though I pick up a long-term freelance job that has helped sustain me. I've already cut out "extras" (i.e. $5 beer-shot combos) from my budget, and I start biking everywhere once it dawns on me that a subway round trip costs a hefty $4.50.
Realize you're down, but not out
Christmas comes and goes, and thankfully there's no pressure to buy any gifts. But the restaurant income is suddenly gone, and my situation is grim. I know more and more Americans are having a tough time– I read about it almost daily – and I'm one of the struggling. But just for right now, I tell myself, it's not forever. A friend reminds me that she has been on food stamps for a year. Because she's a young choreographer, it will be a while before she will be paid properly for her work; in the meantime, she needs help with the bills. She tells me that I only have to live under the poverty line to qualify; in 2010, an individual had to make less than $11,139 annually to qualify, which is about $930 each month. It hits me that I'm not even making that much. I've been living in poverty, I think. It's a revelation.
Consider food stamps; apply
Through this new lens, food stamps looks like a real option. I'm down to basics already, and if I could get just a little help, I might be able to make it work. From my trips to the farmer's market together, I remember that my choreographer friend gets double her money for the fresh vegetables from the community garden a few blocks away. She's given tokens to use as market currency, thanks to a city program called Health Bucks; in fact, these types of programs exist in many cities.
Navigate a frustrating, inefficient process
Food stamps it is. I find out that I can apply online through NYC's Human Resources Administration, so I go for it. I'll need to go in to a center and meet with someone. I make it in at 9 a.m., stand in a long line to get a numbered ticket, and am told to go to the 4th floor, which is packed with people. Most of the chairs are taken, and lots of people are standing around the perimeter of the waiting room. No one looks happy. No one looks like me. It feels like I'm expected to know what the hell I'm doing even though no one has told me. I decide to come back earlier another day to beat the rush.
Two days later, I roll out of bed, my hair oily and stuck to my head on one side, and get to the center at 7:15 in the morning. I'm sent back to the 4th floor again; my name is called after an hour or so. Naturally, the woman helping me is incredibly slow. She keeps rearranging the papers on her desk and telling me about the going-away party she's arranging for the office and how people still owe her money for the expenses. Really, lady? But she's processing my paperwork, so I give a sympathetic sigh. Turns out, I'm missing documents, although I never had a clear idea of what to bring with me in the first place. She says I can fax the missing papers, but first I must get my fingerprints scanned and my picture taken. I'm a mess, but it feels appropriate – today, I look like I'm living in poverty.
I call for a week trying to confirm my fax. No answer. I go into the center again. This time, I do it like a pro: I run errands for two hours and go home to eat lunch after I get my ticket number. When I return, my number still hasn't been called, so I read a magazine for a while and strike up conversations with the women next to me.
Get real about it
The woman on my right is wearing a sari and has an Indian accent; she's just trying to get food stamps for her baby, she tells me, they're not even for her. And it's not just this center that's so bad, she explains: she's been to multiple centers, and they're all like this. I look around and realize most of the people here are women of color. I feel bad. I try to remember that I am in a needy place right now, too; I am no better and no worse than they are. But the light color of my skin and my middle-class background are still assets that they don't and never will have.
My name is called. The manager can't confirm the receipt of my fax. Thankfully, I brought a copy of my documents.
Start using your food stamps EBT card
The largest word on my new card is BENEFIT, reminding me that not only am I benefiting from the government—I still feel weird about that—but I should now be looking out for the words "Electronic Benefit Transfer (EBT)." The fabled, somewhat more dramatic phrase "food stamps" is just colloquial for the rebranded federal program called SNAP. I make my first purchase with my card at Trader Joe's. (Whole Foods takes food stamps, too, by the way.) I'm not sure if I can buy soap or toilet paper (I can't), so I just get some fruit and canola oil. At checkout, I swipe my card. It doesn't go through. Shit! I'm asked to swipe again, and when the cashier sees that it's EBT, he explains to the person he's training that sometimes the magnets aren't good and you have to enter these manually. Neither employee does anything to make me feel uncomfortable, but I do anyway. The next time I use the card, it's easier. Easier still, I log into my EBT account online to check my balance.
This is good, I think, this helps so much already.Then more good things start happening: I pick up a meaningful (though unpaid) internship and through it a paid freelance gig, I work for free to get an article published (don't worry, not this one!) on a website I respect, and I make a couple significant professional connections that could lead to future work. I say yes to everything, although I know by now that it won't all come through. I even find out about a call for proposals that might fit that project I've been thinking about. The deadline is soon, and I'm going to apply. It's going to be ok.