Articles
Americans Eat Less Red Meat (and Fewer Vegetables Too)
It's a perennial best-seller. The United States of statistics charts the rise and fall of everything from organic farming to distracted driving.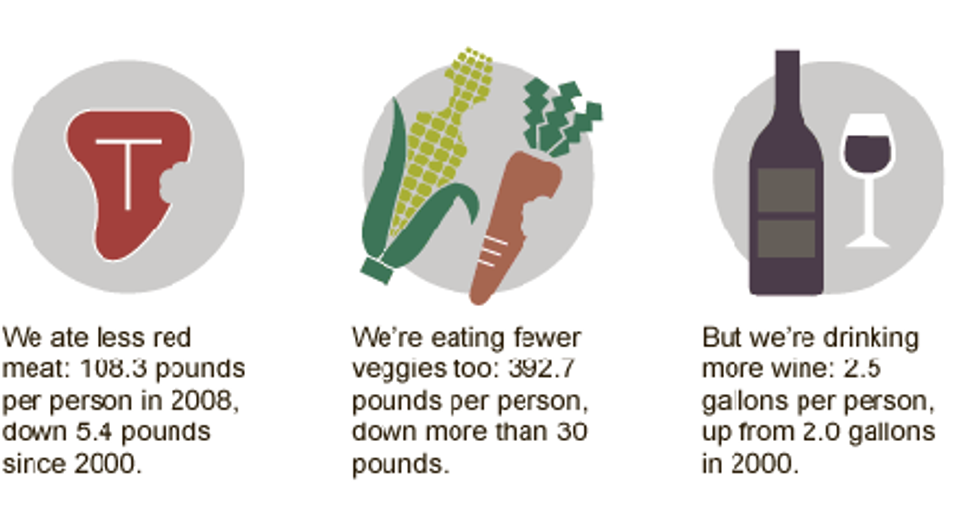 The U.S. government recently released its best-selling reference book: the Census Bureau's Statistical Abstract of the United States: 2011.
It's sort of like a Guiness Book of World Records for government data. The tables cover 1,407 aspects of life in America from crime and shopping to eating and the environment and are ripe for data mining.
This year, the census added 65 new tables, including the percentage increase of certified organic farmland (up 150 percent since 2000), honeybee colonies (down 23 percent to 2,462,000 since 2000), and the adoption of genetically engineered crops (a 244 percent increase in the number of genetically engineered corn varieties planted since 2000). The New York Times also pulled out and illustrated data on the decreasing amount of red meat and vegetables we're eating, as well as the uptick in wine.
---
Beside food and farming, you'll find new data on the number of car crashes involving distracted drivers (up 22 percent since 2005), cities with the highest transit savings (New York, Boston, San Francisco), or the increase in gas fracking (51 percent between 2007 to 2008).

Although the data isn't always new, it's all in one place. You can order reports through the U.S. Government Printing Office or pre-order on Amazon.

Illustration: Jennifer Daniel via The New York Times.