Articles
FIFA Headscarf Ban Crushes Olympic Hopes for Iranian Women's Soccer
The Iranian women's soccer team has been banned from Olympic competition, all because of uniforms. Who's to blame: FIFA or the Iranian government?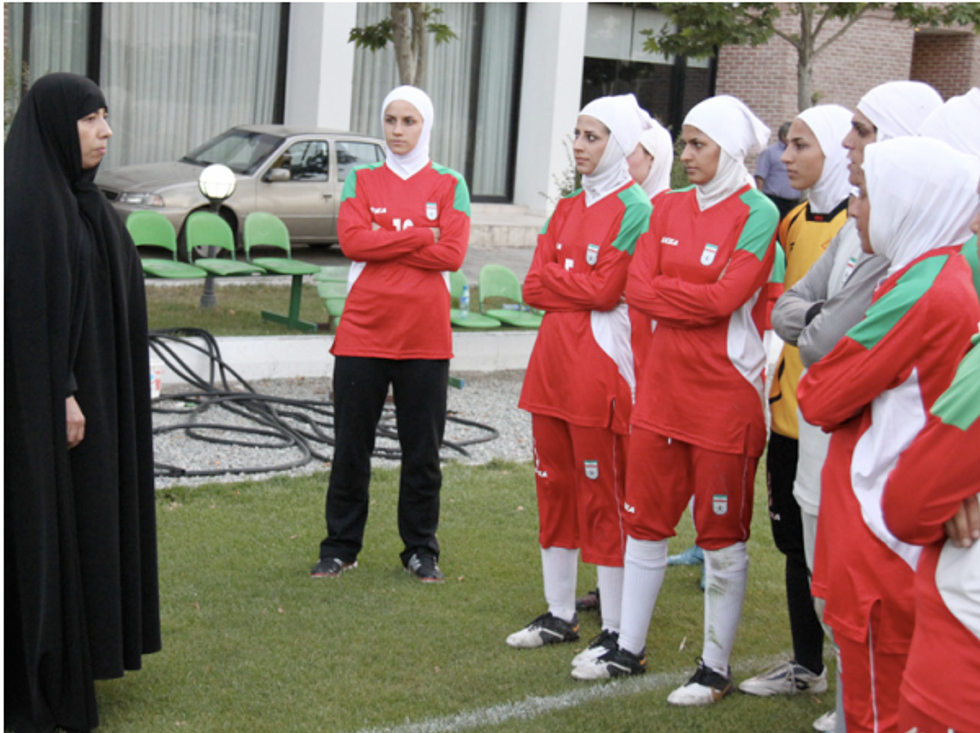 FIFA has
just ruled that
Iran's women soccer team will not be able to compete in the Olympics because their headscarves violate the association's dress code. The decision came right before an Olympic qualifier against Jordan last Friday. Iran's football federation claimed they made changes to the team uniforms after a similar ban last year, but FIFA, the preeminent international soccer authority, has nevertheless deemed the team ineligible.
Since the decision, Iran president Mahmoud Ahmadinejad has called FIFA officials "dictators and colonialists," and officials will protest the decision. But FIFA hasn't budged, saying their decision was for "safety reasons."
---
The organization does not permit team kits that cover the ears or neck, but that's not the only issue. FIFA's rules also state that "players and officials shall not display political, religious, commercial or personal messages or slogans in any language or form on their playing or team kits."
The issue of physical harm is one thing; I'm sure there are myriad tweaks of either the headscarf's design or the FIFA rule that can happen to accommodate the other side. The bigger issue is whether the ban on religious messages in team sports is a justified reason for effectively putting to an end Iranian women's soccer. These women are undoubtedly thinking: "It's an 107-year-old organization's rules versus an ancient religious text's!" Practitioners of religion have no choice in the matter; FIFA can simply change their rules.
But FIFA has a strict policy about the separation between church and field. From their perspective, Iran's hijab law is the sticking point that will end the players' hopes for a medal, not FIFA's dress code.
Still, plenty of other nations' players openly flaunt their faith with cross necklaces and public prayer. Sports photographers have no problem snapping emotional photos of athletes looking up to the sky in ecstasy and crossing themselves before a game. These acts are admittedly an individual choice rather than a collective display, but why is a team wearing modified hijabs so very different?
For me, what it comes down to is advantage. As long as head coverings don't give the team a leg up, who cares? I'm as atheist as they come, and personally I don't agree with a nation mandating the way anyone dresses. But I'd rather see all women be able to fulfill their Olympic ambitions than see them being held to a standard of secular purity—particularly when the reinforcement of that purity is so arbitrary and, at this point, not up to Iranian women to decide.
photo from Football Federation of Iran