Articles
Jay-Z and Warren Buffett Team Up to Teach Kids Financial Literacy
One's a billionaire and the other has major street cred. Together they hope to bring the cool to financial literacy.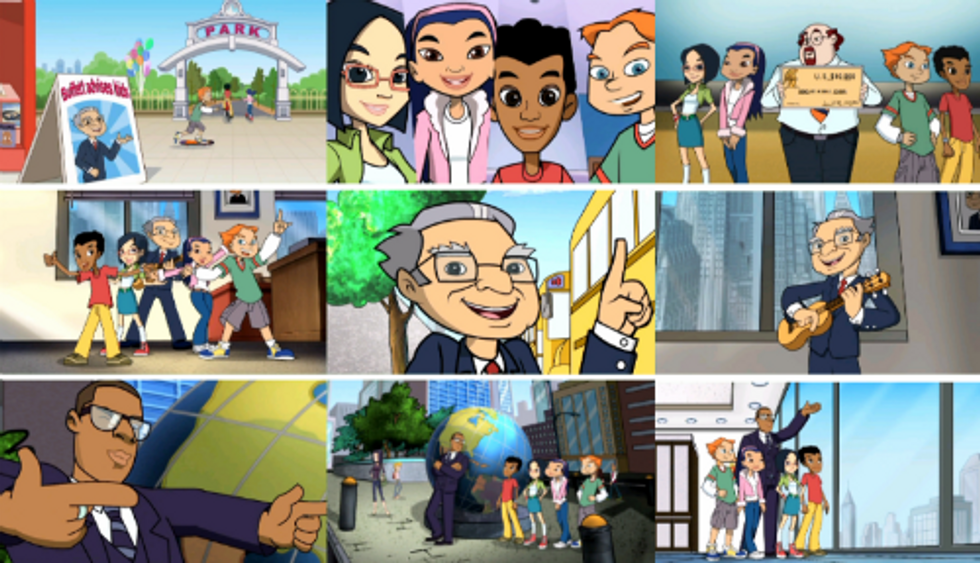 One is worth $39 billion, while the other has a comparatively meager $450 million but significantly more street cred with young people. So Warren Buffett and Jay-Z are teaming up to teach kids about financial literacy. Buffett's animated series
Secret Millionaires Club
is set to move from the web to television this month, and an animated Jay-Z is the guest star for the first episode on October 23.
During the episode, Jay-Z invites four students to his office and applauds their hard work in school, then gives them some tips on how they can become successful later in life. The idea is to get kids hooked by Jay-Z's endorsement, then keep the lessons going long after the television is turned off. Secret Millionaires Club is simultaneously launching "Learn and Earn," an initiative to teach students a well-organized series of lessons on financial literacy. To that end, the program is providing more than 100,000 educational kits to teachers, and putting a pretty fantastic collection of free, downloadable materials online.
---
To ensure that students put the lessons into action, the program is also kicking off "Grow Your Own Business Challenge"—an online competition designed to spark students' enterpreneurial ambitions. While most kids who watch Secret Millionaires Club probably won't end up as wealthy as Buffett or Jay-Z, who couldn't use money management lessons from two of America's most successful people?