Articles
Over 300 dinosaur specimens are featured in the Natural History Museum's Dinosaur Hall, where the focus is on the science, not just the show.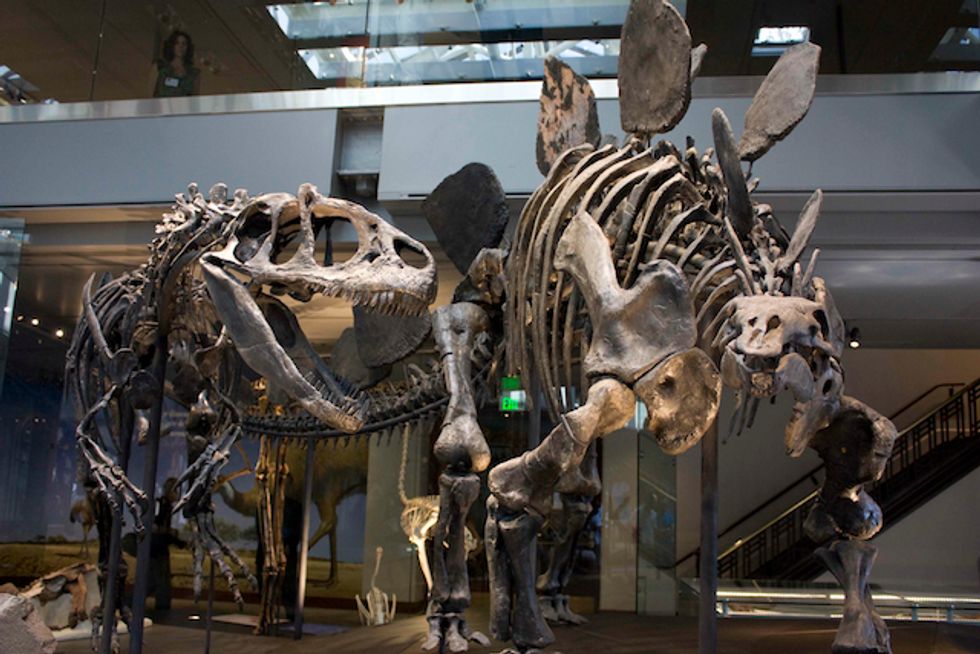 What did dinosaurs eat? How do they sound? Did they ever get sick? Instead of parading around the same old reconstructed skeletons, the
Natural History Museum of Los Angeles County
's new 14,000-square-foot
Dinosaur Hall
that opened last weekend is more akin to stepping onto the set of
Bones
or
CSI
. "It is an exhibit that's based on the scientific process," says Dr. Luis Chiappe, the director of the
Dinosaur Institute
who unearthed many of the remains on display, "and you'll see that in the world of dinosaurs, many discoveries are still waiting to be found."
While the museum previously showed just 50 dinosaur specimens, it now has about 300 on display, two thirds of which have never been shown before. Right as you step into the gallery, the world's first properly postured 25-foot long Triceratops gets in your face. The world's only T.rex growth series is installed inside the gorgeous, recently-renovated 1913 Beaux-Arts gallery. And yes, that is a dino poop fossil on display inside the 40-foot fossil wall.
---
[youtube]http://www.youtube.com/watch?v=jY0GbTiJMmY
Even Californian dinos and marine animals get in on the action. Dr. Chiappe says dinosaur remains are rare in California, which was still underwater millions of years ago. Still, the museum unearthed a duck-billed dinosaur entombed with marine animals, there's a slab with 170-million year old dinosaur footprints from the Mojave Desert (the earliest known evidence of dinosaurs in the state), and a 25-foot long Morenosaurus stocki from Fresno County is suspended from the gallery ceiling.
Photo by Carren Jao
Live in Los Angeles? Join GOOD LAand you'll get one good L.A. story (like this one!) delivered to your inbox every day. And be sure to like GOOD LA on Facebook and follow us on Twitter.