Articles
Lichen Studio's transforming the classic fabric with innovative designs, including jewelery, lighting, and bowls.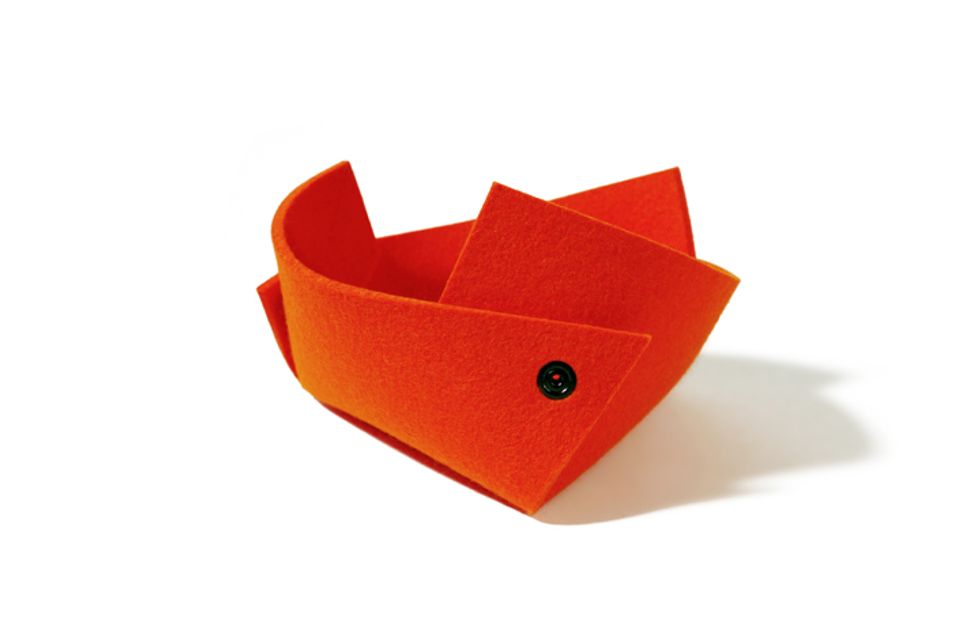 Brandon Perhacs wants to change the way people think about felt. The Bainbridge Island, Washington-based artist behind Lichen Studio uses the ancient textile to create everything from bowls to lighting fixtures. "I'm fascinated with the fact that it's the oldest fabric known to man," said Perhacs. "I like the idea of using the felt, a soft material, in ways that people normally wouldn't think of it being used."
---
Indeed, Perhacs's work stretches narrow thinking about what felt can create, freeing the fabric from its often mundane role as violin case liner. His best-selling product is the eweCUFF, a chunky bracelet that cinches around willing wrists with a magnet for a clasp. His eweBOL (pictured above), a new product that's currently unavailable online, is a "modular snap-together felt bowl." Use if for "bread, fruit, or wear it as a hat," says Perhacs. He's even created a prototype for a felt lighting fixture. Perhacs crafts all his products with 100 percent Merino wool felt imported from Germany.
Perhacs launched Lichen three years ago and divided his time between studios in San Diego and Bainbridge Island. While he originally started his artistic career doing metal fabrication, machining, and custom furniture–skills he developed during a stint at Southern California's Art Center College of Design–he got excited about the possibilities of product design after playing architect for his parent's home in Bainbridge Island in 2004, where he currently houses his studio and gallery.
From December 11 to 12, Perhacs will be showing off his felt and other goods, at Unique LA's Third Annual Holiday Show in downtown Los Angeles (GOOD will be hanging out there as well. Read about that partnership here). In addition to his felt bowls and bracelets, look out for Perhacs's repositionable magnetic vases, jewelry made from PaperStone (an eco-friendly material derived from from recycled paper and cashew shell resin), and modular magnetic necklaces.
And check out this cool video of Lichen's Adaption vase, which allows the owner to customize the angels of the flowers.
[youtube]http://www.youtube.com/watch?v=fEib_vbEbVk&feature=player_embedded
GOOD is partnering with Unique LA for its Third Annual Holiday Show in Downtown Los Angeles from December 11 to 12. This post is the first in a series highlighting our favorite vendors at that event. Buy pre-sale tickets to receive a discounted subscription to GOOD Magazine.