Articles
Looking at Sustainable Design That Doesn't Suck
A Brooklyn restaurant-cum-cultural center with an ethic of sustainability has become a social hub for the creative and diverse local community.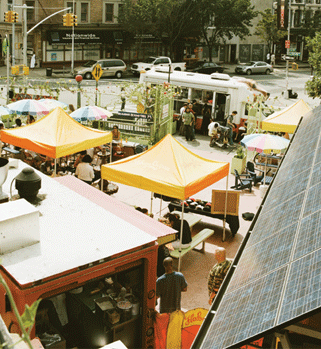 ---
In the Fort Greene section
of Brooklyn, New York, a space that was a parking lot just five years ago has recently been transformed into one of the borough's best scenes. Habana Outpost, a restaurant-cum-cultural center, features open-air market, outdoor movies, great food and drink, and a social hub for the creative and diverse local community. Underlying it all is an ethic of sustainability: The eatery, powered by renewable energy, boasts dozens of green building features-none of which takes away from the enjoyable experience. We took a look at some of the Outpost's most inventive innovations.
Features: 1 (main photo).
The outdoor courtyard and market space were formerly a parking lot.
2.
Outdoor picnic tables and benches are made of "Trex"-recycled wood and plastic bottles.
3.
A state-of-the-art solar awning providing most of the restaurant's power.
4.
The world's first "sunlit chandelier" transmits real sunlight collected on the roof through fiber-optic cables to a fixture inside the restaurant.
5.
Organic waste is composted in a worm bin.
6.
An old postal truck has been revamped as a kitchen.
7.
Recycled sailboat sails cover indoor booths.
8.
You get a dollar off your smoothie if you mix it yourself with the human-powered bicycle blender. Organic food specials change with the season. Corn "plastic" cups, potato starch cutlery, and sugarcane plates are all 100% biodegradable. You can re-charge your phone at the solar-power hookup. Rainwater is collected to water plants and fill toilets.