Articles
Loose Parts Playgrounds
Lower Manhattan will soon be home to the Imagination Playground, a new play space designed, pro bono, by David Rockwell, the architect behind über-casino Mohegan Sun and the sets for the Broadway run of [i]Hairspray[/i].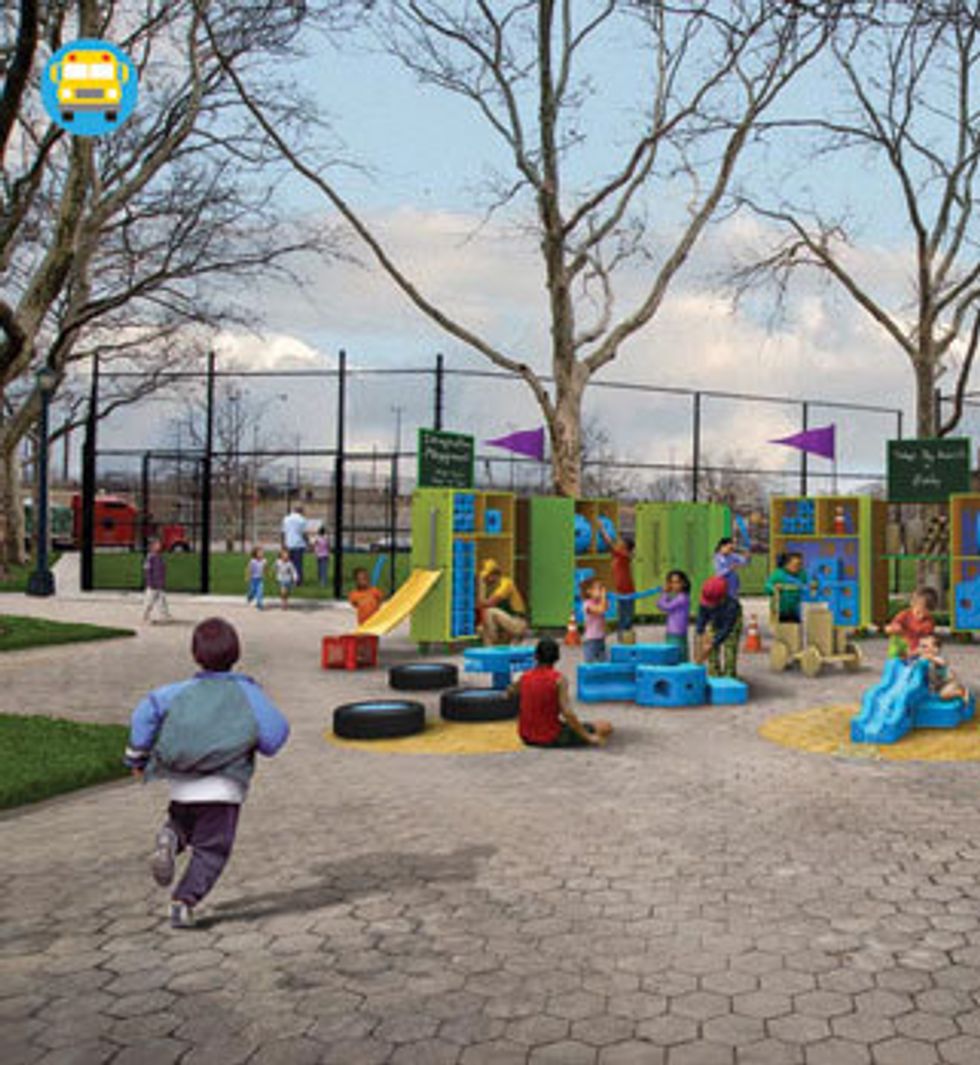 ---
Lower Manhattan,
already a playground for New York's wealthy, is fast becoming the epicenter of playground innovation. In addition to the Teardrop Park, the tip of the island will soon be home to the Imagination Playground, a new play space designed, pro bono, by David Rockwell, the architect behind über-casino Mohegan Sun and the sets for the Broadway run of Hairspray. He conceived of the idea as a way to give back to the area after 9/11.Being bowled over by his children's ability to find endless enjoyment in a cardboard box, Rockwell began to realize that he could design a playground that emphasized the imaginative power of young children, instead of just doing a slick architect's take on the kind of formulaic playgrounds so prevalent in the rest of the country.The Imagination Playground is located at Burling Slip, where ships used to dock. Rockwell has preserved that maritime flavor with some core design elements, disrupting the sameness of play spaces. And where nature parks use the ever-changing natural world to offer fresh play experiences, the Imagination Playground uses blocks. In addition to a winding wooden ramp, a sandbox, and a water area, there are hundreds of blue foam blocks of various shapes and sizes. Stored in a container managed by a full-time staffer, the blocks are available to children, who can use them to build whatever they want."It allows kids to do what they do best," says Rockwell, "which is to build their own creative play space, take it apart, and start over again." This way of playing also encourages cooperation and problem-solving skills. "After the kids built their individual things, 15 minutes into it, they'd start to look at what someone else had built, and about how to link that to theirs."Soon kids outside of the Financial District will also be able to revel in innovation of their own. Rockwell rolled out a smaller version of the play space-called Imagination Playground in a Big Box-in Brooklyn this summer, the first of many to come. Rockwell and the Imagination Playground have taken some heat for bringing only a small version of the playground to Brooklyn, and from some of the more strident nature proponents, who say that the portable playgrounds don't have a nature component. "Go to Brownsville [in Brooklyn] and see what loose objects you can find in nature," Rockwell retorts. A box of blocks may not be ideal, but it's a start.To take this effort nationwide, Rockwell teamed up with KaBoom, an nonprofit organization that builds community in playgrounds around the country. KaBoom lets children design their ideal playgrounds, which parents and community leaders look through when selecting the playground's equipment. It plans to roll out Big Box playgrounds around the country in the first half next year.This may be the biggest development for new kinds of playgrounds in decades. And as one of the largest purchasers of playground equipment in the country, KaBoom has a fairly strong influence over the entire industry, which may start to shift as it moves to embrace these new innovations."We're taking our muscle and experience, and applying it to design," says KaBoom's CEO, Darrell Hammond. "We have to build better habits by building better built environments." In order to do that, your old neighborhood hallmarks of swings and slides might be displaced by something unrecognizable. But kids will know just what it is: a better place to play.
SEE ALSO:
Fall Down, Go Boom
MORGAN CLENDANIEL rummages through the wasteland of contemporary playgrounds and finds some promising-and dangerous-innovations.
Alternative Playgrounds:
-
Adventure Playgrounds
-
Nature Playgrounds
-
Loose Parts Playgrounds