Articles
"A black woman can't question a white attorney general?"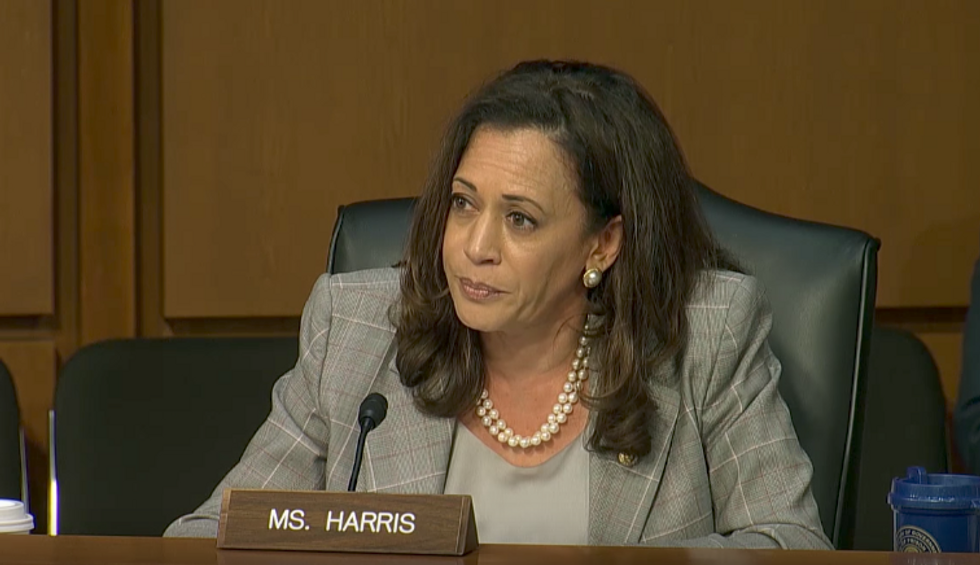 "I don't recall." That's the response Attorney General Jeff Sessions seemed to give more than any other during his testimony Tuesday to the Senate Intelligence Committee. But, along with making the American public aware of Sessions' inability to remember if he'd ever met or talked to Russians, the hearing also gave viewers a glimpse of how women—particularly black women—are treated in the United States.
---
[quote position="left" is_quote="true"]A black woman can't question a white attorney general?[/quote]
For the second time in a week, committee member Sen. Kamala Harris (D-Calif.) was interrupted and reprimanded by two male senators while questioning a witness. None of the men on the committee who questioned Sessions were chastised, even when they interrupted Sessions.
"I'm not able to be rushed this fast. It makes me nervous," Sessions replied to a question from Harris, who is the only black woman in the entire United States Senate. Harris had limited time and wanted more than the vague, rambling responses Sessions seemed to be giving. But apparently, the most powerful law enforcement officer in the United States needed to be protected from Harris and her questions—so much so that Sen. John McCain (R-Ariz.) interrupted Harris to complain.
"Chairman, the witness should be allowed to answer the question," said McCain to Sen. Richard Burr (R-N.C.).
"Senators will allow the chairs to control the hearing," Burr replied to McCain, before telling Harris, "Senator Harris, let him answer." Last week Burr and McCain also cut off Harris while she questioned Deputy Attorney General Rod Rosenstein.
People took to social media to call out McCain and Burr's treatment of Harris. Matthew Miller, an analyst for MSNBC, wondered why Harris gets reprimanded.


Twitter user Joined by Joi SZN asked folks to retweet if they knew why.


CNN commentator Keith Boykin was more pointed in his assessment of what's going on. "Why do Republican senators only interrupt when Kamala Harris is asking questions? A black woman can't question a white attorney general?" he wrote.
Tanzina Vega, a professor at Princeton and a CNN reporter on race and inequality, asked if other women of color were familiar with the way Harris' is being treated. "WOC understand what Kamala Harris is dealing with. Raise your hand if you've been shushed, silenced, scolded etc.," she tweeted.
Nyasha Junior, a professor at Temple University replied that "I've learned that even when I don't say anything, I'm still labeled an #AngryBlackWoman. 'You should smile more.'"
Meanwhile, actor Jeffrey Wright gave a nod-in-GIF-form to Harris' questioning acumen in what Wright called the "all boys club."
As for Harris, she still wants her question answered. "It's unacceptable that Sessions - the top law enforcement official in the country - cannot name his legal basis for evading questions," she tweeted Tuesday afternoon.