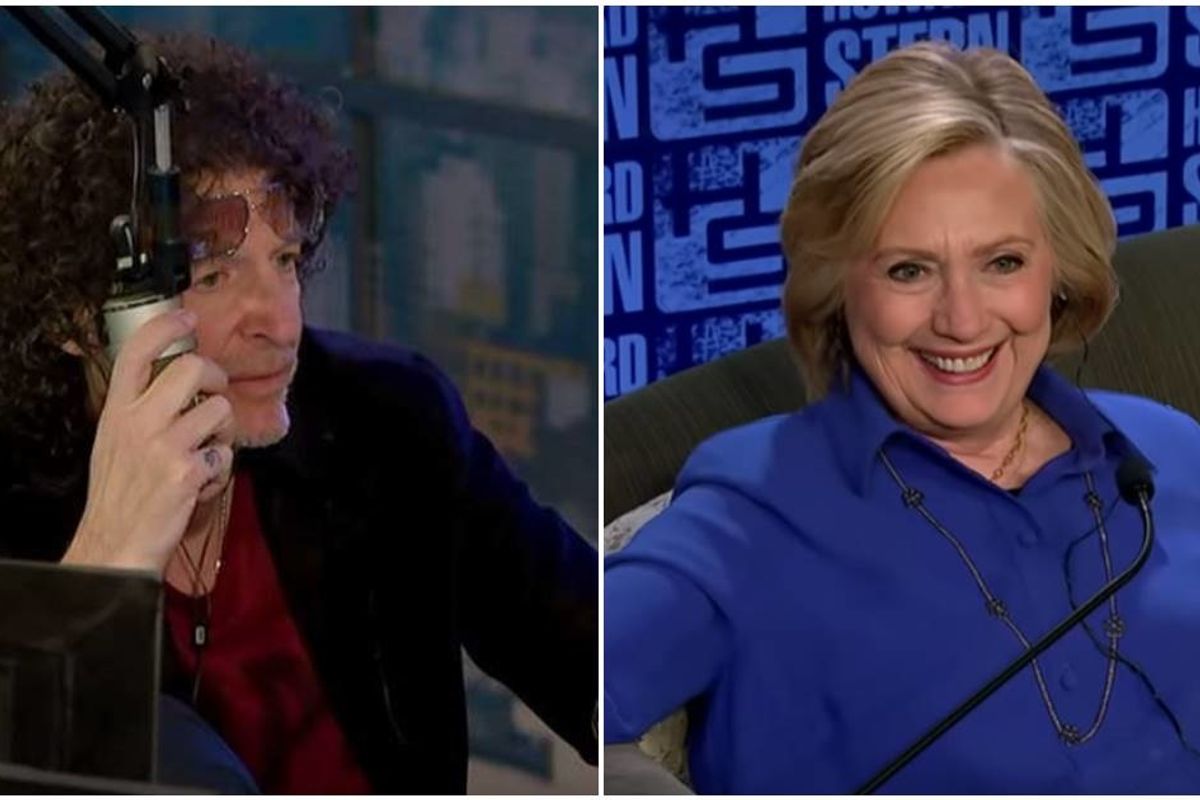 Former Secretary of State, first lady, and winner of the popular vote in the 2016 presidential election, Hillary Clinton, sat own for an epic, two-and-a--half hour interview with Howard Stern on his SiriusXM show Wednesday.

She was there to promote "The Book of Gutsy Women," a book about heroic women co-written with her daughter, Chelsea Clinton.
In the far-reaching conversation, Clinton and the self-proclaimed "King of All Media" and, without a doubt, the best interviewer in America discussed everything from Donald Trump's inauguration to her sexuality.
---
The usually guarded, calculating Clinton was refreshingly relaxed in the interview and had no problem throwing jabs at Bernie Sanders and Lindsay Graham.
Here are six of the most important things that Clinton told Stern.
On Trump's possible impeachment ...
"Let's not mince words — Trump was trying to bribe the president of Ukraine to take action by announcing the beginning of an investigation on an unfounded theory against his domestic political opponent for his personal and political gain," Clinton said. "You can't make it up. Who would ever think anybody would do that?"
On sitting through Trump's uncomfortable inauguration speech …
Clinton told Stern that sitting behind Trump while he made his depressing inaugural speech was "one of the hardest days" of her life.
"He started on that speech, which was so bizarre, and that's when I got really worried," she said. "That 'carnage in the street' and the dark, dystopian vision. I was sitting there just like 'wow,'"
"And George W. Bush says to me, 'Well, that was some weird shit.'"
On Lindsay Graham's bizarre behavior …

"Has he sold his soul to the devil?" Stern asked about the South Carolina senator.
"I don't know," Clinton responded.
"What I don't understand is how he went from being the friend and the real confidant of the Maverick — John McCain — who I didn't agree with politically, but I found him to be a man of integrity, a man of real strength and conviction," Clinton said. "I don't know what's happened to Lindsey Graham."
On the best president ever ...
"Who is the best president who ever served?" Stern asked.
"Lincoln," Clinton replied.
"See, I think Washington," Stern said.
"It would be close. It would be like one degree difference between Washington and Lincoln," Clinton said. "First of all, they both understood the job and they both exercised thoughtful, disciplined approaches to the job."
"He made a great speech about avoiding factions, meaning partisanship, putting country over party and all that, she continued.
But she still prefers Lincoln saying he, "faced the worst possible choices."
"Lincoln, he had this view that he had to save the Union and how do you save the Union when it's half-free and half-slave?" Clinton continued. "What are the compromises you're willing to make? And then finally he concluded, we can't stay the United States with slavery. It cannot work."
On her sexuality …

Clinton denied decades-old rumors that she's has lesbian affairs saying, "contrary to what you may hear, I actually like men," she joked.
Stern then asked Clinton to raise her right hand and swear she "never had a lesbian affair."
"Never, never, never," she responded. "Never even been tempted, thank you very much."
On Bernie Sanders …
Stern asked if she hated Sanders for taking so long to endorse her after their intense primary battle for the 2016 Democratic nomination.
"I don't hate anybody," she said. "He hurt me, there's no doubt about it."
Then she took one last clever shot at Sanders: "And I hope he doesn't do it again to whoever gets the nomination. Once is enough."