Articles
Mixology Mailbag Drinks Around a Citrus Allergy
What to drink when you can't eat oranges, lemons, grapefruits, or limes.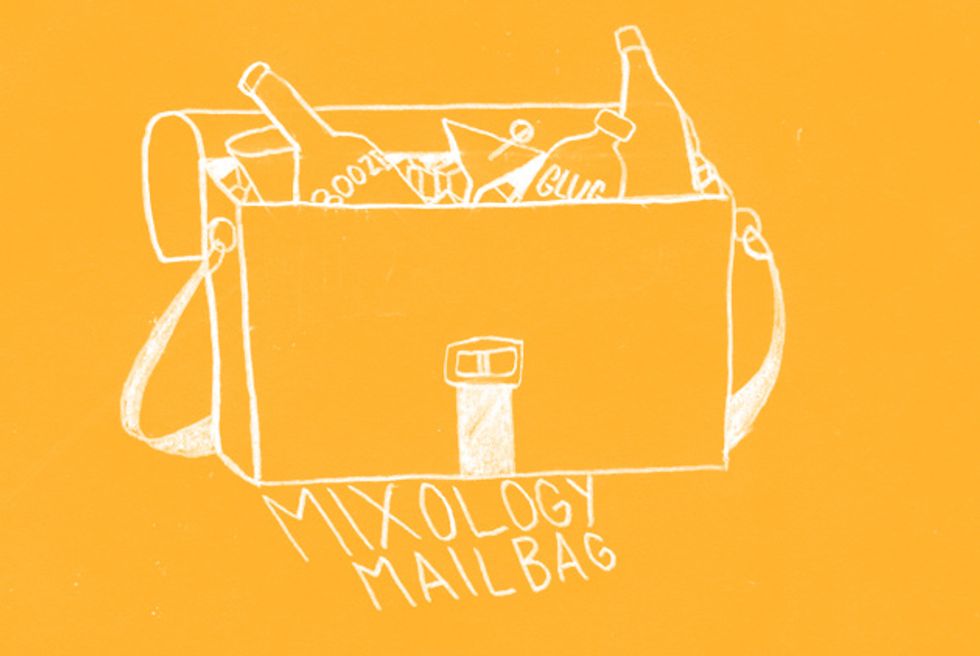 I'm fascinated by the world of cocktails but I have a rather major issue with most of them: I'm allergic to all citrus fruits, which means most traditional cocktails give me an awful skin reaction, which makes it difficult to try original drinks at bars.

---

I had never heard of "The Algonquin" in your last post, and will definitely try it out. Do you have any other recommendations for great cocktails that don't involve citrus? — When Life Hands Me Lemons I Scream and Run Away

\n
I am very sorry to hear about your allergy, Handsy. At the same time, I'm relieved that the major consequence of a minor citrus slip-up is a rash rather than, say, anaphylactic shock. Our motto here at Mixology Mailbag: "Don't kill the readers."
Unfortunately, it can be very difficult to know which cocktail ingredients contain tiny amounts of citrus. So let's start with some good news: You can drink whiskey neat! Hell, you can drink whiskey all kinds of ways: with water, on the rocks, in a Mint Julep or an Old Fashioned, hold the fruit—most of your fancier cocktail bars wouldn't dare put a muddled orange wedge in an Old Fashioned now, anyway. You can also have your whiskey in all manner of highballs. Mmm, highballs: Scotch and soda, 7 and 7, bourbon and cola, rye and ginger ale (just stay away from a Horse's Neck—that involves a spiral-cut lemon twist). As long as you can live with a reduced repertoire of garnishes, you can down tall, refreshing mixed drinks until the cows come home. You can even clink your glass to the height of fashion; I understand highballs are very chic these days.
You could drink just fine sticking with whiskey as a base spirit, but I also recommend cozying up to brandies of all sorts. There are hundreds, if not thousands, of high-quality, non-citric Cognacs, Armagnacs, Calvadoses and applejacks out there just begging to be sipped out of a snifter in front of a roaring fire. If snifter-sipping seems too Monsterpiece Theatre for you, look into brandy highballs. I love a good brandy and soda under most any circumstances, but especially in those waning hours of the evening when the barroom begins to appear dingy and small, and the company and conversation seem to lose their luster. A brandy and soda, or even a brandy and ginger ale (also called a Horse's Neck when made with that accursed spiral garnish), can return a bit of sparkle to the proceedings.
Of course, if you re-sparkle your evening too many times, you may awaken to find the next morning decidedly lacking in pizzazz. For those occasions, the ancients devised a clever, eggy little creature called the Coffee Cocktail. Don't be fooled—the Coffee Cocktail neither contains nor resembles coffee. (Perhaps we should re-christen it the "Misnomer.") The name suggests only the proper hour for imbibing: directly after you've finished your first cup of Joe.
Coffee Cocktail, from Vintage Spirits and Forgotten Cocktails by Ted "Dr. Cocktail" Haigh

1 oz. brandy (Martell works well)
1 egg
2-3 oz. ruby port
1 teaspoon sugar

Pour brandy into an iced cocktail shaker. Add the egg. Pour in the port and sugar. Shake and strain into a small goblet. Grate or shake some nutmeg on top.






\n
I used Remy Martin VSOP cognac and Three Grapes ruby port, and suggest confining your port pour to 2 ounces. Port and brandy are natural grape-based allies, so any recipe that mixes those two (and leaves out, say, orange juice) should be suitable for the Handsy cocktail repertoire.
Now for a bit of bad news: Martinis are out. In fact, I would stay away from all gin drinks, just to be safe. That was the advice Dave Smith, distiller of fine potables for St. George Spirits, gave me. Dave has evolved into something of a gin scholar in recent months, as he worked to perfect the recipes for St. George's first three gins, launching this fall. Dave says that ingredients like lemon peel are often used in very small amounts to balance the other botanicals in gin, and that citrus is "too necessary" to be left out entirely. Sadly, all three of St. George's upcoming gins contain a small amount of citrus.
I'm afraid that the news on vermouth is equally bad. I was pleased to hear you praise the Algonquin from the latest Mailbag … until I did some digging. Martini and Rossi's website discloses (in stilted language likely translated from Italian) that in their Extra Dry variety, "[t]he sparkling quality of the water from Monviso in the Alps allows the infusions of lemons, raspberries and iris to shine." Noilly Prat's site lists "bitter orange from Tunisia" among the non-secret ingredients in Noilly Original Dry.
Dolin's dry vermouth might be safer (and plenty tasty in an Algonquin), since their site will divulge only "wormwood … hyssop, camomile, genepi, chincona bark and rose petals," but do you really want to take your chances with an infusion of "up to 54 different plants"? I didn't, so I e-mailed Carl Sutton, the man behind Sutton Cellars Brown Label Vermouth. Carl was as cagey as you'd expect about his product's "17 botanicals," but when I mentioned your specific conundrum, he owned up to the fact that orange peel is "one of the main ingredients" in his vermouth. Foiled again!
Depending on the sensitivity of your allergy, you may want to steer clear of Algonquins, Martinis, and even Manhattans, too (figuring that sweet vermouth is similarly likely to employ citrus peels in the service of an acidic tang). The same goes for liqueurs like Chartreuse or Bénédictine—anything made by monks, using secret recipes known only to members of the Order and centuries-old ghosts, can't be trusted. Even the monks that don't take a vow of silence are religious about protecting their trade secrets.
After all of that bad news, I'm guessing you might like another drink. How about another glass of our new friend port, plus two base spirits distilled from harmless grains and sugar cane:
Handsy Suburban, adapted from Esquire Drinks: An Opinionated & Irreverent Guide to Drinking by David Wondrich

1 ½ oz. rye whiskey
½ oz. dark Jamaican rum
½ oz. port
Dash of Angostura bitters
Dash of Fee Brothers whiskey-barrel-aged bitters





Stir well with cracked ice. Strain into chilled cocktail glass.

\n
The businesslike backbone of this drink reminds me of a Manhattan or a Negroni, two all-booze classics that gin and vermouth have removed from the running. As Mr. Wondrich presents it, the original Suburban calls for a dash of Angostura and a dash of orange bitters. I've swapped out the orange for whiskey barrel-aged bitters, which underscore the richness of the rum and the port and balance the sharpness of the rye. The end result is even more appropriate for sipping among the leather-backed chairs and wood paneling that Mr. Wondrich evokes here.
Angostura is a bit trickier: This bitters' main ingredients are alcohol and gentian root, plus the troublingly vague "herbs and spices." But the company's website says that one of the purposes of its product is to "temper the acidity of citrus ingredients," so I'm guessing it should be safe to imbibe a drop or two at a time. If you want to be absolutely certain to avoid an adverse reaction, though, you might want to make some inquiries with the House of Angostura, the Brothers Fee, or even a certified medical professional. Our motto at Mixology Mailbag: "Always consult a doctor before beginning any cocktail program."
Are you stocking your liquor cabinet to impress a new flame? Looking to expand your horizons beyond the vodka and tonic, but not sure where to start? In search of the right "umbrella" drink for your beach-themed party?Let us know! Post a drinking quandary in the comments, or e-mail the Mailbag at mixologymailbag@gmail.com