Articles
"This federal statement is a game changer"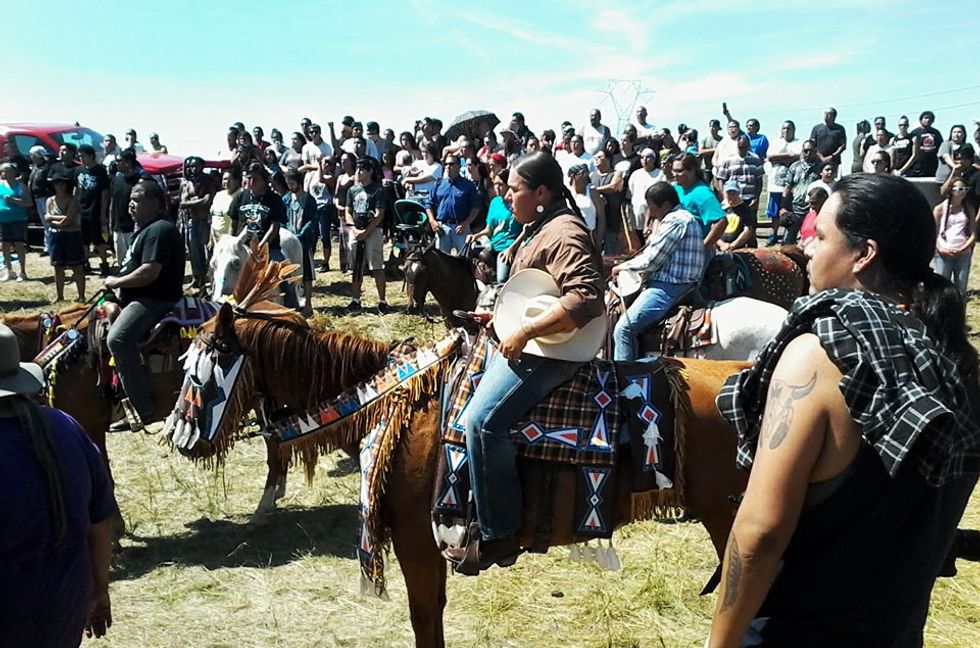 Over the summer, a controversy of David and Goliath proportions has been bubbling up in North Dakota. Here's what you need to know.
---
What's happening: A major battle over an oil pipeline
The Dakota Access Pipeline, a 1,172 mile-long oil conduit, is at the epicenter of a battle between Big Oil and small Native American tribes. At a cost of $3.7 billion, the pipeline's economic impact is estimated to be well into the billions and could create 8,000 to 12,000 construction jobs.
Where: It's set to intersect sacred land
The proposed pipeline would snake through North and South Dakota, Iowa, and end in Illinois with the goal of tapping into the estimated 7.4 billion barrels of newly discovered oil found in the region.
While the economic boost would likely pay off for the American consumer, the pipeline's true cost may come with too high a price as the underground construction is set to travel directly through sacred grounds, including grave sites, of the Standing Rock Sioux tribe. Moreover, the tribe explains, the pipeline also might endanger their lands and water supply.
Who's involved: The Standing Rock Sioux Tribe, private companies, and the U.S. government
"We have laws that require federal agencies to consider environmental risks and protection of Indian historic and sacred sites," Dave Archambault II, the elected chairman of the Standing Rock Sioux Tribe, said in a statement to CNN.
Protests have involved tribes from around the country. However, those once peaceful standoffs have turned ugly, with protesters claiming to have been subjected to excessive force, including police use of pepper spray and attack dogs. However, police claim the group "physically assaulted private security officers hired by Dakota Access Pipeline. The security officers were hit and jabbed with fence posts and flagpoles."
Beyond the tribes and police, the pipeline dispute includes the project developer, Dakota Access, as well as the Army Corps of Engineers, which was ultimately responsible for consulting with the tribes over the pipeline's proposed path. Tribal leaders claim they were not properly consulted prior to the project's approval.
What's next?
On Friday, it appeared the Army changed its tune over the construction project to side with the tribe. After a federal judge denied the request by the tribe for a temporary injunction on the pipeline's construction, the Justice Department, the Department of the Army, and the Interior Department said in a statement, "The Army will not authorize constructing the Dakota Access pipeline on Corps land bordering or under Lake Oahe until it can determine whether it will need to reconsider any of its previous decisions regarding the Lake Oahe site under the National Environmental Policy Act (NEPA) or other federal laws." The separate agencies additionally asked the pipeline company to "voluntarily pause all construction."
In the statement, the agencies additionally invited "tribes to formal, government-to-government consultations" this fall.
The tribe responded on Facebook to the voluntary stoppage, saying in part, "This federal statement is a game changer for the Tribe and we are acting immediately on our legal options, including filing an appeal and a temporary injunction to force DAPL to stop construction."