Articles
Children and firearms are a bad combination, no matter what the gun-rights organization would have you believe.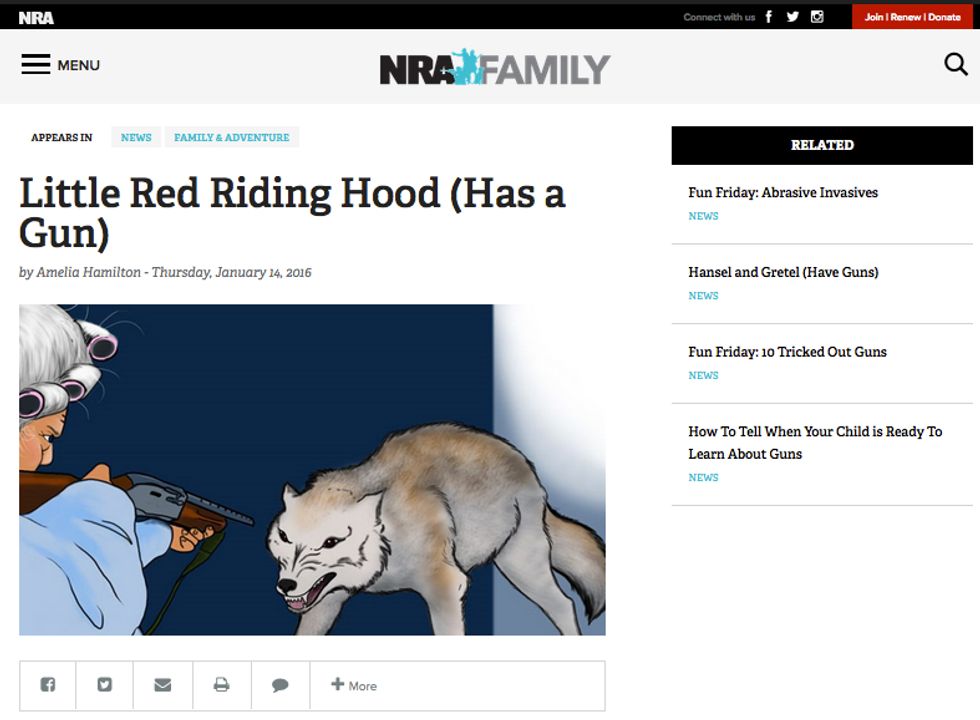 Screenshot from NRA Family site
Ah, fairy tales, those adorable morality stories passed down through the generations, bestowing upon us life lessons and practical instruction on how to ward off ogres, trolls, and big, bad wolves. Since many of these tales are rooted in real-life horrors, and the original versions often featured violence against kids, it's no surprise that the NRA—famous for its tone-deaf, self-interested reactions to the shooting deaths of children—is hopping on the pumpkin carriage with a new series of gun-related fairy tales.
---
On the NRA Family website you can find updated versions of the classics like "Little Red Riding Hood (Has a Gun)" and "Hansel and Gretel (Have Guns)." The stories were created by author Amelia Hamilton, who is, according to the NRA site, "a conservative blogger and author of the Growing Patriots series of children's books," and also—in case you were worried about her jingoistic credentials—"a lifelong writer and patriot."
On the NRA's Cam & Co show, Hamilton said she started with Little Red Riding Hood's story, with her version differing from the classic in that "this time she has her shotgun and is ready." To be fair to Hamilton, as she points out on Cam & Co, the stories are not about, say, Hansel and Gretel going Rambo on the witch—they resolve fairly peacefully, and do not portray kids killing people.
"People upset that my version of Little Red Riding Hood has everyone safe," Hamilton wrote on Twitter. "Must prefer the high levels of violence in original."
Of course, despite some very real consternation over the idea of kids being taught to use guns to solve their problems, the comedians of Twitter came out in force to make good mockery of the new series. "The other ducks made fun of him and called him ugly. So, he brought a gun to the pond and no one called him ugly again," quipped University of Kansas law professor Corey Rayburn Yung, using the #NRAFairyTales hashtag.
As grimly (Grimmly?) funny as the NRA's stupid stories may be, kids and guns are not, as Hamilton and her ilk would have you believe, a winning combination. Here is a list of kids killed or injured by gun violence in 2016 alone. And if Hansel and Gretel were traipsing around the woods with loaded guns, rather than the fun heroics of the NRA version, their outing probably would have ended a lot more like these tragic and horrifying real-life incidents involving siblings with guns. Here is just a random sampling:
5-year-old Kentucky boy fatally shoots 2-year-old sister (CNN)
3-year-old Alabama boy accidentally shoots, kills sister, 9 (CBS)
Charges against Chicago dad after 6-year-old shoots 3-year-old (CNN)
Tennessee boy finds loaded gun in mom's purse and accidentally kills brother while waiting in parked car (Raw Story)
Teen dies in accidental shooting in SW Houston (KHOU)
'I'm Sorry': Mom Recounts Moment 5-Year-Old Shot and Killed Baby (NBC)
The list goes on (and on and on). In the end, this Twitter user got it right: