Articles
OccupyVotes lets people rank the most important ideas coming out of the Occupy Wall Street movement, adding clarity to the jumble of demands.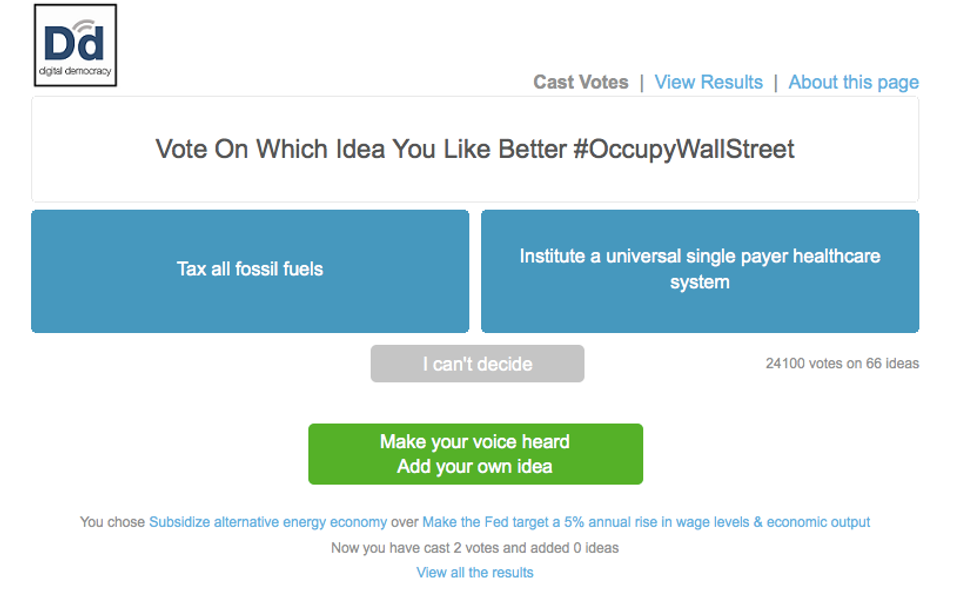 While pundits and reporters have bemoaned the lack of clarity on Occupy Wall Street's to-do list, a media nonprofit has taken a (not-so) radical approach to creating a unified agenda: asking people what matters most in a systematic way. New York City-based Digital Democracy is the organization behind OccupyVotes, a new web platform that lets users prioritize the various demands of the Occupy Wall Street movement. Making college free or taxing fossil fuels? Raising taxes on corporations or reducing interest on college loans? Voters select the concern that's more pressing, resulting in a ranked list of demands.
---
"What's cool is the system itself is totally open-sourced, transparent and accountable," says Digital Democracy president Mark Belinsky. If voters don't see a relevant demand on the list, they can seed their own ideas into the voting platform's rotation. More than 23,000 people have voted since the tool was launched on October 16. The top idea thus far? "Repeal corporate personhood."
As part of Digital Democracy's mission of empowering marginalized communities to participate in the democratic process, Belinsky is eager to move the tool beyond the internet onto the streets of New York so that everyone can participate. "Can we make a physical voting booth where Grandma can walk up to it and start to vote even though she's never been on the internet?" he wonders. Or in Egypt, where Digital Democracy piloted the tool at the height of the revolution, could organizers drive an iPad-equipped pickup truck around the country to gather data on what matters most to people? Belinsky says the group is in talks with partners in Egypt to make that a reality. For now, look out for the voting platform on an occupier's smartphone near you.