Chicken: A Winner For So Many Dinners
The tried-and-true chicken breast will always deliver
09.28.16
Whether you're a seasoned cook or new to the kitchen, you can't go wrong with organic boneless, skinless chicken breast when preparing a home-cooked dinner or trying an untested recipe. Experiment and learn how to cook chicken breasts 5 ways. Try a splash of fish sauce to give it a southeast Asian flavor, a dollop of tomato paste for Italian, ancho chile for Mexican, a dash of curry powder for Indian, or red wine vinegar for Greek.
Ingredients:

---

4 (6-ounce) boneles, skinless chicken breasts, thawed if frozen

Plus one of the following sets of ingredients:

Thai:
1 tablespoon lime juice
1 tablespoon creamy peanut butter
2 teaspoons fish sauce
1 teaspoon honey

Italian:
1 tablespoon extra-virgin olive oil
1 tablespoon tomato paste
1 tablespoon very finely chopped fresh basil
1/2 teaspoon fine sea salt

Mexican:
1 tablespoon canola oil
1 tablespoon lime juice
2 teaspoons ground ancho chile
1 teaspoon fine sea salt

Indian:
1 tablespoon whole milk plain yogurt
1 tablespoon very finely chopped fresh cilantro
2 tablespoons curry powder
1 teaspoon fine sea salt

Greek:
1 tablespoon extra-virgin olive oil
1 tablespoon red wine vinegar
1 teaspoon fine sea salt
1 teaspoon very finely chopped fresh oregano

Method:

1. Preheat the oven to 450°F. Place chicken breasts in a 9x13-inch baking dish. Choose your set of ingredients; stir them together in a small bowl and rub evenly over chicken. Arrange chicken breasts, smooth-side down, in the dish and roast for 10 minutes. Carefully flip chicken, coating it in any browned pan juices, and continue roasting until just cooked through in center and golden brown, 6 to 8 minutes more. Let rest for 10 minutes and then slice and serve.

Serving note: Consider topping the sliced chicken with the following:

• For the Thai style, torn fresh mint and basil leaves and thinly sliced Thai chiles
• For the Italian style, chopped cherry tomatoes with a splash of balsamic vinegar
• For the Mexican style, a dollop of guacamole sprinkled with fresh cilantro
• For the Indian, paper-thin slices of red onion and a drizzle of coconut milk
• For the Greek, sliced cucumbers and crumbled feta cheese
For a lighter yet still satisfying meal, try this grilled chicken salad with tomatoes and oregano. Toss everything including your favorite mixed greens with the yogurt and olive dressing for another Greek-inspired meal. Refrigerate up to a day to pack for lunch tomorrow.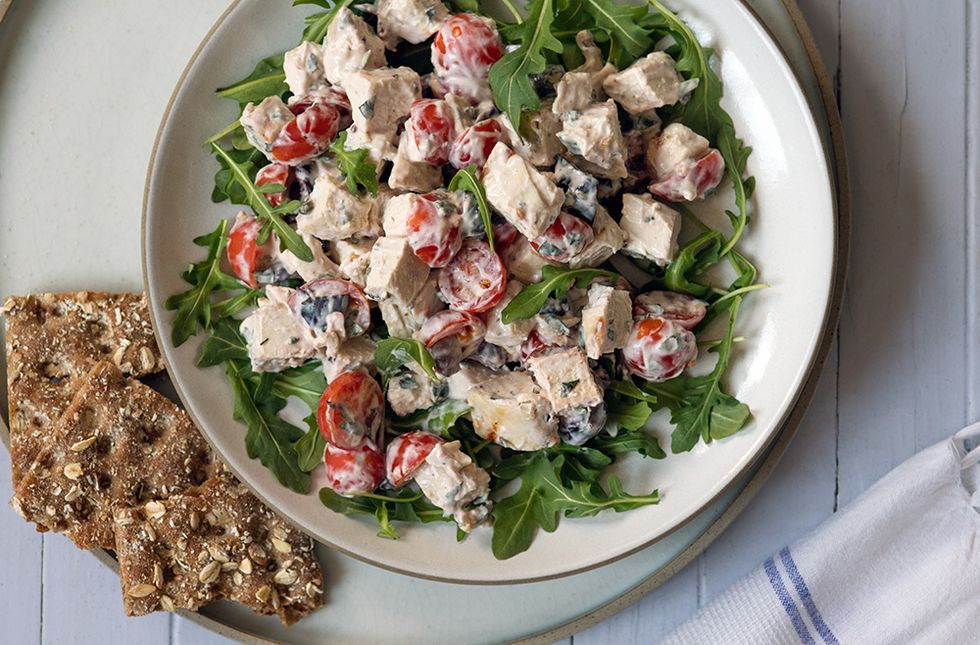 Ingredients:

3/4 cup plain unsweetened soymilk yogurt
2 tablespoons chopped fresh oregano
1 1/2 cups grape tomatoes, roughly chopped
1 pound boneless, skinless chicken breasts, grilled and diced
1/3 cup chopped pitted Kalamata olives

Method:

1. In a large bowl, whisk together yogurt and oregano. Stir in tomatoes, mashing them a little so they release their juices. Add chicken and olives and stir to coat. Serve immediately, or transfer to an airtight container and refrigerate for up to 1 day.
This Mexican-style Chicken Posole soup is soulful and satisfying. Switch up the chard leaves with escarole or spinach throughout the season because you will be making this again and again.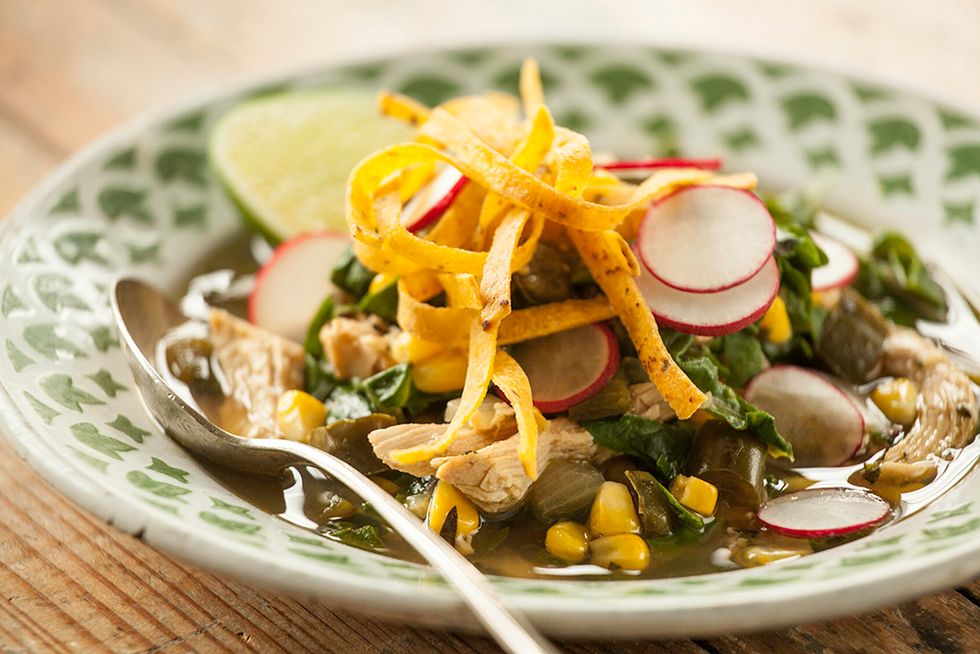 Ingredients:

1 tablespoon canola oil
1 large onion, diced
5 poblano peppers, seeded and diced
5 garlic cloves, finely chopped
5 1/2 cup low-sodium chicken broth
1 1/2 pounds boneless, skinless chicken breasts
1/2 teaspoon fine sea salt
5 cups thinly sliced chard leaves and stems (about 1/2 bunch)
1 (28-ounce) can hominy, drained and rinsed or 2 1/2 cups frozen corn kernels
3 tablespoons chopped fresh oregano leaves
1/8 teaspoon ancho chile powder or cayenne pepper
2 limes, cut into wedges

Method:

1. Heat oil in a soup pot over medium-high heat. Add onion, poblanos and garlic, and cook, stirring, until vegetables soften, 7 to 8 minutes. Add broth, chicken and salt, and cook until chicken is tender and cooked through, about 20 minutes. Transfer chicken with tongs to a cutting board and let cool 5 minutes. Shred chicken with 2 forks and return it to the pot. Add chard, hominy and oregano, and cook 5 minutes more. Taste and add ancho chile powder or cayenne pepper. Serve with lime wedges and additional garnishes of choice.
Whole Foods Market offers 5-Step™ Animal Welfare-rated organic chicken raised on non-GMO feed with no antibiotics, ever. You can enjoy succulent white meat while doing the right thing for the welfare of the animals.
Go to wholefoodsmarket.com/recipes to find more delicious recipes. And don't forget to visit wholefoodsmarket.com/sales or download the app to enjoy great savings on organic skinless and boneless chicken breast and other high-quality ingredients!
Articles