Articles
Parcel Publishing
Subscribers to [i]The Thing[/i], a new "object-based quarterly," get household objects adorned with text.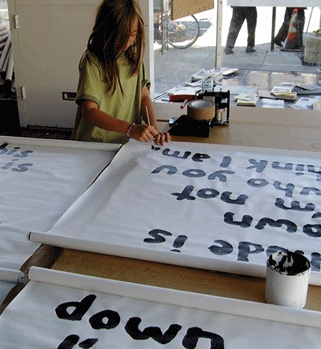 ---
Print isn't dead
, but it is appearing in stranger places. Witness
The Thing
, a new "object-based quarterly" that debuted in August. For $120, subscribers receive four packages a year, hand-wrapped in brown paper and tied with string, enclosing the latest "thing"-a household object (created by artists like Miranda July and Trisha Donnelly) that incorporates text in some way. Co-editors Jonn Herschend and Will Rogan conceived the idea as graduate students at Berkeley. "We were both interested in the way text transforms an everyday object, changing it from something ordinary into something special" they wrote in an email.The first package, created by July, contains a roll-down window shade printed with silk-screened words. One side reads: "If this shade is down I'm not who you think I am." The other: "If this shade is down I'm begging for your forgiveness on bended knee with tears streaming down my face.""I like that the shades face in, toward the people in the house," says July, "and that theoretically they could use them to communicate unspeakable things to each other."
LEARN MORE
thethingquarterly.com