Articles
One frame shows what a "hero's welcome" really is.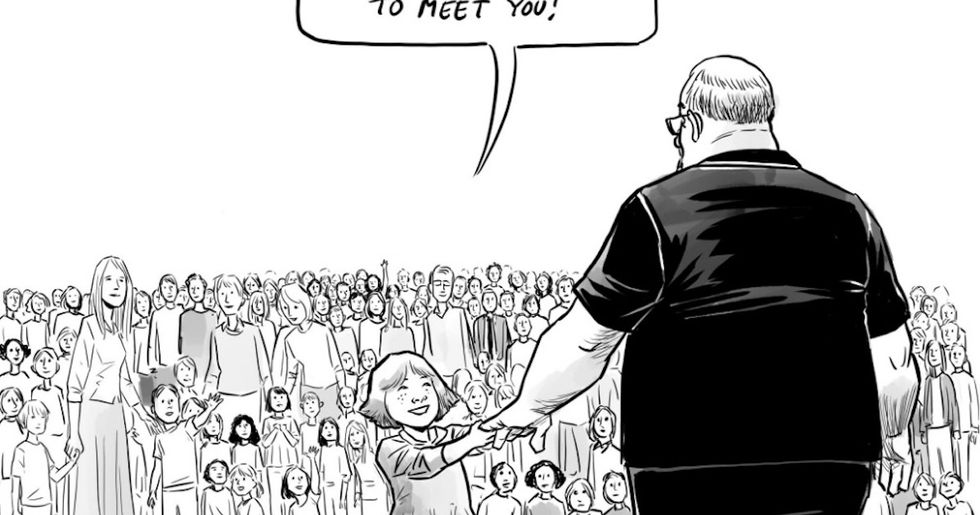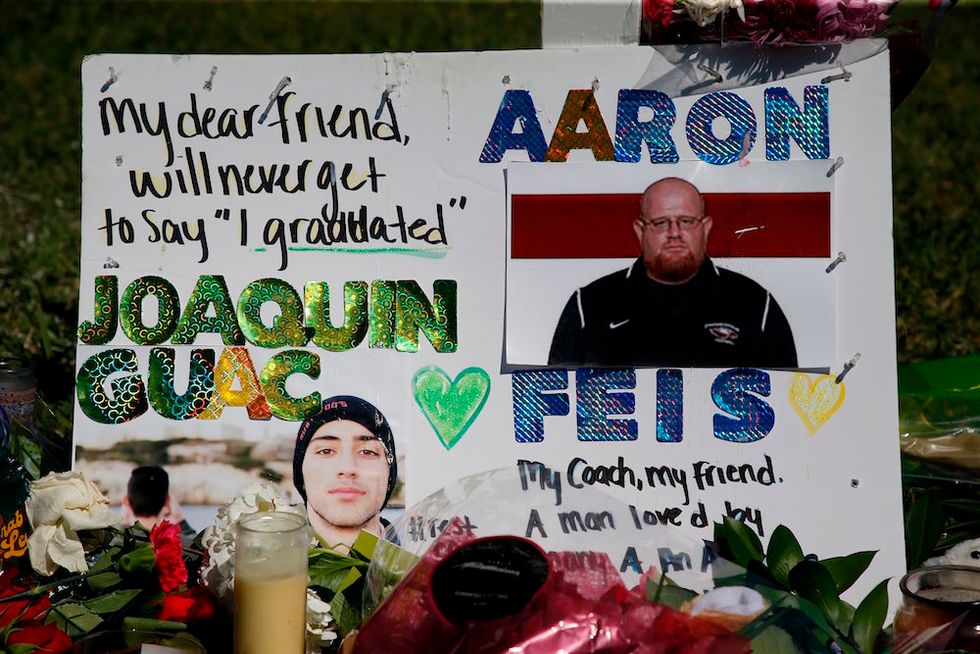 A memorial for student Joaquin Oliver and assistant football coach Aaron Feis. Photo by Rhona Wise/Getty Images.
In the wake of the tragic Parkland school shooting that left 17 people, including children, dead at the hands of a gunman, many are still processing the complex emotions evoked by such an event.
---
While every lost life is mourned, Aaron Feis, a security guard and football coach at the school, has garnered the public's adoration and gratitude after reports that he died selflessly protecting students from the gunman.
A recent cartoon from Pia Guerra offers a tragic and touching picture of the heroism and honor Feis demonstrated in giving up his life to save children from the evil that came to their school that day.
Entitled "Hero's Welcome," the cartoon shows Feis arriving in heaven, receiving a literal hero's welcome by the children who perished. One student runs up to the representation of Feis, exclaiming, "Come on Mister Feis! So many of us want to meet you," implying that it's not just the victims of the shooting who seek to express their gratitude.
She shared the work on her Twitter account for all to see.
Hero's Welcome. #guncontrol #Parkland https://t.co/NHto6MO73A

— Pia Guerra (@Pia Guerra)1518727559.0
As would be expected from such an evocative tribute, the response to the cartoon has been an overwhelming mix of grief, sorrow, and gratitude.
@PiaGuerra Pia, I thought I couldn't cry anymore from the last two days. When I saw your drawing, I cried hysteric… https://t.co/lCKRuPOhss

— AnimalLover 2019💥 (@AnimalLover 2019💥)1518797568.0
@MattAsherS @MamaRose2017 @PiaGuerra 😭I'm going to miss seeing him every morning as I drop my daughter to school. R… https://t.co/XWO4zibLzD

— ☕️CaffeineFreak☕️ (@☕️CaffeineFreak☕️)1518796826.0
Further, many expressed appreciation for Pia's ability to find some good in such a senseless tragedy.
@PiaGuerra What a gift to the world you are! They say the pen is mightier than the sword. What an amazing power for… https://t.co/JMIl1n8KJu

— Paul Williams (@Paul Williams)1519056224.0
Pia followed the tweeted image up with an explanation of why she felt compelled to create this tribute:
@LJLiveTV @NatalieMorera That all these brave, beautiful, vibrant people should still be with us.

— Pia Guerra (@Pia Guerra)1518796656.0