Articles
Bimbo Jersey: Offensive or "Fun?" Philly Union Bimbo Jersey: Offensive or "Fun"?
A multi-million dollar deal puts an insult on the chest of Philly's pro soccer team. The team's CEO says women think "it's just the coolest thing."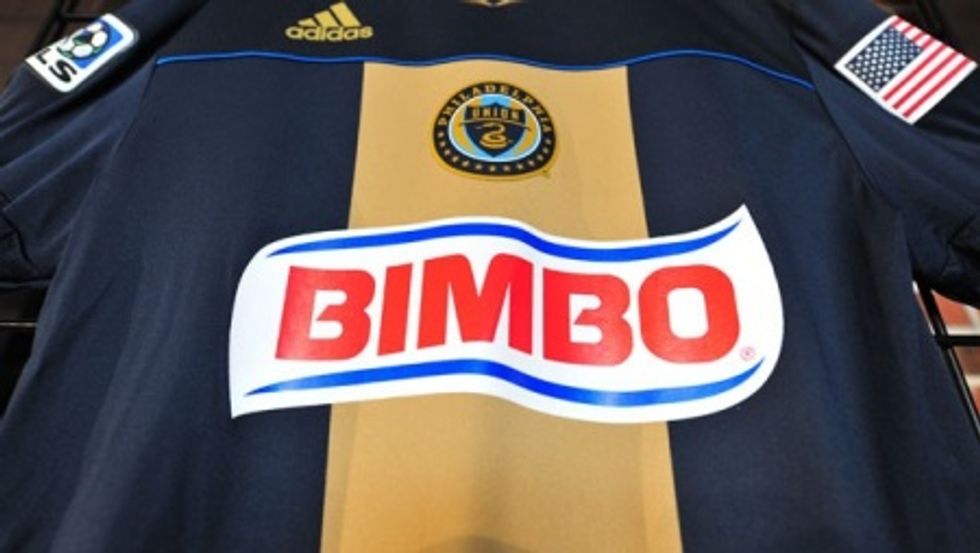 Is this offensive to you? The Philadelphia
Major League Soccer
team got a new sponsor but for some inexplicable reason, it's not going over so well with some fans: women.
Bimbo is a major Mexican baked goods company whose unfortunately translated name already appears on several Mexican professional soccer team jerseys. The company is seen as a supporter of the sport here in the United States, too, according to MLS and the Philadelphia team, Philly Union.
---
Nick Sackiewicz, CEO of Philly Union, said, "We couldn't think of a better partner to put on that sacred ground, the jersey." Watch him say it with a straight face in this video. Bimbo, (pronounced beem-bo) will have a marketing presence in MLS stadiums all across the country. According to HispanicallySpeakingNews, "Sakiewicz said the team had no concerns that the Bimbo name could hamper jersey sales to women."
"Not at all," he said. "In the focus groups and discussions I've had with women, the vast majority of them think it's just the coolest thing. They think it's fun. Our data is telling us they think it's kind of cool. I have zero concerns on that."

\n
The branding blogger Laura Martinez strikes a less optimistic view of putting a mysoginistic insult on the chest of a professional sports jersey. She says that at least one fan will be boycotting the team until the logo is removed. "Wait 'till she gets her hands on a Negrito Bimbo. I'm sure she will throw a fit."
The team, and American soccer in general, needs sponsors and financial support to grow. Mexican fans are a major support base for the league. Can the league afford to pass up a multi-million dollar deal because of a little unlucky brand name translation?
Via Laura Martinez