Articles
Raising the Roof
On [i]Extreme Makeover: Home Edition[/i], Denise Cramsey leads a nationwide broadcast on the strength of community.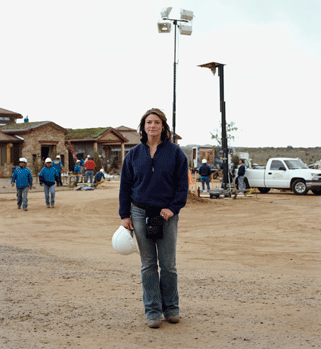 ---
Denise Cramsey is not
in the business of solving problems; she's in the business of telling stories. But sometimes the best stories involve a problem solved. Currently working on her eighth reality TV series, the 38-year-old executive producer has found the largest platform and audience of her 16-year career-ABC's
Extreme Makeover: Home Edition
. Now in its fourth season, the Emmy-winning show regularly rates first in its Sunday evening time slot-tugging millions of viewer's heartstrings with voyeuristic stories of home renovation and life transformation, punctuated with impeccable product placement.A distinctly American experiment in generosity,
EMHE
feels curiously closer to Cinderella than to, say, Horatio Alger. It happens like this: a team of producers led by Cramsey sifts through video submissions from families in impoverished conditions-like the Rogers family from 2006, which consisted of a single mother who cared for her incapacitated brother-in-law and home-schooled his three children, as well as eight of her own-all within a 900-square-foot shack in Alaska.\n\n\n
Quote:
It is a television show, of course. But more than that, it is actually a mission to go out and help people who need help.
Each episode features frosted-tipped male model turned TV carpentry personality Ty Pennington doing his best fairy godmother impression, as he and his team of designers turn a dilapidated shanty into a state-of-the-art suburban mansion in just one week. The Rogers place, for instance, grew to 4,800 square feet and was filled with computers and plasma screens, not to mention an Astroturfed backyard football field. The presence of the ubiquitous bullhorn through which Pennington emphatically encourages his crew reinforces the show's aggressive Americana-as does the "extreme" in its title, which could refer not only to the speed with which a home gets transformed and the extent of the renovations, but also to the extreme differences in the show's reception.The show has been criticized as endemic of a culture of suburban excess and instant gratification. And while
EMHE
does feature a glut of corporate sponsorships and conspicuous consumerism, consider the local volunteers (sometimes numbering in the hundreds) who congregate around the construction site day and night until the project is finished. Cramsey thinks the sense of communal compassion, in tandem with the show's tear-jerking moments, is what distinguishes it from the legions of gimmicky reality shows that clutter the dial: "It is a television show, of course. It is a business, of course. But more than that, it is actually a mission to go out and help people who need help," she says.
On
EMHE
, the Johnsons's house increased in size from 900 to 4,800 square feet. Here is what that difference looks like.
When Cramsey left Syracuse University with degrees in newspaper journalism and economics, she dreamt, like many a wide-eyed journalism student, of writing for
The New York Times
. That didn't quite happen. "I think I got rejected by every newspaper in the United States of America," she says, chuckling. "But I did get a job at a local television station in Allentown, Pennsylvania. I was there for two and a half years and moved up from the assignment desk to writing to producing, and sort of caught the TV bug and have never looked back."That TV bug took her through a host of successful reality-TV production jobs where she honed her narrative prowess-including the very popular
Trading Spaces
, which marked the first collaboration between Cramsey and Pennington. Despite helping so many people, Cramsey attributes her success to the spirit of altruism that surrounds the show. "I produced literally hundreds of episodes, and all I did was stand by and record people at the most intense moments of their lives," she says. "People tell their own stories. And solve their own problems. I'm just there to record it."