Articles
Revolution Foods: Changing What Kids Eat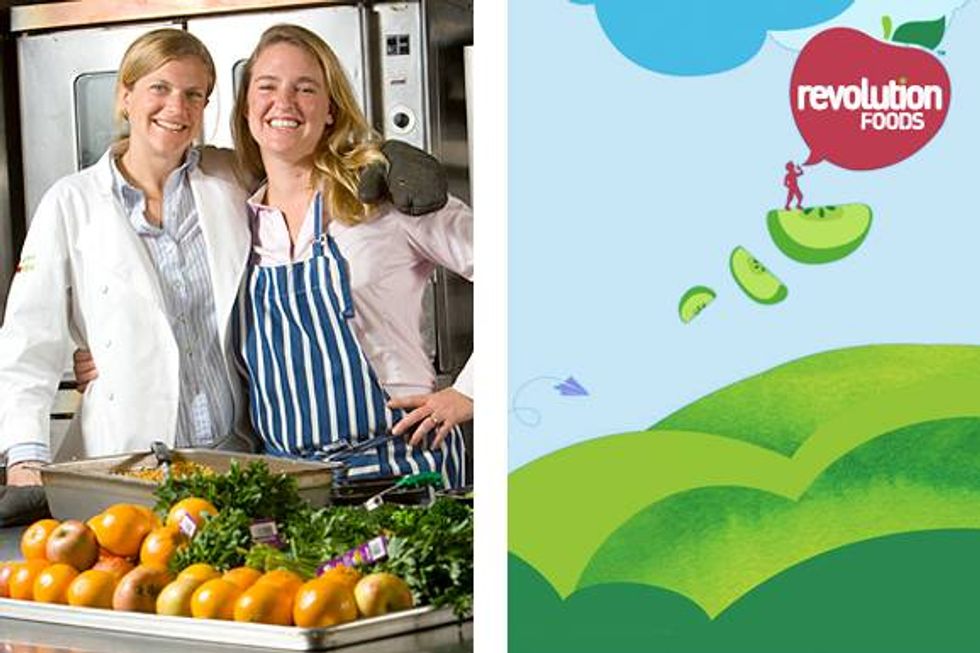 ---
After meeting in business school, Kristin Richmond, 34, and Kirsten Tobey, 32, founded
Revolution Foods
, an organization
whose mission is to provide school cafeterias with healthy food
. Started in 2006, Revolution Foods
now prepares 30,000 lunches and 20,000 breakfasts and snacks each day for kids in California and Washington, D.C
.
Since food-preparation is an unavoidably early-morning business, we caught up with them at 6 a.m. to ask them a few questions. The day's deliveries were already well underway.
GOOD:
Tell us a little about your schedule.
KIRSTEN TOBEY:
When we started the company, we were going in at 4 a.m. Now we're starting at a much more reasonable hour: Our kitchens open between 2 and 3 a.m.
G:
What's your background?
KT:
Before business school, both of us came from the education sector. We came into it thinking about school and what areas were not being addressed. I spent time in schools as a teacher and had seen school lunches and how schools weren't focusing on what they were feeding their kids. We started going into schools and interviewing principals and teachers and kids. The common message was that while we were teaching them one thing in the classroom—namely, to eat healthfully and take care of their bodies—when they went into the lunchroom, they would see food that was microwaved and processed. We met teachers and principals that wanted to provide something better but didn't have a whole lot of options.
KRISTIN RICHMOND:
So, we started a pilot program in the Bay Area. It wasn't hard to find a group of school partners. A lot of schools were excited by the prospect. We launched the pilot while we were still in school, with Whole Foods helping us to tap into their network of healthy suppliers. The other piece, of course, was funding. School food is an asset intensive business. To get it off the ground, we used some personal money and found seed investors.
G:
The federal government only pays, on average, $2.68 per child per lunch. How do you do it?
KR:
I'd be lying if I said it wasn't a challenge, given budgetary concerns. We spend a much larger percentage of our budget on food, pay employees above a living wage, and give them health insurance. The food service industry is not one of the most employee-friendly businesses. Most are coming from minimum wage jobs.
KT:
That being said, the reimbursement rate for school lunches impacts how much we can spend on our food and how much schools can pay for it. What we've been focused on, it's not like we have a lobbying arm, but because we have a culinary center in D.C., we've met with legislators, met with First Lady's office. If there is an increase in the reimbursement rate that's tied to nutritional standards, requiring that it be spent on getting healthier foods into the lunchroom, we're all for it. But it can't be tied to an increase in to some other part of the operation.
G:
As you mention, the federal child nutrition program is now being reauthorized. How much of a difference can a six-cent increase really make? Or, in other words, how you envision fixing this problem?
KR:
We've tried from day one to make sure we're balancing money coming in and going out. We think the only way that the nutritional quality of school lunches will be solved is through a financially sustainable model, but also a model that's sustainable for the providers. You can't build a model that requires a constant influx of capital. Instead, you have to pay very careful attention to costs and build menus that meet financial targets so that pricing stays within a reasonable range.
G:
Both of you are mothers to young children. Do you sleep?
KT:
We can get by on about six hours of sleep each night.
G:
Finally, a
ny surprises along the way?
KR:
It's not an easy business, that's for sure. It takes a ton of work to make a high-quality meal accessible to students that haven't had access to it—from changing the food supply chain, which is not set up for high-quality natural food. Also, since we first started talking about this company, we heard: Kids will never try new things, kids will never eat healthy food., you won't be able to change their habits. What we've found is that if we engage kids in the conversation about food and if you make it taste really good, if it's made with high-quality ingredients, they will eat a new version to what they're used to eating. You just can't go in with a tofu bok choy stir fry on day one.