Articles
Sick Art
RxArt commissions prominent artists to decorate hospitals.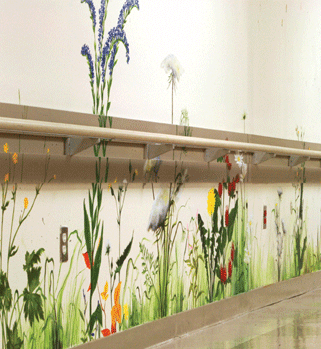 ---
After a recent
hospital visit, former gallery owner Diane Brown decided that the building's bland art-breezy watercolor prints, "inspirational" landscape photographs-made her experience worse, not better. So she set out to change things, beginning with the walls.
RxArt
, the organization she founded, buys contemporary art and donates it to hospitals. Since its start in 2000, RxArt has brightened 10 hospitals with works from prominent artists, including a Dominik Lejman video installation of moving animals (now in a children's hospital) and an abstract Robert Mangold painting (in the radiology department at Mount Sinai, in New York). "We don't want to give them trees and a pond. We want something that's challenging in a good way," says Brown. "Something to think about other than illness."
LEARN MORE
rxart.net