Articles
Single dad who went viral after mom abandoned baby shares farewell message with followers.
"I thank you all again for everything. Take care and keep writing your own story! It's never truly over."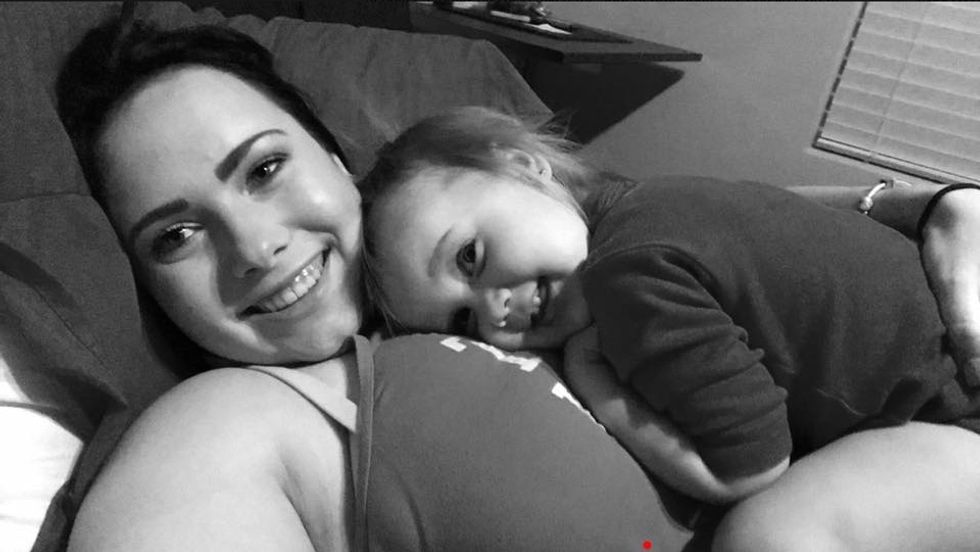 This article originally appeared on 08.14.18
Back in 2015, the single dad Richard Johnson went viral after posting in the Facebook group Life of Dad. His post shared the story of his baby daughter Persephone, whose mother abandoned them just a month after birth. While Johnson wasn't sure of the reasoning behind the abandonment, he had a feeling post-partum depression was at play.
Johnson's display of vulnerability, as well as his concerns about being a single dad, resonated with people across the world, and his post quickly went viral.
---
He wrote:
"My name is Richard Johnson, and I'm a single father to a beautiful little girl named Persephone. Her mother left about a month after she was born. We still don't know exactly why, but we suspect post-partum depression played a part. In the first few weeks of it being just her and me, I stumbled upon your page by accident. I was so nervous and scared about being a father in general, but now I was a single father and had to fulfill two roles. I wasn't sure I could do it."
He then went on to share how the Facebook group provided him with much needed guidance and support as a single parent.
"I had read every "new parent" book I could find and clocked in over 1000 hours in YouTube videos from everything to braiding hair and painting nails to theories on how to deal with common parental issues. I then started to watch your page more closely and saw that there were other fathers out there who were in similar predicaments as me. The page started to turn into a major confidence booster and really helped me through all of this."
Johnson received such a huge outpouring of support that he created his own page documenting his parenting journey with Persephone.
Over the past few years, followers have offered up support for Johnson's journey, particularly when it came to Persephone's medical struggles.
"I am proud to announce after a 3 hour long ultrasound, grunts and groans from our Doctor. Miss Persephone Lilith Johnson's heart is now at 100% health," he wrote.
Over five thousand people have joined in following the father-daughter duo over the past few years, and Johnson has been consistently posting updates about birthdays, exciting milestones, and of course, the very real struggle of raising a child alone.
"One year and 24 minutes ago. My beautiful baby girl was born. She changed my entire life. Breathed new hope into a broken man. Gave me hope for a better future. You calmed a storm within me. I can never understand how such luck was bestowed upon me. I certainly did not deserve it," he wrote on her first birthday.
Johnson has even opened up about his love life, and shared pictures of his long term girlfriend who has stepped into the mother role for Persephone. They met at the mall when he was shopping for Persephone's clothes, and in my, opinion this needs to be written into a meet-cute pronto.
"For all of you who have our personal Facebook this won't come as a surprise. This lovely lady is my girlfriend and Persephone wonderful and gorgeous Mother Jennifer. We've waited a while to have anything on this page however Jennifer has been an amazing mother to Persephone. We had met at the mall while I pathetically attempted to catch her attention by asking if she could help me pick out clothes for Persephone. I explained that I wasn't sure what actually matched and need some pointers considering my own closet had consisted of nothing but black, faded black, and dark black clothes. We had talked for months before I allowed her to meet Persephone. Upon meeting her Persephone had made the choice that this would be her mommy."
Despite the fact that people online have been loving the wholesome posts, Johnson recently made a farewell post for his followers. Until further notice, the page won't be updated as the family seeks more privacy.
He wrote:
"It saddens me to announce that we will no longer be updating this page nor responding to anything. We have decided to let the page go silent. I will certainly save everything so Persephone can see everything when it's finally time to tell her the story. Most of you have been here from the beginning and all our your heartfelt messages have meant so much to us. However it has come time to let this page go. After recent events, we will not be continuing with the page. We have had an extraordinary journey thus far and it's certainly not over yet. I'm purging our lives of a few things and realize that would have to include this page.
It's possible we will pick the page up again some other time down the line. You have all made a "chapter" in the book we call life."

While Johnson didn't lay out any clear reason for the sudden farewell, it makes total sense for the family to need a bit of privacy. As Persephone gets older, she'll build her own set of boundaries and establish her own relationship with social media. In the meantime, Johnson is keeping up the page so she can look back on the memories when she's older.
"I thank you all again for everything. Take care and keep writing your own story! It's never truly over," Johnson finished.