Articles
Stimulating Transit
How the $825 billion stimulus bill gives public transportation the shaft "To the conductors, who make our trains run, and to the workers who lay down the rails," boomed soon-to-be President Obama to a gathered crowd during his and Vice President-Elect Biden's whistle stop tour down to their inauguration..
How the $825 billion stimulus bill gives public transportation the shaft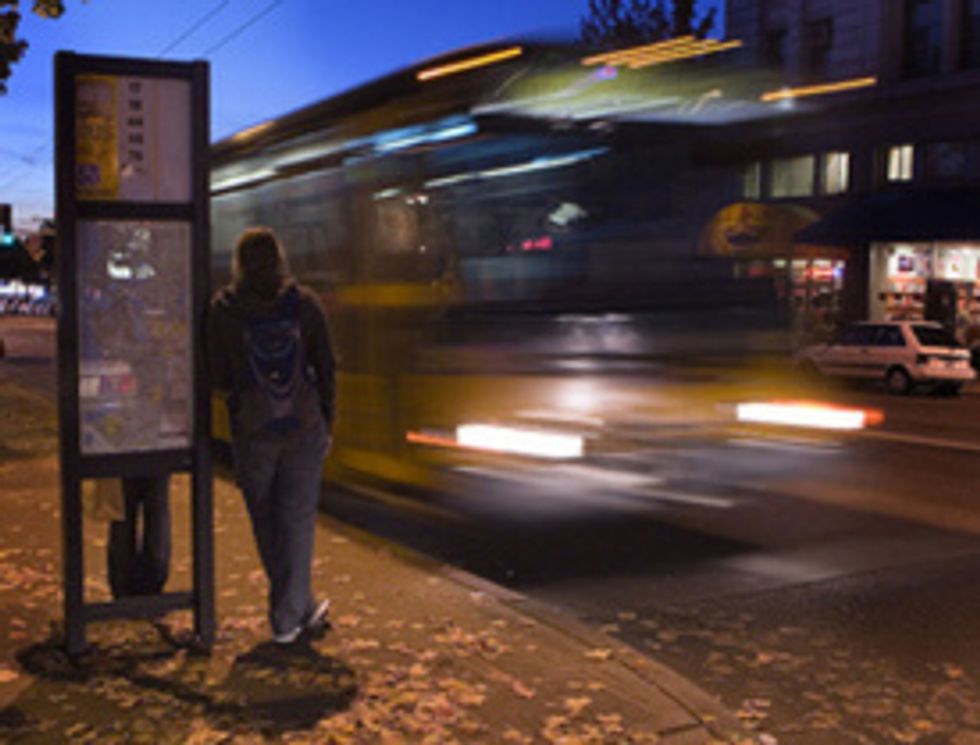 "To the conductors, who make our trains run, and to the workers who lay down the rails," boomed soon-to-be President Obama to a gathered crowd during his and Vice President-Elect Biden's
whistle stop tour
down to their inauguration in Washington. "To the parents who worry about how they're going to pay the bills next month on the commute to work, and to the children who hear the whistle of the train and dream of a better life-that's who we're fighting for. That's who needs change." Unfortunately, as the new administration symbolically rode the rails along the same route as was once taken by the original champion of the train, Abraham Lincoln, drafts of the economic recovery bills coming out of Congress were sending other signals.The $825 billion stimulus bill-or, sorry, the American Recovery and Reinvestment Plan-gives public transportation the shaft. The
House's version
includes only $10 billion for mass transit and rail, compared with $30 billion for roads. (The upper chamber comes up
even shorter
.) For those of us who view investment in public transportation as an essential ingredient in a sustainable stimulus-or for anyone whose daily commute is jeopardized as their city's mass transit system sputters and derails in the face of this economic crisis-this should be a huge let down.The tired and cynical conventional wisdom of D.C. is saying that the relatively low $10 billion number (slashed down already from the roughly $17 billion that Minnesota representative Jim Oberstar's Transportation and Infrastructure Committee originally asked for) is a reflection of a lack of "shovel-ready" mass transit projects. But this lazy theory is
debunked by the bill itself
, which identifies nearly $78 billion of "ready-to-go" or backlogged projects.See, for example, the section on Upgrades and Repair:"$2 billion to modernize existing transit systems, including renovations to stations, security systems, computers, equipment, structures, signals, and communications… The repair backlog is nearly $50 billion."Similarly, the line item for Transit Capital Assistance offers $6 billion "to purchase buses and equipment needed to increase public transportation and improve intermodal and transit facilities" before admitting that "The Department of Transportation estimates a $3.2 billion maintenance backlog and $9.2 billion in needed improvements. The American Public Transportation Association identified 787 ready-to-go transit projects totaling $15.5 billion."To help put such enormous numbers in perspective, China is spending $600 billion over the next two years on infrastructure; $88 billion on intercity rail alone (and dozens of billions more on metropolitan bus, subway, and light rail transit). As Rep. Peter DeFazio (D-OR)
recently explained
to Rachel Maddow, what Congress has got on the table is about one-fifteenth of that.And here's the real kicker-none of this $10 billion would provide immediate operating assistance for America's mass transit systems, a whole slew of which are struggling just to endure. (Though Oberstar's original proposal included $2 billion for an assistance fund.) Transportation for America has put together
a map
that "highlights 38 communities across the U.S. that face job cuts, service reductions and fare hikes, but will receive no assistance under the current recovery proposals before Congress to prevent these painful cuts."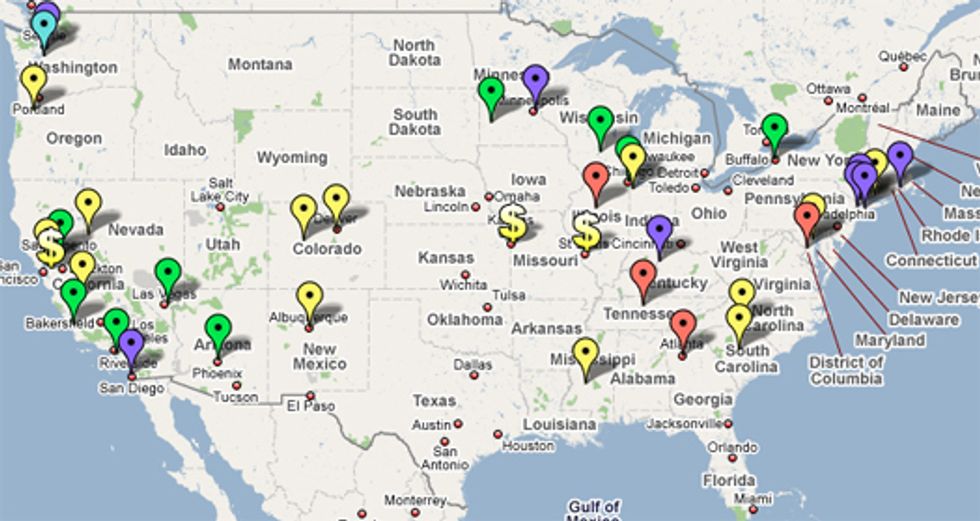 ---
View United States of Transit Cutbacks map
The compilation clearly illustrates just how painful these imminent cuts would be: With ridership at record highs…the far-reaching and broad cuts will directly affect transit employees and riders who are among the most vulnerable in this time of economic upheaval. More than 20 million trips are taken each day on these 38 systems, and the scores of low-income citizens and 1/3 of Americans who are unable to or choose not to drive could find themselves out in the cold.Name a big city, and odds are its trains and busses are careening towards fiscal disaster. Here in New York, the MTA is scaling back bus service, has already shut down a subway line, and is threatening more cuts and higher fares.President Obama doesn't have to look any further than his adopted hometown to gauge the real world implications. DeFazio talked of how the city of Chicago has a $6 billion deficit in transit infrastructure, and this bill would get them about $250 million. Carole Brown, who heads the Chicago Transit Authority, testified to Congress that "we could spend $500 million tomorrow" and the rest of that $6 billion soon thereafter on essential repairs and improvements. The CTA currently has a backorder on busses that they can't pay for, busses that would be built by a plant that employs 3,000 workers in Minnesota.So while
we know
that mass transit is "among the biggest proven job creators under consideration," the DC conventional wisdom frets that transit isn't "shovel ready."This attitude should be reconsidered. As Minneapolis transportation official Peter Bell
told the Star Tribune
, "I'm not sure how much sense it makes hiring a construction worker at the same time you're laying off a bus driver."
Here are two ways you can help:
-
Call House Rules Committee Chairwoman Louise Slaughter's office
and urge her "to allow Rep. DeFazio's amendment for transit operating assistance to reach the floor."-
See if either of your senators are on the Appropriations committee
. If so, call and ask that operational assistance is added to the American Recovery and Reinvestment Plan, and that more money is allocated to mass transit and rail projects.
CORRECTION:
The original text of this piece switched Rep. DeFazio and Rep. Oberstar's states. Rep. DeFazio is from Oregon and Rep. Oberstar is from Minnesota. The text has been edited to reflect this correction.
Image of SDOT streetcar from the Seattle Municipal Archives Flickr account