Articles
Sustainability Lessons from America's Greenest Colleges
How the top performers in Sierra Magazine's "greenest college" survey make their sustainability goals real.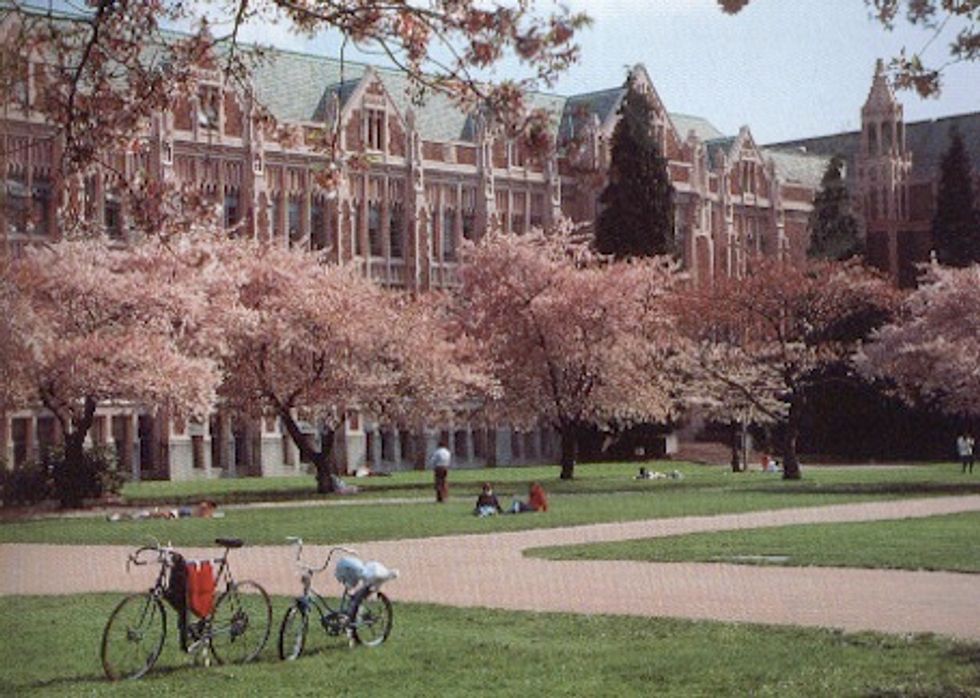 More than other large institutions, universities tend to be driven by values. And when they don't follow through, they've got a large group of often-idealistic people willing to call them out on it. So if a college chooses to make sustainability one of its core values, it has that much more incentive to follow through. But that doesn't make it easy. Like any large institution, universities have to navigate bureaucracy, keep costs in line, and deal with less-than-efficient legacy systems.
Across the country, though, colleges are making it work. For the fifth year,
Sierra
Magazine
ranked
the "greenest colleges" based on their commitments to draw down energy use, increase buildings' efficiency, source local food, minimize waste, and promote environmental education. Here are a few lessons, drawn from some of the top performers on Sierra's survey, on how to accomplish green goals on an institutional level.
Make it official.
It's all well and good for an institution to claim it's committed to green values, but holding up that standard is more difficult. Top green colleges keep themselves accountable to their green goals by building them into their institutional cores. The University of Washington, which ranked first on
Sierra
's list this year, has a formal policy on environmental stewardship. At Vermont's Green Mountain College (which came in second this year and first in 2010), all students enroll in a core curriculum that includes "environmental liberal arts," which covers the natural world and healthy communities. The third-ranked University of California at San Diego has a climate solutions working group that counts vice chancellors and deans among its members.
"You need the leadership and the senior management to say, 'Yes, this is what we're going to do,' and communicate that to everyone else in the organization," says Dave Weil, UCSD's director of building commissioning and sustainability.
Listen to your community.
Students are a vocal bunch, but these schools have found it pays to listen. North Carolina's Warren Wilson College went through its first energy audit after a student proposed the idea and completed the work as an independent study course. Solar panels make less sense for a northern school like Green Mountain College; the idea for the school's new biomass plant came from students in an honors environmental course back in 2006. The college now has a grant to work with local landowners and loggers to improve the sustainability of the area's biomass supply. Students at the University of Washington started a
campus sustainability fund
to finance projects that would contribute to the campus' green profile, like expanding the on-campus farm, planting trees in student neighborhoods, and installing DIY bike repair stations around campus.
It's not only students that can have an influence, of course. UCSD's commitment to sustainability grew in part from its institutional history and faculty research. Now a department at the school, the Scripps Institution of Oceanography is where Dave Keeling started his work on what became the
Keeling Curve
, one of the most important measures of global carbon dioxide levels.
Share with others.
This can be taken literally: Green Mountain College has a "free store," for instance, where community members can leave unwanted goods for the taking instead of throwing them away. A community service project at Warren Wilson College weatherizes homes for financially struggling families, cutting both their energy bills and their carbon emissions. Building community could become an increasingly green value if the worst impacts of climate change become reality. As John Brock, a professor at Warren Wilson who's currently directing the school's Environmental Leadership Center, puts it, "Knowing your next door neighbor is going to be really important."
But sharing with others can also mean sharing knowledge, a key part of academic institutions' mission. Weil says that one of UCSD's strengths is getting students involved in the school's environmental work. The school also has a sustainability resource center to help educate visitors. And although any institution looking to improve its sustainability profile would do well to share information, there's another lesson for universities, businesses and individuals here: play to your strengths.
photo (cc) via Flickr user Edgar Zuniga Jr.
---