Articles
The Art of the Segue
\r\nWhen two songs make a right\r\nA great segue is where you find it-even if you weren't necessarily on the lookout. The two I'm most besotted with...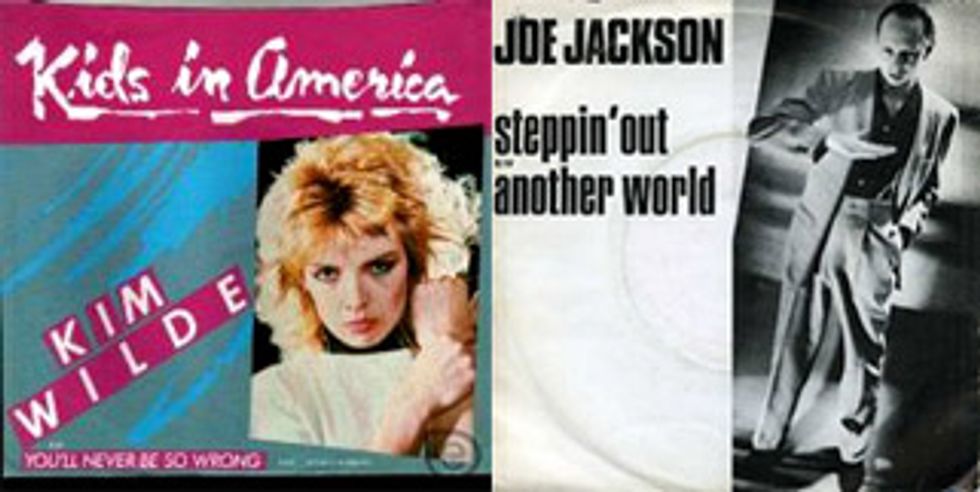 ---
When two songs make a right
A great segue is where you find it-even if you weren't necessarily on the lookout. The two I'm most besotted with lately mine narrow terrain-pop hits from the '80s-but I came upon them in very different places.The first caught me by surprise last week while visiting New York. I'm a night owl, and just prior to leaving the city I had roast chicken in Midtown at 3 a.m. The speakers were blaring Kim Wilde's "
Kids in America
" -on what I assume was a digital music service's '80s station crated specially for restaurants. A number 25 hit in 1982, the song sounded like its usual self: rushed, laden with the harsh production gloss common to many of the decade's big singles, and full of tinny cheer.It would have stayed in the background, if a small noise that came from the kitchen door hadn't startled me. When I looked up, Wilde's song was gone, replaced by another 1982 hit: Joe Jackson's "
Steppin' Out
," which crested at number 6 on the charts. It wasn't just that I like Jackson's song more, it's that the two tracks pinched together in perfect rhythm. Some anonymous programmer had
beat-matched
them, DJ-style. The join was inaudible.Of course, our mood improves when we hear a not-so-good song replaced by one we like. But, in this instance, it's the way Jackson 's track followed that tilted the axis: Wilde's slaphappy song instantly acquired a retrospective urgency that it doesn't quite reach on its own, while Jackson's mannered cool loosened- his song was suddenly all rhythm. Together, they felt like the head and tail of the same animated idea.The second sublime segue arrived via
Poplife Sucks
(N.E.W.S.), a new anthology compiled by
the Glimmers
and Olivier Tjon, to celebrate their Belgian club night, Poplife. I expected a good time from the collection. The track list is one of the most impressive I've ever seen on a various-artists disc: club classics, brilliant obscurities, genre gems, and smart remixes covering wide swaths from the heavy rhythm of early-'70s Italian singer
Adriano Celentano
to Aphex Twin's late-'90s electronica touchstone "
Windowlicker
," and early-'90s Mexican-American rapper
Kid Frost
to U.K. pop icons
Frankie Goes to Hollywood
. Unlike many similar constructions,
Poplife Sucks
isn't DJ-mixed-its songs lay end-to-end or overlap slightly.It's one of these momentary blends that propels the set to its peak: when Liquid Liquid's "
Cavern
" ends and the Time's "
Jungle Love
" begins. If any one song captures the spirit of post-punk 1981, it's "Cavern," a hungry, fearsome workout of a piece with the DIY-rock fallout, but so funky that
Melle Mel
of the
Furious 5
would adapt it for the hip-hop classic "
White Lines (Don't Don't Do It)
." "Jungle Love," on the other hand, captures the spirit of big-pop 1984; it's synth-funk grooves peppering the soundtrack to the biggest pop movie of the year,
Purple Rain
. "Cavern" ends with shakers breaking its rhythm down; "Jungle Love" begins with a cowbell and people making monkey sound. They make for a sharp transition, and the Time's faster beat amps the party vibe.There is, however, a larger resonance here: 1981 and 1984 mark the bumpers of one of pop's most vibrant eras, one that laid the groundwork for the music business going forward: a churning of ideas from new wave to hip-hop that gradually went from upstart to mainstream. Prince is the most obvious example, moving from cult hero to superstar in these years. As the man who produced and played on the Time's records, it's fitting that he plays a key part in this mix. Though even he probably wouldn't conceive of such a brilliant segue.