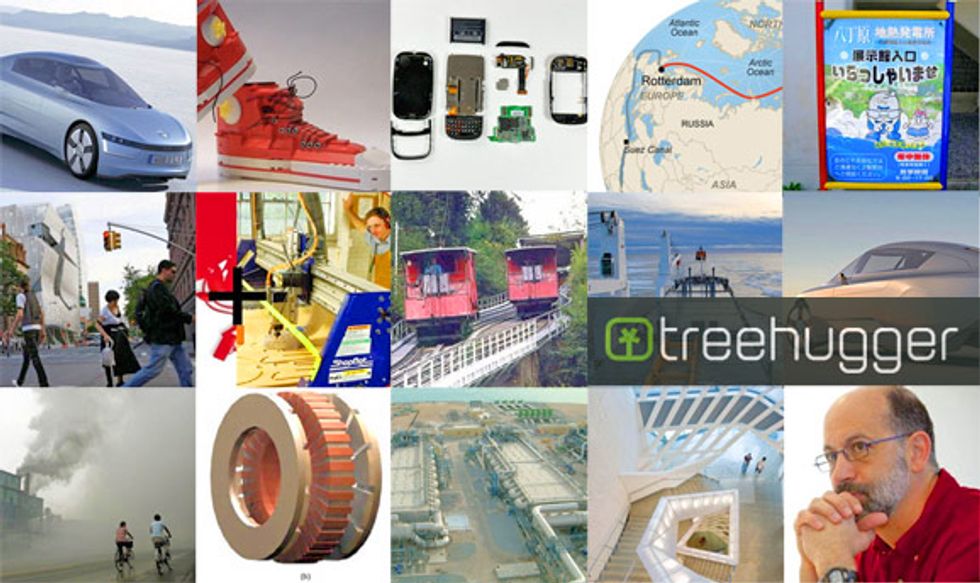 ---
Google builds its
own servers because the commercial ones are too expensive. It's also building solar panels for the same reason—and by focusing on mirrors, the company thinks it can
cut the cost of solar energy by 60 percent
. Overachievers. (They're going to do it, aren't they?)
While we're talking about dramatic percentages, an engine developed in England takes up
50 percent of the volume of a regular engine but gives twice the torque for the same power output
—making it perfect not just for electric cars but renewable energy generation, aerospace, even electric bikes. And another dramatic percentage: Yanaizu, Japan is
apparently 3290 percent efficient
, due to its dependence on geothermal energy.
It's getting easier to make your own stuff: Ponoko, a digital fabricator, has teamed up with ShopBot to form 100K Garages, which will link
those who need something made with a community of more than 6,000 fabricators
. It's kind of like a Kinkos for things.
China may be
throwing up its hands on keeping a global temperature rise within a critical 2 degrees
Fahrenheit, but maybe we can find some solace a bit south, off the coast of Singapore:
the world's largest ghost shipping fleet
sits idle—another way the recession is inadvertently keeping CO2 emissions down.
By next year, will those ships traverse
the world's next Suez Canal
? Global warming has melted enough ice in the Northeast Passage to open a brand new, long sought-after shipping route, altering the way goods are transported around the world.
Volkswagon showed off a
1-Liter diesel-hybrid concept car
, which gets 170 MPG. Then again, in the 19th century, hillside cable cars often ran on water. And in Switzerland, they were
powered by sewage
.
The craziest new building in New York is also one of its sanest:
Thom Mayne's Cooper Union academic building
begins with an airy central atrium, an elevator that only stops on two floors, and some of the best stairs—yes, stairs—we've ever seen. And then there's that spectacular, luminous, energy-saving skin.
Kids don't walk as much
anymore in the United States, but even in a city (with sidewalks and density), it can be hard to find enough space to walk. As Mark Gorton of Streetsblog reminds us, that's because
we give all of our space to the least spatially-efficient or environmentally-friendly mode of transportation
.
An updated version of the website e-cycler connects
those with recyclable items and no good way of getting rid of them
with those who can make some cash off them. And just in time: a new push for new e-waste rules in the United States reminds us that in a metric ton of old cell phones,
there's $15,000 worth of metals
.
Why don't we convert more salt water to potable water in places where it's needed? Pablo explains
the complexities of desalinization
, reminding us that the cheapest form of drinking water is the water we save.