Articles
The Brilliance of Breakdowns
Art Spiegelman and the coming of age of comics\rComic strips are clambering up the hierarchical ladder of art. This surge comes after decades of being deemed a déclassé diversion for children who need pictures sprinkled in with their words. Cartoonists claim theirs is an art as masterful as any other...\n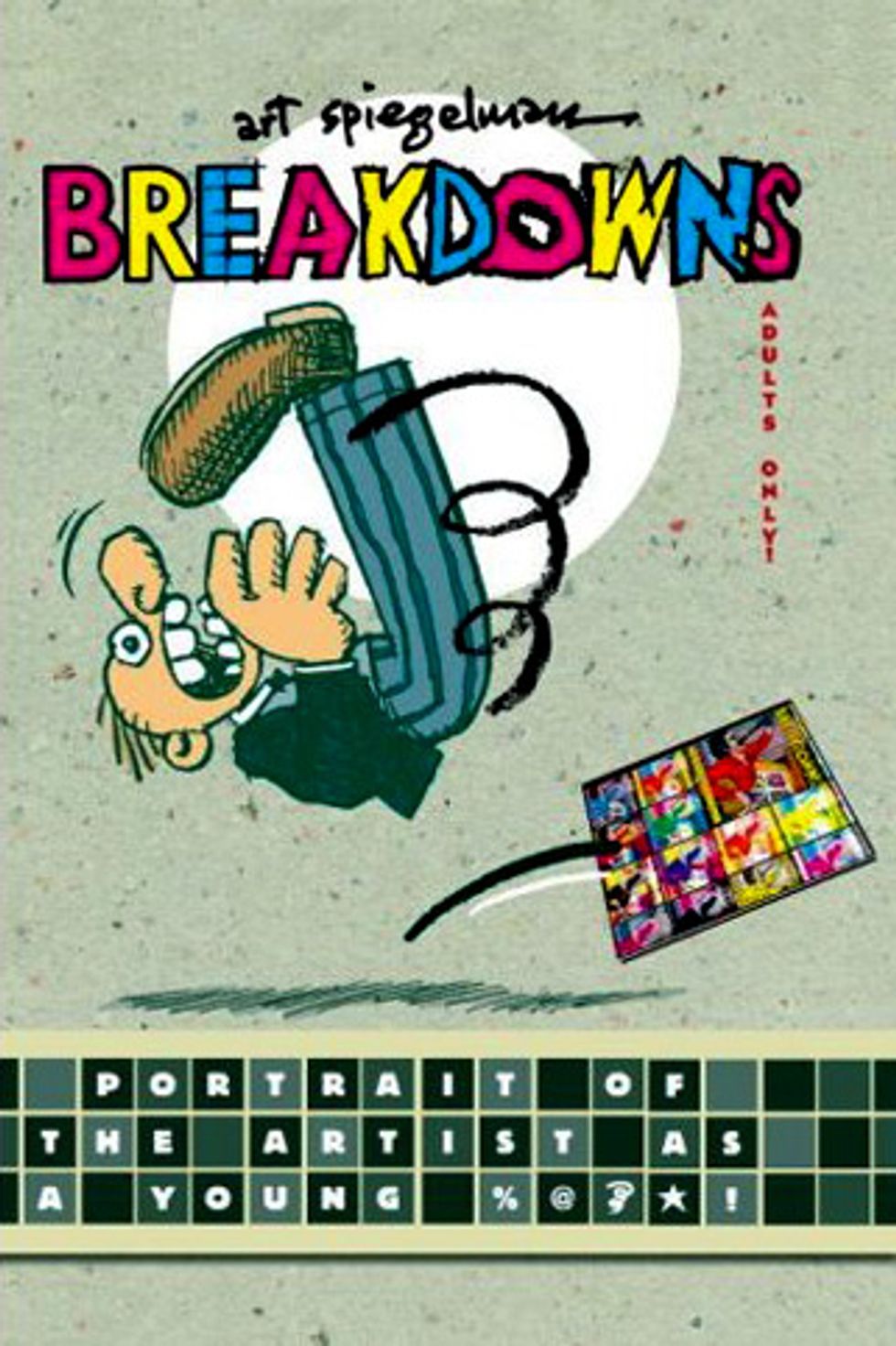 ---
Art Spiegelman and the coming of age of comics
Comic strips are clambering up the hierarchical ladder of art. This surge comes after decades of being deemed a déclassé diversion for children who need pictures sprinkled in with their words. Cartoonists claim theirs is an art as masterful as any other. Scott McCloud, a "comics theorist," gives them an old-fashioned, validating definition: "Juxtaposed pictorial and other images in deliberate sequence, intended to convey information and/or to produce an aesthetic response in the viewer."Having a theorist is a sure sign of an art form's coming of age-even if no one is entirely sure what sort of hypotheses he or she dispenses. So too is the publication of a book that seems to embody this formalized definition-a work that is brilliant in and of itself and also seems to define the contours of the style. Enter
Breakdowns: Portrait of The Artist As A Young %@&*!
.
Art Spiegelman
's new masterpiece, it's a mish-mash of republished strips he wrote in the 1970s bookended by a recently penned introduction and conclusion that reflects upon his life before and after he produced the comics.Spiegelman earns the collection's Joycean reference; he is, however, more aptly described as the cartoonist's Ezra Pound--too smart for himself and consumed by theoretical questions of narrative possibility and visual conceits. His range, neuroticism, honesty, and self-reflection, compacted into busy, taut, funny panels, are so aesthetically complex that the reader gets an education in what can only be called "comics theory." Meta-critical, autobiographical, humorous, ugly, and pretty, Breakdowns breaks down the form into its component parts-the nature of visual style, explorations of story structure and the history of cartooning. Written partially in retrospect and partially during the moment of the form's creation, the book feels definitive. Page after page, it seems to ooze: "
This is how comics work! This is why they are important!
" Yet, it lacks the pretension that usually goes with manifestos.Spiegleman's colors are deep, the lines nervous, the text mordantly self-conscious. In one of the more recent strips, the first panel shows the title words ("A Father's Guiding Hand") carved on a tombstone, as a long, sharp-nailed hand climbs out from underground. A Spiegelman père father carries a treasure chest to his son, presenting it to him as a family heirloom: "My dad gave it to me when I was a little boy. Now I'm giving it to you!" The boy pulls out a green dragon that, as the strip continues, gets larger and more menacing. The father tells the boy, "It's Magical! It makes make you feel so worthless you don't believe you even have the right to Breathe!" The monster starts to attack the boy, so the father quickly shuts it back into the chest. "And-just think! Someday you'll be able to pass it on to your son!"Other entries plumb the depths of eroticism (and include pornographic images). They are not intended to shock (or titillate) but to allow Spiegelman to ruminate on the power of his depictions. Still others play with the limits and uses of storytelling, family history, drugs, mental breakdowns, and the grammar of comics. With paternal pride and signature pessimism Spiegelman writes in his afterword, "Comics are thriving while the rest of America turns to shit."It is some solace. Thanks, Art.