Articles
The GOOD Guide to Hustlin': The Best Cities for the Young and Broke
Some cities are more recession-proof than others. Here's where to wait out the economic downturn.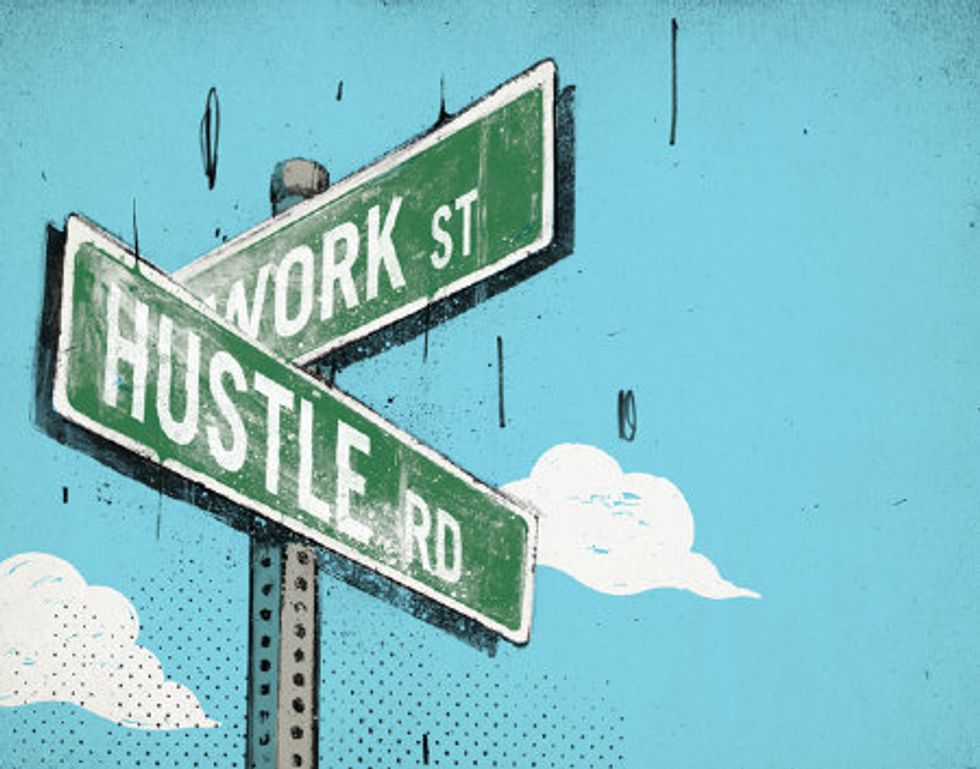 ---
\n
In our series,
The GOOD Guide to Hustlin'
, we go beyond the
pitying
articles
about youth in recession and discover ways our generation is coping. The last few years may have been a rude awakening, but we're surviving. Here's how.
Everyone knows the economy is sputtering, but weathering out the recession in New York or San Francisco feels radically different compared to, say, Nashville. Some cities strike a delicate balance of having a low cost of living, ways to make money, and a youth-friendly vibe. If your current locale is wearing you down, consider moving to one of these cities for a while until the recession relents—or maybe even permanently.
Austin – You knew this one was coming. When we put out a call for best cheap cities for young people, Austin was the undisputed winner. "So many fun post-college people, bikes, music, SXSW…Austin, duh," one person wrote me. "If you're young, broke, a foodie, or have super-tech skills, Austin is the place to be!" another reader replied.
Austin does have an insane number of young people; almost a third of its residents are between 18 and 34. Why are so many 20-somethings flocking there? Austin is chock-full of culture. There's music everywhere, and the university and young population fosters other artsy events. SXSW's media and arts conference, and its accompanying music festival, is a major draw. Several Austinites also said the city's status as a liberal oasis plopped in the middle of a vast conservative state gave their daily existence some texture. One reader put it well: "You're in a bubble, but not a big enough bubble so that you forget what the real world is like."
Job opportunities abound in youth-friendly industries like tech, media, renewable energy, and the arts. But even if you only get work waiting tables, you can still lead a pretty sweet life for cheap. A one-bedroom apartment costs an average of $500 to $700, and the city's unemployment rate is below the national average. Austin has added 100,000 jobs in the last five years. It has an annual employment growth rate of 2.8, the fastest in the country.
Other artsy, cheap, liberal oases: New Orleans, Omaha, Kansas City, Nashville, Tucson
Philadelphia – Sometimes the best way to wait out a terrible economy is to live near the metropolis you eventually want to thrive in, while enjoying the benefits of a smaller, less pricey city. Philly is about halfway between New York City and Washington, D.C., and the cost of living is much cheaper than either.
"I like the fact that I'm near two huge cities with a lot going on," says Christina, who was born in Philadelphia and still calls it home. She goes to New York a couple times a month, and frequently does business in D.C., but appreciates that her own city has its share of music, restaurants, and cultural events. It also has more colleges per capita than Boston, so its population skews young.
Christina works for local government, which has a notoriously tight job market, but she touts Philly as "a really supportive and economically sound place to pursue [a creative career] without having to get a real 9-to-5." Philly has a lot of communal living options, places where one can get a room for just a couple hundred dollars a month. Christina thinks she may eventually move to New York, but for now, "I'm enjoying my $350-a-month rent."
Other easy-on-the-wallet alternatives near huge cities: Oakland, Jersey City, Milwaukee, Baltimore
Detroit – This may be counter-intuitive—all we've heard about in the last few years is the city's high unemployment rate and dismal industrial prospects. But hear us out. While Detroit may not be the best city to seek your fortune, there is some incredible community activism brewing, led by young people who won't let their city die. For every shuttered factory, there is a student group or an artist collective ready to revive a neighborhood. "Things are tough all over," says Jarred, a Detroit native. "But the city defined by its [struggle] is changing in quiet ways, and is quite welcoming to people who want to help."
It's not a sunny existence, but it's a fulfilling one—and the city needs people who give a shit. It's also unbelievably cheap, so cheap that if you find a job, you'll likely only have to work a few days a week to keep yourself afloat. This can be a relief for the socially conscious or artistically inclined who are tired of exhausting themselves on the gerbil wheel of New York or Chicago and want to have time to make a difference.
Take Isis, for instance. She spent some time in her native New York and easy-breezy Austin before she decided to move to Detroit to write. She found a couple part time jobs as a tutor and an assistant at a "shady art gallery." Meanwhile, she shared a $450-a-month two bedroom apartment with a roommate in Mexicantown and wrote about what she saw around her. She had time to write about the "deeply unsettling class, ethnic, and racial dichotomies between city and suburbs." She immersed herself in community projects and events, too, "ranging from blight-prevention to enfranchising former prisoners." If you have the balls, it pays off to channel some energy and curiosity into cities that need the ingenuity of young people.
Other ultra-cheap industrial towns in need of TLC: Pittsburgh, Newark
Washington, D.C. – "I think the relevant question is not whether the city overall is expensive," my friend Mona says, "but whether there is a good selection of affordable places to live, interesting jobs, and inexpensive things to do." Washington, D.C., is not super-cheap, but the city has something most others don't: jobs. The unemployment rate is well below the national average, at 4.2 percent. Even though the federal government has made some cuts in the last few years, it's still hiring. These jobs are some of the most stable, and offer the best benefits. Jobs at nonprofits (of which there are 4,000 in D.C.) are also a draw for service-oriented college grads who aren't jaded yet. Unlike the rest of the country, media companies there are actually hiring, too. And since there are so many colleges and universities in the area, they provide a lot of employment opportunities.
Many people eased my fears about D.C.'s high cost of living, insisting that it wasn't hard to find cheap housing beyond the center of the city. Mona lives in Eckington, where she says rooms in a group house run about $600-900 and one-bedrooms can be $1000-$1200. Bloomingdale and H Street NE are also safe, youthful, semi-gentrified options for the budget-conscious.
Other young cities with low unemployment rates: Seattle, Madison, Boston, Richmond
Illustration by Andres Guzman