Articles
The Meal Ticket
From chocolate pirate ships to giant cheerios, Bonnie Belknap has been making unusual food for Hollywood for over two decades.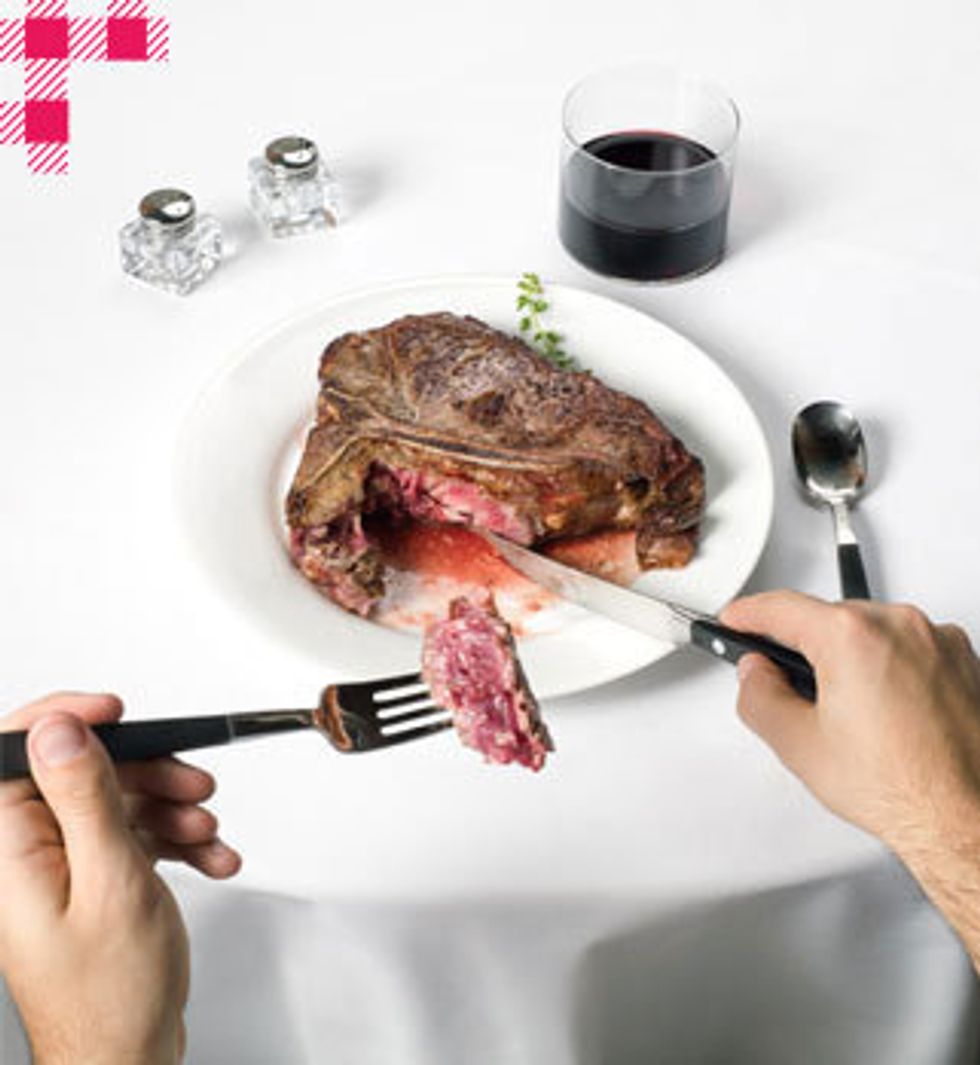 ---
Bonnie Belknap has as long a resume as anyone in Hollywood. She's worked on everything from
Barton Fink
and
Max Headroom
to
The Sopranos
and
Wedding Crashers
.Bonnie is the entertainment industry's premiere food stylist. She creates edible props and makes food photogenic for print and film. She helped us shoot a T-bone steak for Issue 009: All You Can Eat. We caught up with her recently to learn more about her unusual line of work.
Given the number of images of food we see every day, we hadn't given much thought to the work that goes into making food look good in pictures and movies. Do you even use real food?Bonnie Belknap:
We always use real food. In the shot we did for GOOD with T-bone steaks, I grilled the steaks just enough to get perfect grill marks (it was supposed to be a bloody steak when cut into). I touched up the edges with a blow-torch, and then gave it a very light glaze of olive oil and a final spritz of edible glycerin. I did manufacture some extra blood just in case, and that was made out of beet juice, Augustina bitters and kitchen bouquet. We can also enhance the color of certain foods with particular cooking methods, like blanching the vegetables just until they reach their most vibrant color, then shocking them in ice water.
How did you first get into food styling?BB:
I was doing private catering at the time. I met someone who worked on
The Love Boat
. They said they had a little food scene and asked if I could help them out.
What did you do on that first gig?BB:
I created an enormous cruise ship buffet...probably 36 ft. long. I can't remember what country the ship was supposed to be in, but whichever one it was, I had to convey that culture in the food we made.
Edible LPs for Earth Girls Are Easy
You founded your company, Gourmet Proppers, in 1984. You were one of the first people to make prop food for Hollywood. Was business booming back then?BB:
I was truly instrumental in establishing and developing the niche of prop food in Hollywood, and my business grew very fast. No one else specialized in providing food that was eaten on camera, during a scene, and virtually every feature film and television production was calling...from
Dynasty
,
Cheers
, and
Hotel
to
Witches of Eastwick
,
Dick Tracy
, and
Earth Girls are Easy
. It was such a novelty that
People
magazine did an article on me.Over time, there have been several people that have jumped on the bandwagon, and then, just as quickly, jumped back off. It is a lot more difficult than people imagine.
So you still have the market to yourself?BB:
No, not completely. There are a few good companies. But I am probably still considered the queen.
Over-sized cheerios for a Lebron James Nike advertisement
What food prop was most difficult to make?BB:
Hook
always comes to mind. Trying to interpret what Steven Spielberg imagined, without him being specific, was very challenging. For one set, we created a huge fantasy scene for the Lost Boys, consisting of a ship carved out of chocolate that fired malt balls, three-dimensional faces coming out of blocks of cheese, and a completely edible rock quarry with trees, lizards, and snakes.Making more than 3,000 over-sized cheerios for Lebron James in a Nike commercial was a test of my skills, and I'll never forget when I had to replicate disgusting animal body parts delivered to me from
Fear Factor
.Most recently, I developed and then manufactured drinkable "blood," 50 lbs of fake raw hamburger, and a 4-foot swan made out of Rice Krispies for a webcast show with Jenny McCarthy called
In the Motherhood
.
Hook
That feast for Hook looks totally delicious. It looks like Spielberg and Smee are about to tuck in.BB:
There were several very extensive food scenes on
Hook
. I'm happy to say everyone loved them, and yes, there were plenty of props eaten!
Naked Gun 33 1/3
Did you use a real lobster for the Naked Gun 33 1/3 scene?BB:
We had fresh lobsters flown in from Boston for that scene. Most of the "guests" were actually eating lobster. Leslie Nielsen's lobster was fabricated to be enormous, and we placed fresh lobster meat in the claw for each take.
After working as a food stylist do you look at food you're served with a critic's eye?BB:
I do tend to notice presentation, but I'm really not critical of that because it is such a personal thing.
You've taken leftovers to Los Angeles charities. Are they ever surprised to get, say, giant cheerios or chocolate pirate ships?BB:
In the beginning, I took a lot of food to the L.A. Mission, but sadly in recent years they have been forced to decline food donations for liability reasons. They received many, many donations from the
Hook
shoot: cases and cases of exotic fruits that even I had not seen before, along with dozens and dozens of roasted turkeys. We made arrangements for them to come at the end of each day.Various L.A. housing projects still accept anything I bring them. They know I won't bring anything that isn't perfectly safe to eat. And yes, they have received some very strange donations over the years. I take them anything edible that I think they can use, no matter the shape.
Anything else you'd like to tell mention?BB:
With all the excess and abundance in Hollywood, I would really like to help implement some changes. I'd like to facilitate daily food donations from the sets, and implement a standardized plastic bottle and aluminum can recycling program at the studios. An average film production can use over 1,000 cans and bottles a day.I would also like to say how lucky I feel to be doing something I enjoy, surrounded by creative, talented, and generous people.And lastly...I'm a great cook, own an adorable rescue dog, and am single! Hee-hee!