Articles
The Media Issue
We believe in the power of media, so it's hard when we see what a mess it has become.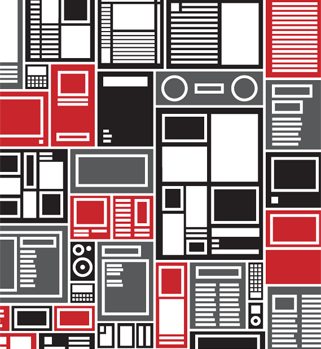 ---
We believe in the power of media
, so it's hard when we see what a mess it has become. Technology has made it omnipresent in our lives. We are inundated by it, overwhelmed by it, and all too often depressed by its degradation.Yet amid the confusion and chaos, there remain examples of profound creativity and value. In the following pages, we've collected a handful of people and ideas that represent media excellence: what it has been, what it is, and what it can be.We love the possibility and the potential of media-that it can communicate to the world, break down barriers, open doors, and maybe even change things for the better. We're new to media, and we're making it up as we go along-but it is this ideal that inspires us.-5 a.m., 3 hours to press time
[revised 5 p.m., 9 hours late-eds.]
MEDIA FEATURES FROM THIS ISSUE:
Bad News
When was the last time you watched the network news? DAVID PUNER examines the lengths the networks are willing to go as they try to keep your attention.
The 51 Best* Magazines Ever
Introduction by Vanity Fair editor GRAYDON CARTER
Not TV
It's where you will find the greatest shows on television. JACK LECHNER explains how HBO got to the top-and stayed there.
VII
Ten photographers are taking pictures that you needs to see. MICHAEL A. M. LERNER chronicles the birth of a renegade photo agency.