Articles
The Merits of the Diverging Diamond Interchange
This strange style of highway interchange that requires drivers to switch to the wrong side of the road actually reduced accidents in Missouri.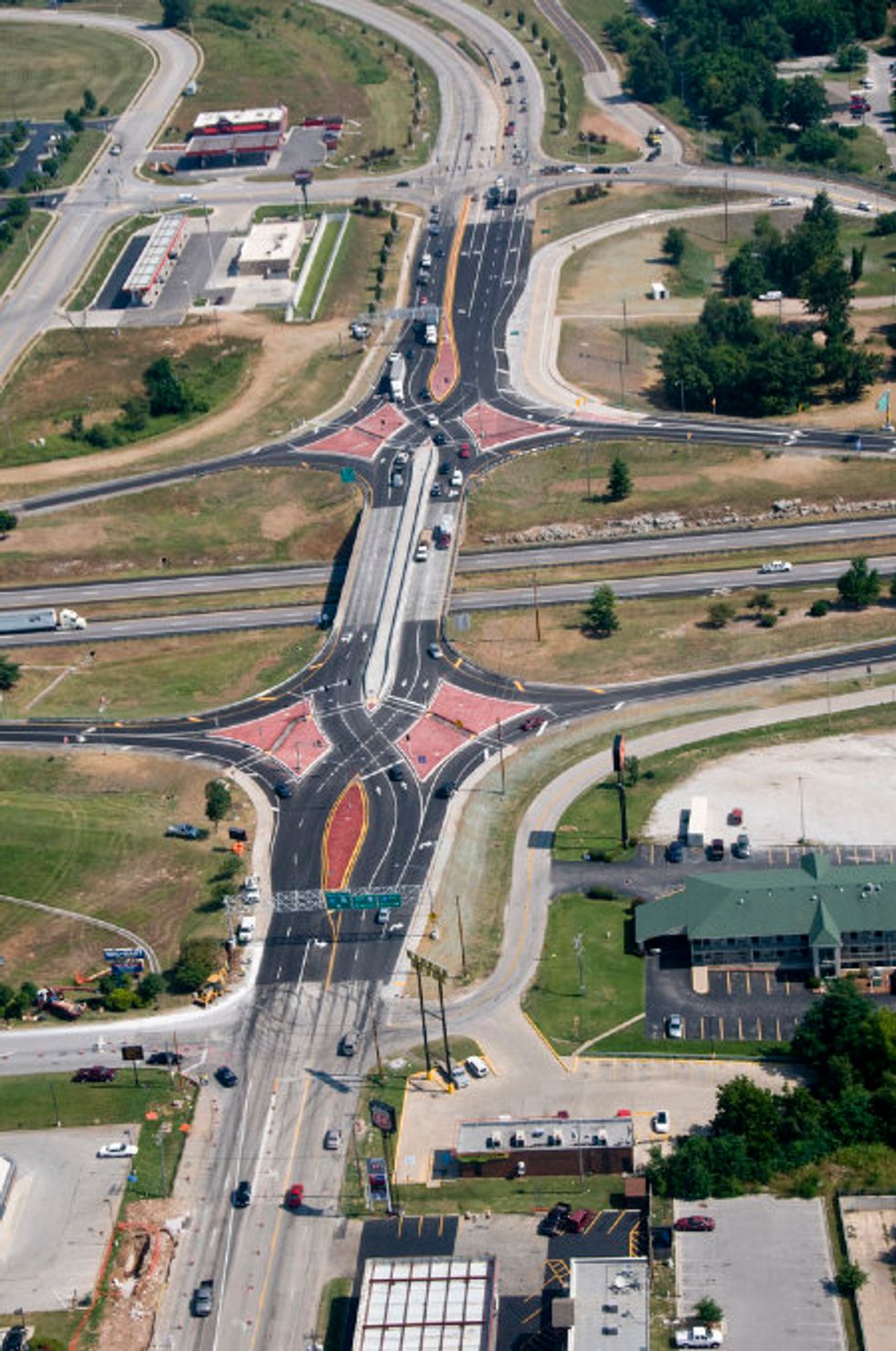 What you see above is the "diverging diamond," a freeway-and-surface-street interchange system that reduces the number of conflict points and, in theory, traffic delays, by having drivers switch to the left-hand side of the road temporarily. It's a French innovation, but it's starting to catch on in the states.
---
This animation, via Core 77, shows how traffic flows through the diverging diamond.
[youtube]http://www.youtube.com/watch?v=WF9Cx0pMsbI
So why is it better? Well, it only has two signaled intersections and each one has only two states. That makes for a smoother flow of traffic for more lanes. Whether or not it's better for pedestrians is unclear.
Here's another description from Wikipedia. Get your concentratin' hat on.
...The diverging diamond interchange allows for two-phase operation at all signalized intersections within the interchange. This is a significant improvement in safety, since no left turns must clear opposing traffic and all movements are discrete, with most controlled by traffic signals.

Additionally, the design can improve the efficiency of an interchange, as the lost time for various phases in the cycle can be redistributed as green time; there are only two clearance intervals (the time for traffic signals to change from green to yellow to red) instead of the six or more found in other interchange designs.
The first diverging diamond in the United States (in the picture at the top) was built in Springfield, Missouri, in June of 2009. There's now another in American Fork, Utah, and more in the works elsewhere.
In Springfield, converting an interchange to a diverging diamond was relatively cheap because it doesn't require building new bridges or elevated lanes. It also reduced traffic accidents by a remarkable 60 percent. The only complaint is the strangeness of being shifted to the wrong side of the road.
Now, I know we need high-speed rail and better biking infrastructure and all that, but as long as we have cars at all, it seems like we should employ more of these interchanges.