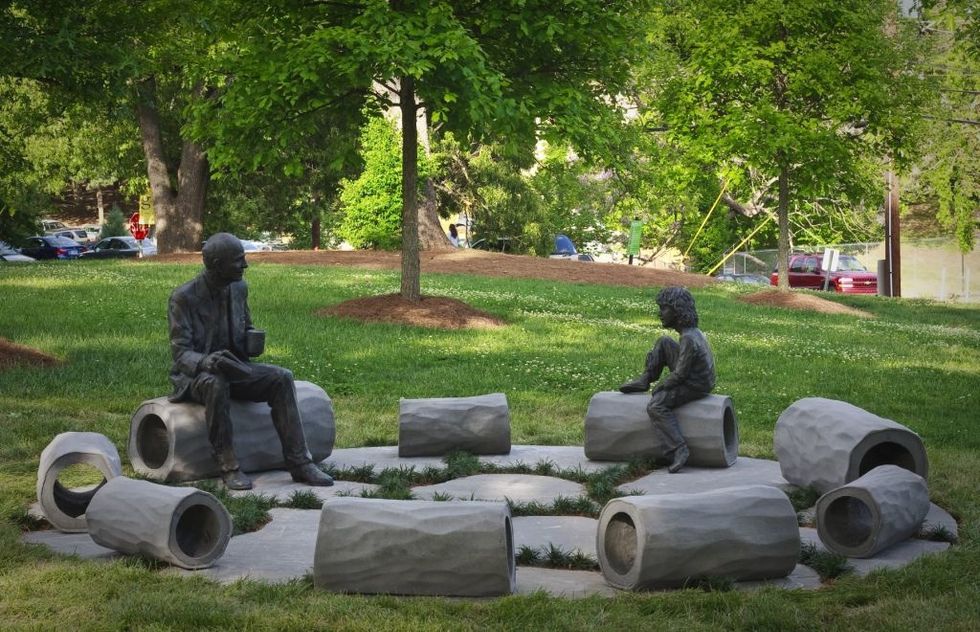 ---
When
The Galloway School
first approached Atlanta sculptor
Marty
Dawe
about creating a lasting tribute to founder
Elliott
Galloway
, the only idea on the table was one of Galloway's oft-quoted gems about education: "Teaching is like sitting on a log, with the student on one end and the teacher on the other. Talking, learning from each other."
Dawe immediately knew that he wanted to create a sculpture of Elliott with a student, but an overall concept eluded him. He studied Elliott's life and work, watching hours of video footage and interviewing past headmasters, Galloway family members, and faculty.
"Then one day I was just taking a lunch break with my apprentices, and we started talking about ideas for the sculpture" explained Dawe. "Let's make it so the students can really join him. Let's make it an outdoor classroom."
That's how
Elliott's Circle
was born.
Rather than a sculpture of him on a pedestal, the piece features portraits of Galloway and a young student in conversation, surrounded by a circle of logs upon which visitors can sit—an interactive memorial that generations of students will use as a place for learning.
"Mr. Galloway believed that you can teach as well on a log as you can in a big, beautiful building," said art teacher Carmen Gonzalez. "This sculpture captures that—the nurturing side of teaching, the simplicity of its essence, which is the relationship between teacher and student."
Over the course of a year, the collaborative work between Dawe and Galloway's faculty, staff and longtime friends led to further refinements. On the ends of each log, the names of all faculty and alumni will be engraved in concentric circles, like the rings of a tree. The color scheme of the bronze was changed to the blues, grays and greens found on the bark of the campus's original oak trees.
The project presented a one-of-a-kind learning opportunity for Galloway's students as well; Gonzalez
brought her second graders to Dawe's studio
on several occasions
."The kids absolutely loved it because they got to see the sculpture in various stages and even help Marty put on a layer of clay," Gonzalez said. "Very seldom do you get to see someone who actually makes a living as an artist, and he talked to the kids about going to sponsors, the role of his apprentices, and all of those things that people might not think about. Art is more than just picking up a brush and putting it on paper. I wanted them to see that, and to understand time and
process
. It's not something they can necessarily get from the classroom alone."
According to Dawe: "Those visits were as much about me learning about the school as they were about the students being exposed to the sculptural process. But I remember thinking that if I had seen this studio when I was eight years old, it would have affected me very deeply. I didn't have the nerve to go to art school—I started out in the sciences. It was really cool for them to see this big, messy place where people play with mud all day, and to see that as a possibility for themselves too."
Elliott's Circle differs from Dawe's other work in the inclusive and collaborative nature of its creation.
"The coolest thing about it for me is that in order to be able to sculpt the outdoor classroom, I had to go through this process of learning about Elliott and his educational philosophy," he said. "But now, this sculpture will educate people about him. I hope that alumni and other people come back to sit with him and tell stories about how he changed their lives, and that this classroom will be a vehicle for that."
Elliott's Circle will be unveiled tomorrow, May 1, as part of The Galloway School's 40th annivesary celebration. You can watch a video of Dawe sculpting Elliott's Circle in his studio
here
.
Erin Crews is a communications coordinator at The Galloway School in Atlanta, Georgia.