Articles
Thin Blue Line
On the sidewalks of New York City, Eve S. Mosher is drawing in chalk. Isn't she worried about water? You bet.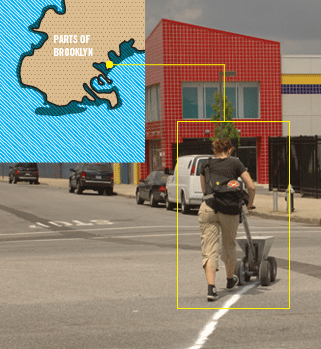 ---
By the year 2050
, New York's coastline could be catastrophically flooding every 20 years, threatening to submerge homes, parks, and office buildings. To warn vulnerable neighborhoods, the artist Eve S. Mosher started the
High Water Line
project, marking New York's flood line in blue chalk. The chalk line, 10 feet above sea level, illustrates the level to which the floodwaters could rise-inundating most of lower Manhattan and coastal areas throughout the five boroughs. For several months, Mosher has been doggedly plowing through touch-football games and trafficked streets while talking to passers-by and handing out information on climate change, hoping to inspire those in danger to work towards a solution. To a Brooklyn man whose house falls on the wrong side of her line, she says: "I'm here to save your house."
LEARN MORE
highwaterline.org