Articles
To mark (and mock) Britain's royal wedding hysteria, a U.K. brewery is offering viagra beer. It's about consummation, not commemoration.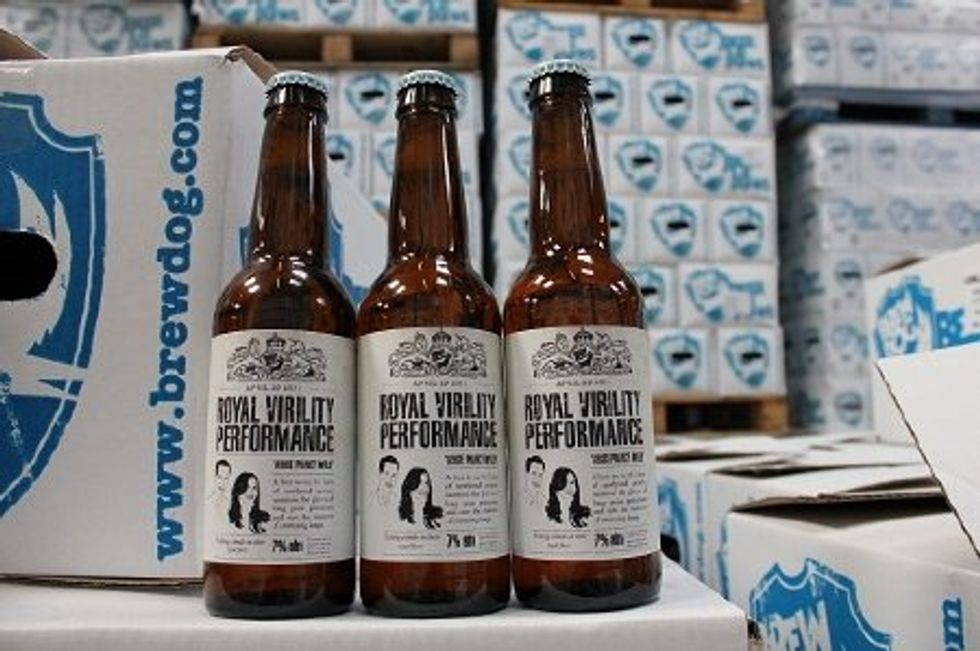 Earlier this year we told you about a plucky young beer brewery that was giving away company stock with each case of beer. That was enterprise. This is passive aggressive, and pretty funny.
---
BrewDog Brewery in the U.K. is offering beer with viagra, and other "well known aphrodisiacs." The limited edition run of Royal Virility Performance beer is meant to mark, and mock, the royal wedding hysteria taking hold in Great Britain right now. It's about "consummation, not commemoration," they say.
With this beer we want to take the wheels off the royal wedding bandwagon being jumped on by dozens of breweries; The Royal Virility Performance is the perfect antidote to all the hype. A beer should be brewed with a purpose, not just because some toffs are getting married, so we created something at our brewery that will undermine those special edition beers and other assorted seaside tat, whilst at the same time actually give the happy couple something extra on their big day.

\n
This whole thing may just be a joke, as the beer doesn't ship until April 28, one day before the wedding. The press release is also clearly aimed as much at making a point about royal obsession as it is about selling beer. But, if you live in the U.K. and want a six pack with an extra punch, here's what's in it.
The Royal Virility Performance contains Viagra, chocolate, Horny Goat Weed and 'a healthy dose of sarcasm'. The beer is a 7.5 percent ABV India Pale Ale and has been brewed at BrewDog's brewery in Fraserburgh.

\n
Let us know if you order any. But not what you do with it.
Via Boing Boing.