Articles
This Sculpture of Muhammad Ali Is "The Greatest!"
ReALIze, an immense new art project in downtown Los Angeles, uses speedbags as pixels to create a unique portrait of the champion boxer.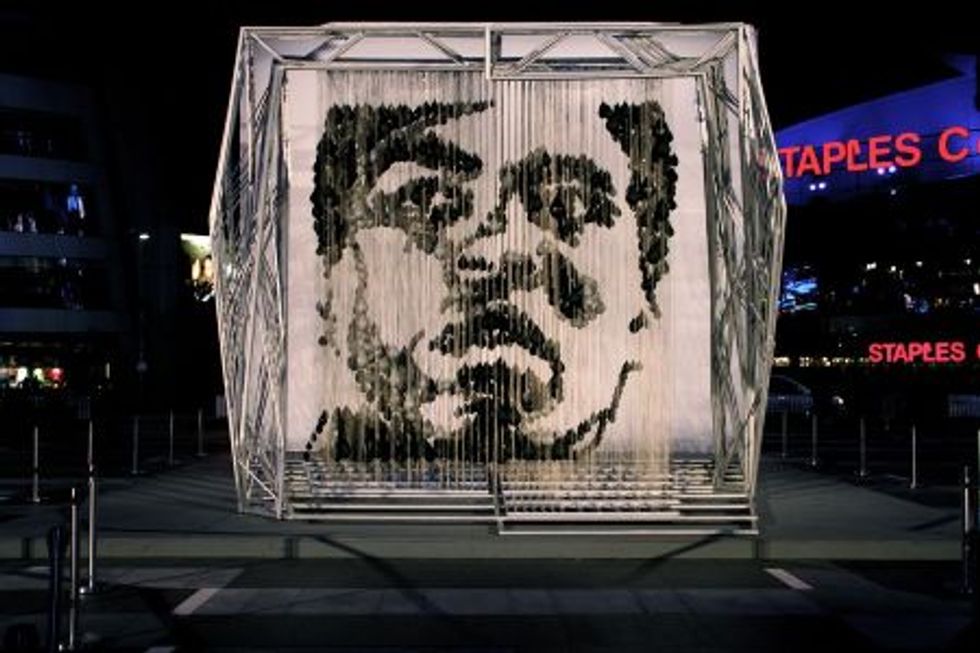 Muhammad Ali is larger than life. The famously quotable champion boxer could make a point like no one else, both with his fists and with his amazing extemporaneous poetry. He is widely regarded as one of the most talented athletes of the past century, so any public art piece built in his honor has to be... well, if not "the greatest," then pretty darn good.
ReALIze, rising in the plaza of LA Live, just outside Los Angeles's Staples Center, is a collaboration between several local creatives: artist and sculptor Michael Kalish and the architects at Oyler Wu Collaborative. The piece consists of an immense, two-story steel framework, more than five miles of cable, and more than 1,300 suspended speedbags.
---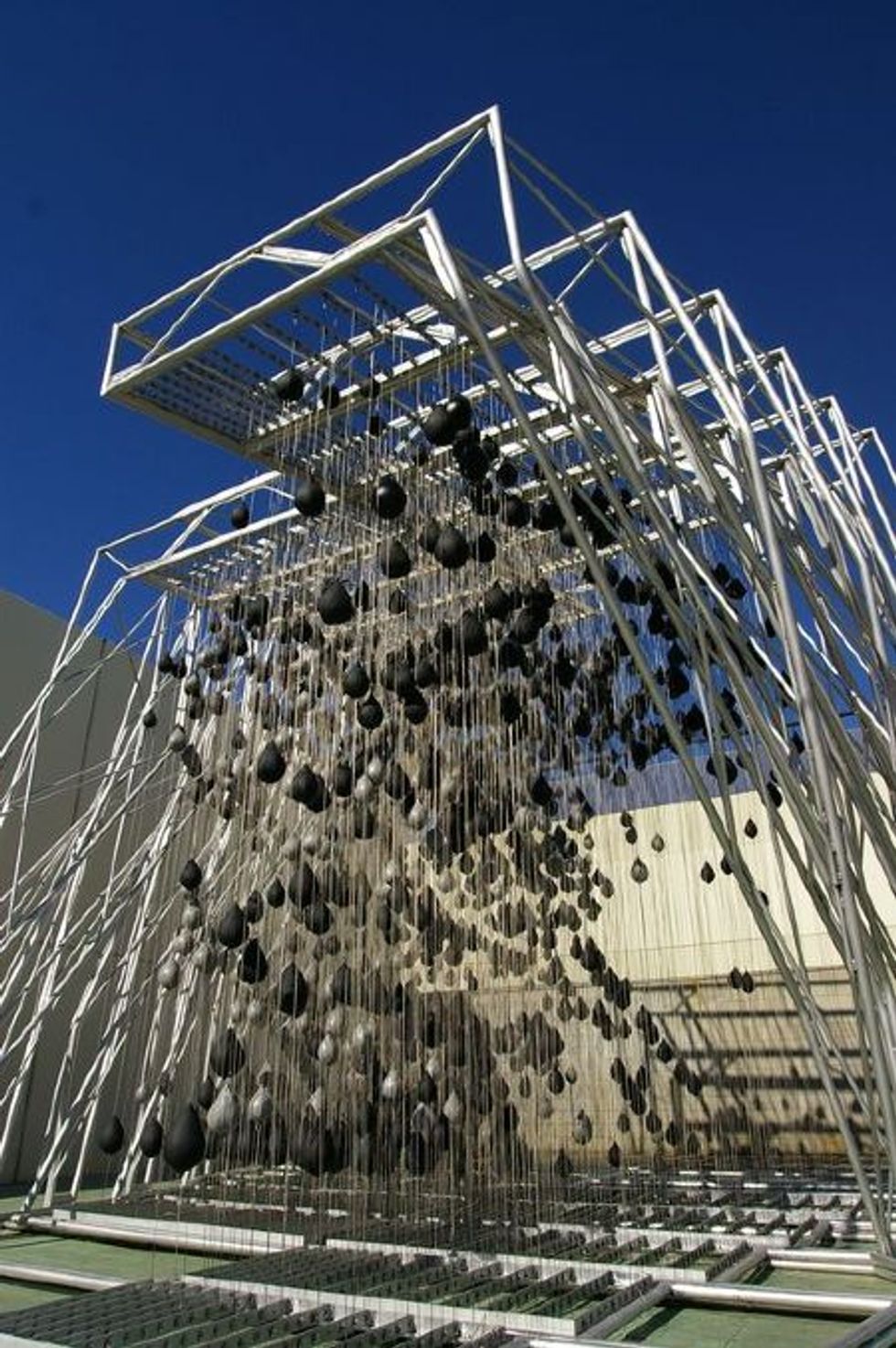 This feat of gravity, with the bags hovering like hundreds of upside-down balloons, is enough to enthrall those passing through the plaza, but there's an even more powerful message. From just the right vantage point, the punching bags line up to create a giant pixelated image, a convincing portrait of the man formerly known as Cassius Clay.
[youtube]http://www.youtube.com/watch?v=6j58iUE7yPk
Since he retired from boxing, Ali has devoted his life to various humanitarian causes, including research for Parkinson's disease, which he has lived with for decades. He has used his fame to raise millions of dollars for hunger-related aid, lectured widely about tolerance and racial equality, and even traveled to Iraq on behalf of the United States to negotiate the release of hostages in 1991. The creators of the sculpture hope that, like Ali, it will travel to destinations around the globe to remind people of his message of understanding and hope.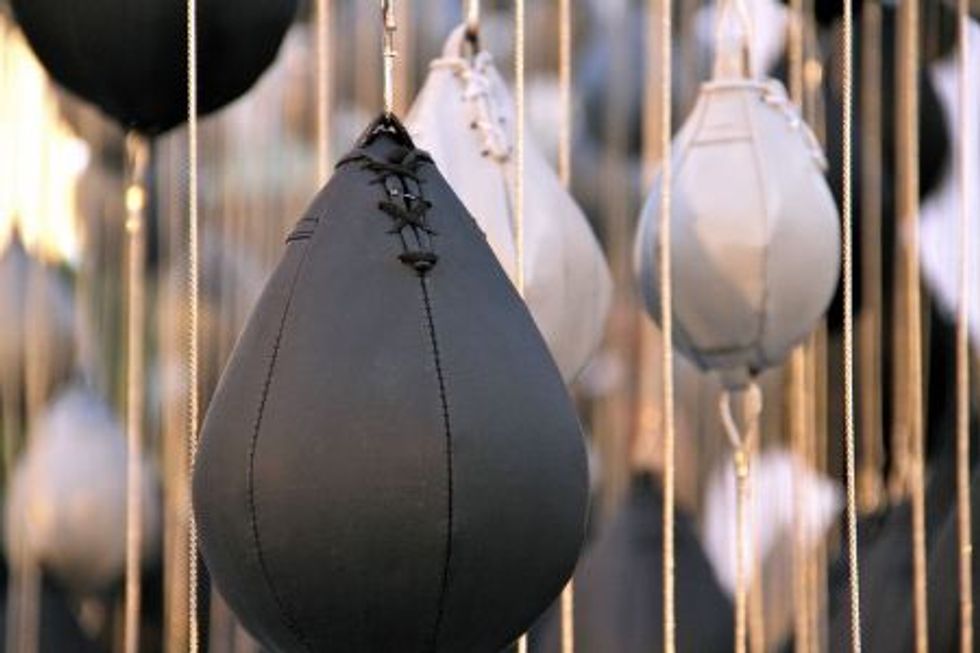 The piece will be up at LA Live until April 9. Pair this visit with a trip to the nearby
Grammy Museum
to see its
exhibition on John Lennon
, and reflect on how two cultural icons have used their fame and talent to inspire millions.
Visit ReALIze at Nokia Plaza in LA Live
Hear Muhammad Ali's "recipe for life"
Support Ali's humanitarian work
Photos by Erin Wesley; second photo by Oyler Wu Collaborative
Live in Los Angeles? Join GOOD LA and we'll introduce you to more people, places, projects, and events that are making Los Angeles work. Sign up here.