Articles
Trick or Trash
With Forever Landfills you can have your own personal dumpster in Burberry plaid.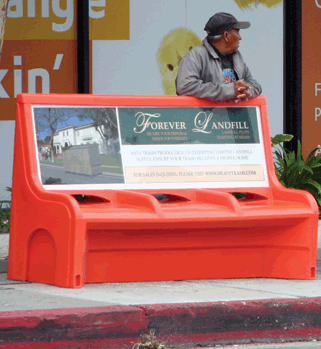 ---
For several weeks
last summer, Angelenos rubbernecked past 12 bright orange bus-stop benches emblazoned with ads for Forever Landfill, a revolutionary refuse-disposal service that promised private landfill spots for fortunate city-dwellers-"the freedom to live large and as we please."The fictional ads were the latest project by Heavy Trash, a collective of Los Angeles architects, designers, and urban planners who joined together in 1997 to bring attention to urban issues with attention-getting projects. Within five days of installing the benches, Heavy Trash got a call from the city, threatening charges if they were not removed.But they were also contacted by Los Angeles Councilman Greig Smith-the creator of a massive plan to curtail the city's landfill problems-who wholeheartedly endorsed the project's aims. "We always hope that we'll attract people who have more experience than we have with an issue," says one of the members, who all prefer to remain anonymous to keep the focus on the group's work. "Then we can lobby for real change."
LEARN MORE
heavytrash.com
PERSONAL DUMPSTER
The ads promised "personal Dumpsters" that could be customized in Burberry plaid.