Articles
Sara Horowitz is making the workplace safe for freelancers.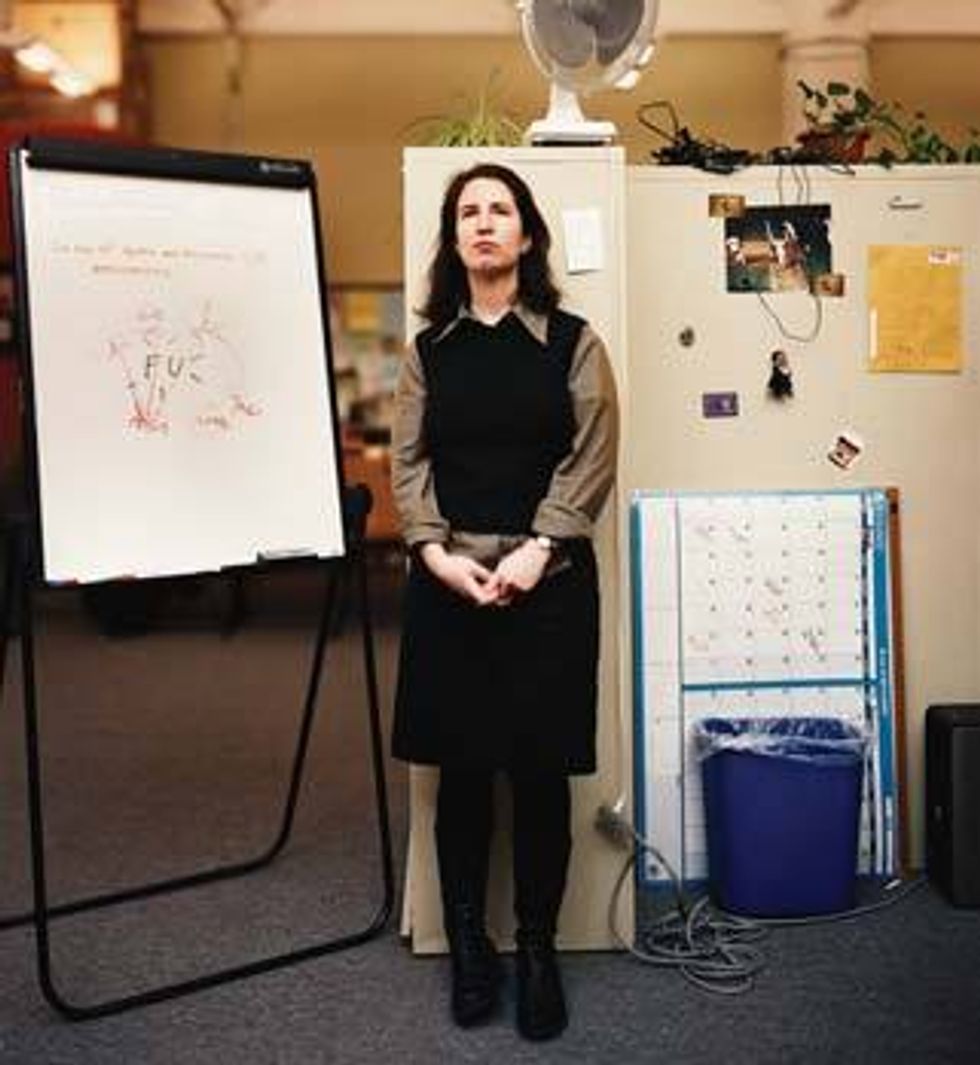 Sara Horowitz's
grandmother lived in the Amalgamated Dwellings, a development on Manhattan's Lower East Side built in 1930 by a garment-workers union-the Amalgamated Clothing Workers of America. To Horowitz, the founder of the Freelancer's Union, the buildings symbolize an inspiring era of social change: "There had been a whole social movement pre–New Deal based on self-organization and mutual aide" she says. "The idea wasn't that the government would come in and fix things." Horowitz's Freelancers Union is an attempt to revive the spirit of that movement.The idea for a union of freelancers came to Horowitz when she inadvertently became one. After law school, Horowitz, now 30, took a job with an ostensibly radical labor law firm whose partners soon reclassified her and her coworkers as independent contractors to save money on their benefits. When she got fed up, quit, and went back to school, her coworkers gave her faux letterhead for the "Transient Workers' Union" with her name listed on top as union president.While completing a master's program at Harvard's Kennedy School of Government, Horowitz decided that the Transient Workers' Union was a so-crazy-it-just-might-work idea. For the one-third of the American workforce that freelances in some form, the traditional union model was no longer applicable. But without some sort of collective voice, freelancers were being over-looked by the government.\n\n\n
Quote:
When people join together, you can do a lot more cool shit than when people are alone.
"Independent contractors weren't really contemplated as a group when our labor laws were written," Horowitz explains. And the only reason "we haven't adapted that system is because there isn't an organized constituency that's saying this is completely ludicrous." If she could create an institution to get freelancers what American professionals once took for granted-health-care coverage, antidiscrimination protection, pensions-she figured she could have a self-sustaining organization that could take on the status quo.The question was how to recruit members. "You have freelancers that are working all over the place," Horowitz says. "How are you literally going to find them? If you're organizing in a factory, you go to the factory. With freelancers, there's a huge logistics problem: They're everywhere. So you have to find a reason for why they're going to come to you. So we said if we offer health insurance, they'll start telling their friends; they'll start coming to us."And come they did. There are now 60,000 members, of whom more than 16,000 get health insurance through the union. The union uses what Horowitz calls an "à la carte" model-there are no membership fees or dues and members buy the services they want (when they do, a portion of those fees goes back to the union to support its operations). Membership is open to anyone, and health insurance is open to anyone who has earned $10,000 in the past six months or works at least 20 hours a week as a freelancer.The union is now embarking on expanding both the benefits it offers and where it offers them. It is working on a system of unemployment insurance for freelancers and will soon offer retirement accounts that give independent workers the benefits of being part of a larger group rather than being a piddling lone IRA account at a big brokerage house. As Horowitz puts it, "When people join together, you can do a lot more cool shit than when people are alone."
Part of the union's recruitment drive includes posters in the New York subways with witty lines like, "Echinacea is not an acceptable form of health insurance."The Freelancers Union is focusing on expanding nationally by recruiting in freelancer-heavy cities from coast to coast, including Austin, Texas, Los Angeles, and Philadelphia. In these new cities, it hopes to take on the kinds of local issues it has in New York, where it successfully lobbied to roll back the unincorporated business tax, which hit freelancers hard. As the union has grown, politicians have begun to take notice. Both John Edwards and John McCain have explicitly focused on how to make the U.S. economy and government programs work better for independent workers.So can we expect Freelancers Union Dwellings to rise in cities across the country? The challenge of taking on the urban housing crunch may be too daunting, even for Horowitz. Still, she says, "We've looked into it."LEARN MOREfreelancersunion.org
---