Articles
Vancouver Creates Continuous Network of Protected Bike Lanes
The forward-looking city just approved an important new addition to its network of separated bike lanes.

How do we make our car-oriented cities friendlier to cyclists? Look north. Over the past few years, Vancouver has been steadily reclaiming space on its busy streets for bikes.
After creating protected bike lanes on two of the main routes into the city—the Burrard Bridge and the Dunsmuir Viaduct—Vancouver is now in the process of expanding that infrastructure so that people who bike into the city can safely bike through it, too.
---
The Vancouver city council just approved a six-month trial for a separated bike lane along Hornby Street, a busy downtown corridor. Once this new lane is in place, there will be a continuous, connected network of paths running through the heart of the city—something 75 percent of residents said they wanted in a recent poll.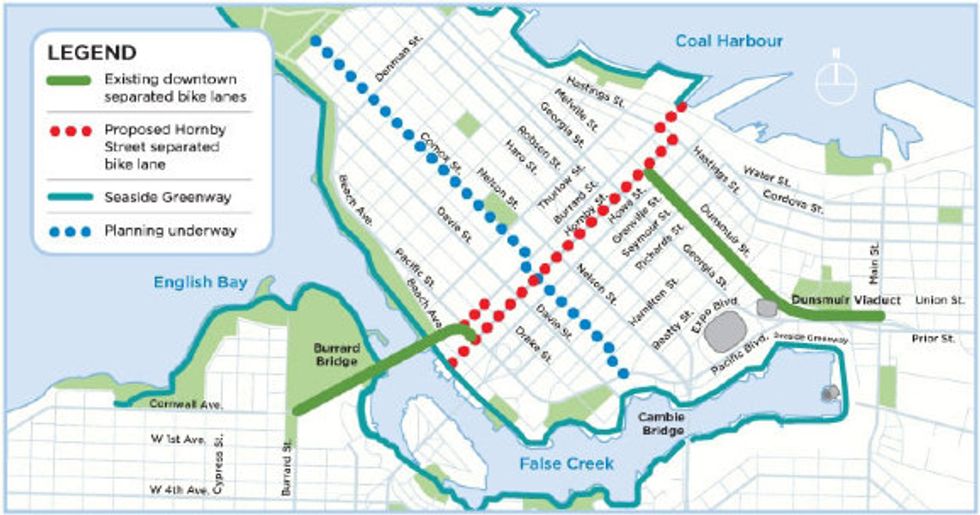 Some business owners
worry
that this will discourage people from driving downtown because of a perceived lack of parking, but bike traffic is
way up thanks to the existing bike lanes
. We'll see what they say in six months.
Thanks to GOOD reader David for the tip.