Articles
Victimless Fashion
Designer Rogan Gregory brought organic cotton to the fashion industry, and that isn't all he has up his sleeve.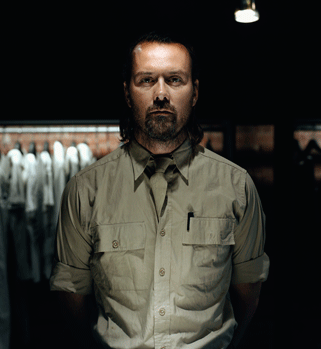 ---
It's more than
a little ironic that Rogan Gregory's New York studio is situated just around the corner from the cluttered discount malls and trinket peddlers of Chinatown's Canal Street. Especially considering that the fashion designer built his succession of socially conscious clothing lines-including Rogan, Loomstate, and Edun, the last of which he launched with Bono and his wife, Ali Hewson-upon the principle of avoiding excess. "We didn't start out as an eco-driven line, but had a foundation that was about not being wasteful," says Gregory of the mens- and womenswear collection that bears his name. "I'm kind of efficient by nature."Established in 2001, the eponymous Rogan line embodied the designer's cool, offhand street style and allowed him to channel his fascination with fabric. Its mission of eschewing excess soon led Gregory to investigate the feasibility of working with organic cotton. "It just seemed like the logical thing to do," says Gregory, 35, whose background includes turns at Levi's, Daryl K, and Calvin Klein. "We're concerned about the food we eat and where it comes from, and it should be the same with the clothes on our backs."
Quote:
We're concerned about the food we eat and where it comes from, and it should be the same with the clothes on our backs.
While sound standards are at the root of his enterprises, what has set Gregory's clothing apart from other organic fare is that ethics never replace aesthetics. Not surprisingly, it wasn't long before others caught on to the fact that organic doesn't need to mean a dowdy hemp vest. "Brands are constantly ripping off our ideas, so we thought, let's create a trend in organic," he says. "Let's give them something to knock off that we're happy when they do."This scheming, coupled with a desire for a more casual line of basic T-shirts and jeans, led to the creation of Loomstate in 2004. With the objective that every piece of cotton be totally organic, Gregory dealt with more than a few snags. "In the beginning, 95 percent of the mills weren't interested in organic," he explains. Fast-forward a few years, and large swaths of the fashion industry have adopted the trend of ethical consumption. "Now they're scrambling to get this organic thing figured out, which is pretty great."
And then came Bono and his better half, with an even more challenging idea. "With Loomstate, we had an alternative business model," says Gregory. Bono and Hewson "had no experience in the clothing industry, but wanted to do production in Africa. So they approached us about helping them with design and a sustainable platform for the line." Having solved the puzzle of making all-organic clothing, Gregory was well equipped for the challenge. Thus was formed Edun, a clothing line produced in factories in Africa, India, and South America that aims to foster trade with the developing world by providing jobs for workers in its clothing factories."Everyone is redefining sustainability," Gregory says, "and that's the really exciting part." In his attempt to help that redefinition, he continues work on his three main collections, as well as a growing list of side projects. There is Loomstate for Barneys Green, the spin-off line he designs exclusively for the retail store; the Rogan shop that opened last year in downtown Manhattan; and the furniture collection Rogan Objects, which he crafts from mostly found or recycled materials. And Gregory-who says he is "constantly looking to be more progressive"-shows no signs of slowing down.