Articles
We Spent Half a Million Dollars to Fly Planes to Fly Over the Super Bowl
The Navy spent almost $500,000 in taxpayer money to fly jets over this year's Super Bowl. It only took them three seconds.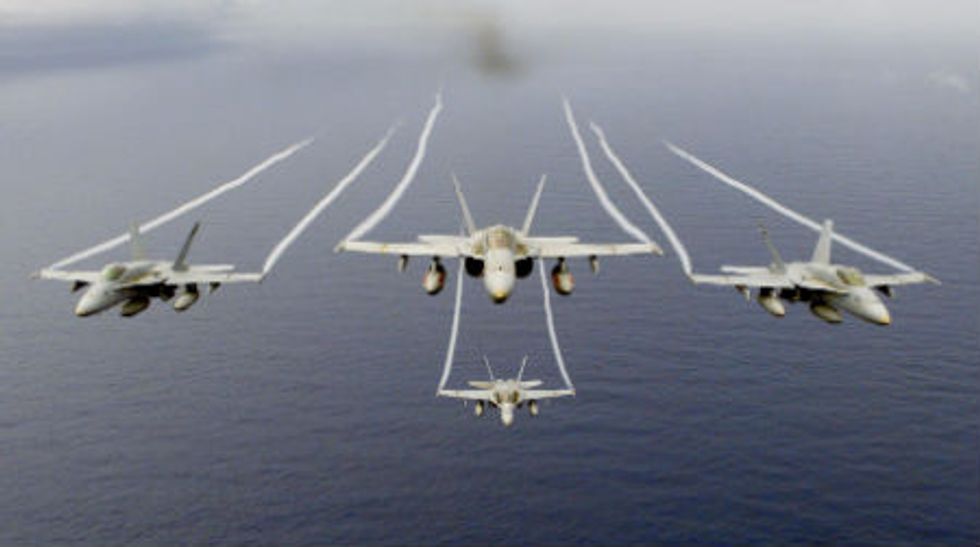 That's according to
an article today
from Sally Jenkins, a sports columnist for the
Washington Post
. Many Americans won't make $450,000 for a decade of full-time work. But that's how much taxpayer money the Navy was willing to spend in order to fly four F-18 jets over the Super Bowl on Sunday for less than five seconds:
For absurdity, how about those four Navy F-18s flying over the stadium – with its retractable roof closed? Everybody inside could only see the planes on the stadium's video screens. It was strictly a two-second beauty shot. Know what it cost taxpayers? I'll tell you: $450,000. (The Navy justifies the expense by saying it's good for recruiting.)

---

\n
Jenkins goes on to argue that the jets were just the tip of the iceberg in a Super Bowl that typified "fiscal insanity" more than any before it. Held in Dallas' Cowboys Stadium, where the cost to attend a game for a family of four is nearly $800, the game, says Jenkins, celebrated drunken excess in a time of unprecedented economic austerity for many Americans:
Everything you need to know about the future of the NFL could be seen in the gloriously decadent stadium that hosted this Super Bowl. As NFL Commissioner Roger Goodell pointed out, 'Quite frankly, that's our stage.' It was the cleanest, safest, nicest stadium anyone has ever visited. It was also the most extravagant and economically stratified. It cost double what Jerry Jones said it would, and taxpayers financed about a quarter of it, yet its innermost marble interiors are totally inaccessible to the average fan.

\n
Exacerbating all this indulgence is that, in order to make room for this year's Super Bowl (and the many before it), organizers made a concerted effort to rid the city of homeless people, who were threatened with arrest if they got in the way of the festivities.
photo (cc) via Flickr user pan.li75