Articles
What's Right With School Lunch: Oakland and Baltimore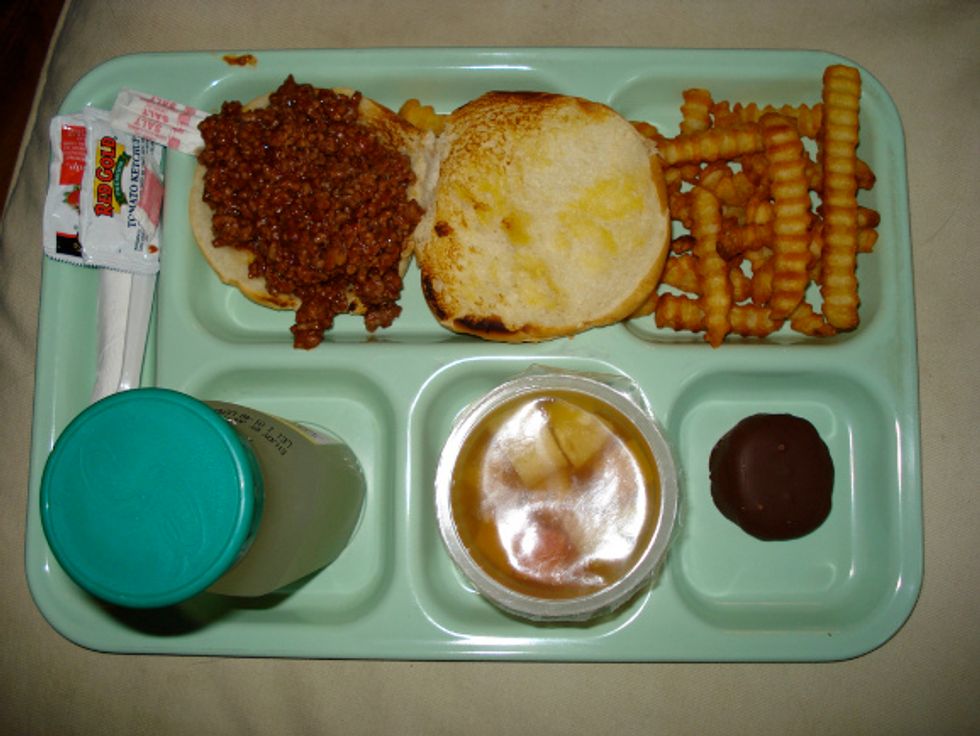 ---
How urban schools are leading the fight against obesity.
It's no secret that our country is struggling with childhood obesity. The growing waistlines of our nation's youth have become front-page news, and everyone from the first lady to the armed forces has something to say about it. Last month, a group of retired generals called school lunch a "national security threat," noting that 27 percent of all Americans between the ages of 17 and 24 are too fat to join the military.

Michelle Obama also feels that schools play a role in our nation's weight issues. In her recent childhood obesity guidelines, she recommended that food curricula and school-lunch standards be updated, noting that "the school nutrition environment can make a decisive difference in our children's behaviors and health."

Much of the burden to educate our nation's youth about diet falls on already strapped school systems. In Oakland, California, 70 percent of the student body is Hispanic or African-American—two populations that are disproportionately affected by the obesity epidemic. In addition, over 65 percent of Oakland Unified School District's 39,000 students qualify for free or reduced lunch, meaning they have few options but to eat what is offered in their school's cafeteria.

Faced with these daunting numbers, Oakland embarked on a program that would make many less stressed school systems envious. The district has revamped school lunch in all 85 of their elementary and middle schools, offering various programs, both during and after school, to teach children (and their parents) healthier habits. OUSD now provides fresh produce at every meal and has instituted a Meatless Monday, offering over 28,000 children a menu that "includes new and exciting entrees and side dishes, which feature milk, whole grains, and a wide variety of fruits and vegetables".

OUSD is committed to fostering healthier habits at home by hosting a weekly farmer's market and after-school cooking classes at some of their sites. By offering these additional programs, OUSD ensures that families have the skills and ingredients they need to utilize their new nutrition awareness.

Though remarkable, Oakland isn't the first instance of an urban school heading back to the farm. Starting in 2009, Baltimore City Public Schools introduced 85,000 students to a wide array of food education programs. Aside from changes to the lunch menu (including more local produce, "no-thank-you bites," and Meatless Mondays), BCSP now offers in-class nutrition lessons and trips to Great Kids Farm, a 33-acre teaching farm where students learn where their food comes from.

Based on the success of its previous programs, Baltimore is upping the ante: Food director Tony Geraci is now asking for a centralized kitchen in order to take school lunch—and nutrition education—to the next level. By having a central kitchen, Geraci could streamline production for over 200 cafeterias, offering healthier fare with "the funds already available for the purchase of food for school lunches."

In a recent article on Geraci's initiative, reporter Dan Rodricks brings up the valid point that these efforts extend beyond Baltimore, serving as a potential template for struggling schools nationwide. Geraci inherited a shattered system; BCPS's school lunch program had long been in the red, with almost 74 percent of its students qualifying for the free or reduced meals. Before Geraci's arrival, students had protested the lunches, noting that Salisbury steak stuck to their plates, the milk often needing to be thawed prior to consumption. If such radical, positive change is possible here, surely it can be replicated in other districts.

Oakland and Baltimore are two examples of what's right with school lunch. The ability of these districts to offer nutrition education and healthy fare despite fixed budgets, urban settings and tens of thousands of students shows that a school lunch revolution isn't far from our collective grasp. Now that the issue of child obesity is gaining ground in Washington, the time is right to take the lessons these schools have offered and apply them nationwide.

Photo (cc) via Flickr user markandblythe.

Tami O'Neill is the assistant editor for The Monday Campaigns, a nonprofit public health initiative. She currently lives, works, and blogs in New York City.