Articles
Susie Rogers and her rescue of an entertainment center wins our latest project, so we're sending her to the Compostmodern conference next month.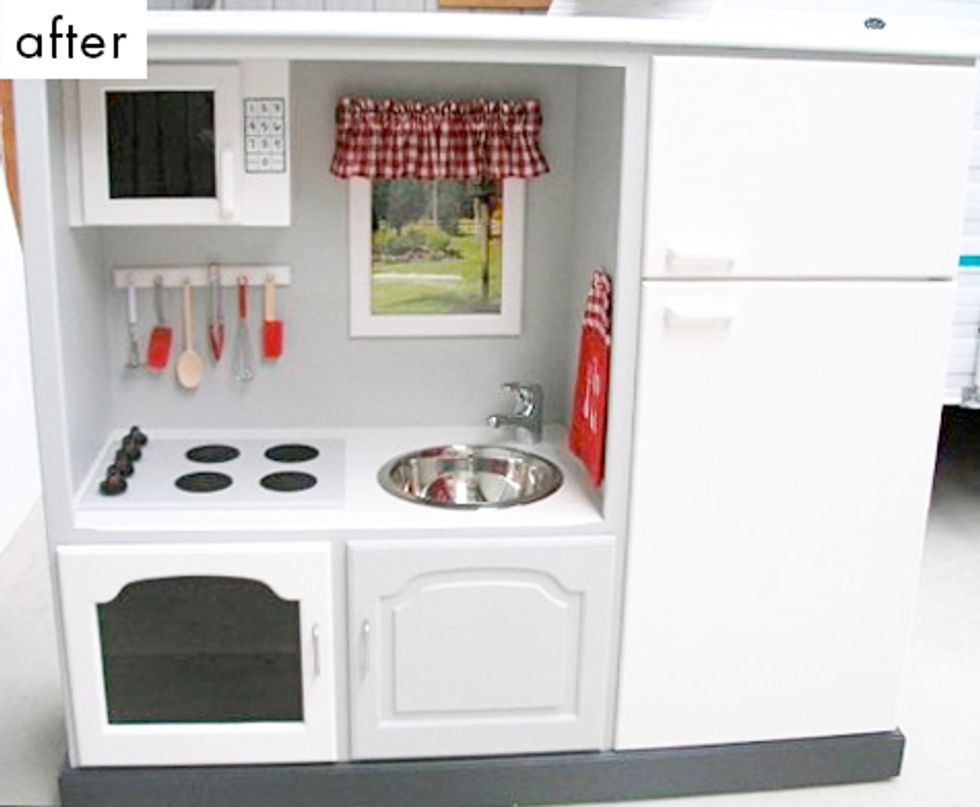 This month we asked the GOOD community to
design another use for an everyday object
. With so many
incredible entries
, it was tough to choose a winner but we managed to select one project that showed smart adaptive reuse, environmental concern, and some ingenious thinking.
The winner, as chosen by six judges, is the Kid's Kitchen Made from a Discarded Entertainment Center, by Susie Rogers, pictured above.
---
Judge Sarah Rich commented on why Rogers' idea was a winner. "There are so many disgustingly ugly entertainment centers cluttering up Salvation Armys and Goodwills and nobody wants them," she says, noting that she saw a similar kid's kitchen being sold at Pottery Barn. "I am definitely in favor of this over a Pottery Barn kid kitchen. Knowing that the Pottery Barn one is on the market makes this one all the more appealing."
Rogers will win two tickets to Compostmodern, the design and sustainability conference taking place January 22 and 23 in San Francisco.
We'd also like to give honorable mentions to The Fencepost Guitar Made from Sentimental Wood, by Jaime Campbell for using the tools left behind by his late father to start the craft guitar company The Creamery; and the Blindshine Lamp Made from Venetian Blinds by Christine Lupo, for a smart, striking design object that's easy for anyone to make.
Thanks to our judges, who included:

Valerie Casey, founder, Designers Accord
Alex Goldmark, business editor, GOOD
Dylan C. Lathrop, designer, GOOD
Rahul Raj, committee chair, Compostmodern
Sarah Rich, co-founder of Longshot Magazine and the Foodprint Project
Alissa Walker, contributing editor, GOOD







And thanks to everyone who took the time to save an object from the trash and send us the beautiful results. You can view our favorite submissions and the original post. We'll see you at Compostmodern on January 22 and 23. Remember, early bird ticket prices end on December 25!
GOOD is a media partner for Compostmodern, January 22 and 23 in San Francisco. We'll be posting more information and coverage of the event. Register now! Early bird prices are valid until December 25.