Articles
Your Reputation Precedes You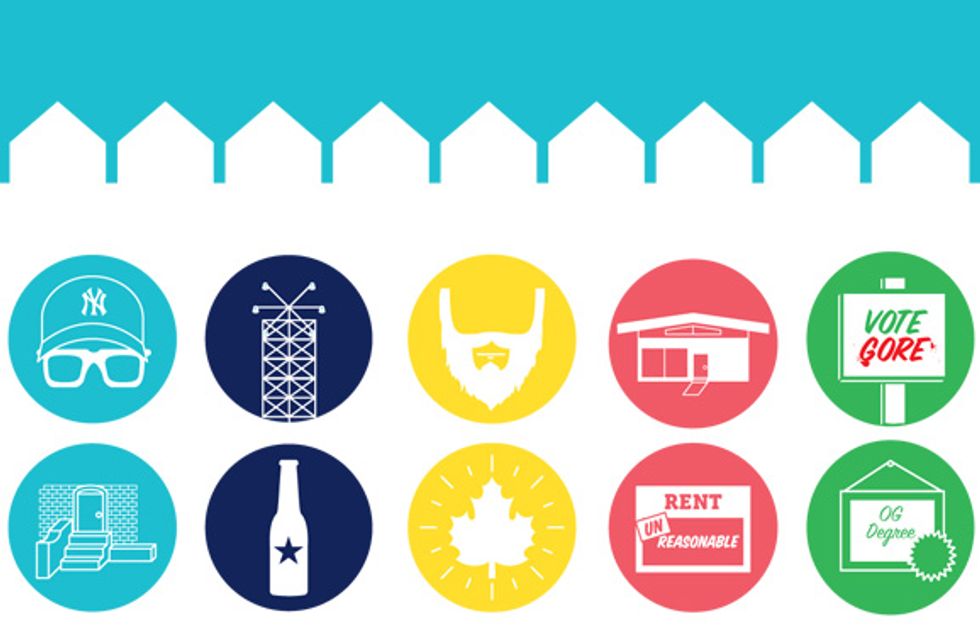 \n
Archetypes and stereotypes in a few of the nation's (in)famous neighborhoods.

---
\n



AKA Bed-Stuy



Archetypal Architecture Brownstones and stoops
Preferred Community Event Hanging out in front of brownstones and on stoops
Claim to Fame Spike Lee movies, hip-hop, more than a century of black culture
Notable Residents Biggie Smalls, GZA, Jay-Z, Mos Def, Mike Tyson
Kindred Spirit Hyde Park, Chicago

\n
AKA Williamsburg West
Archetypal Architecture Craftsmans, mid-century moderns, Spanish-style courtyards, strip malls
Preferred Community Event Days at the dog park, drinking wine out of plastic cups, counting ever-increasing number of strollers
Claim to Fame Indie rock, gentrification, formerly affordable rents
Notable Residents Beck, Jenny Lewis, Ryan Gosling
Kindred Spirit Williamsburg, Brooklyn (but really Park Slope, what with all the strollers)



\n
AKA SoCo
Archetypal Architecture
Moon towers
\n
Preferred Community Event
Drinking Lone Stars, anything involving music
\n
Claim to Fame Weirdness, prevalence of independent businesses
Notable Residents Mike Judge, Richard Linklater, Robert Rodriguez (er, at least in Austin)
Kindred Spirit Downtown Omaha, Nebraska; Whittier, Minneapolis, Minnesota

\n
AKA The bum capital of New England
Archetypal Architecture Colonials. Greek Revivals, old buildings made of bricks
Preferred Community Event Outdoor chess, subversive politics, telling people you went to college "in Boston"
Claim to Fame The nation's original college town
Notable Residents A host of presidents from Adams to Obama, musicians from Yo-Yo Ma to Tom Morello, writers from T. S. Eliot to William Burroughs
Kindred Spirit Telegraph Avenue, Berkeley (and, perhaps, aspects of North Berkeley's Gourmet Ghetto)

\n
AKA South End
Archetypal Architecture Cape Cods, foursquares, stone bungalows, lots of porches
Preferred Community Event Appreciating nature
Claim to Fame Beards, color-changing leaves
Notable Residents Ted Bundy, Howard Dean (or, the Five Sisters environs)
Kindred Spirit
Whitaker, Eugene, Oregon; all of Boulder, Colorado
This article first appeared in GOOD Issue 19: The Neighborhoods Issue. You can read more from the issue here, or find out what it's all about by reading the issue introduction.
\n