Articles
The community school model connects students, parents, and outside resources to ensure students excel.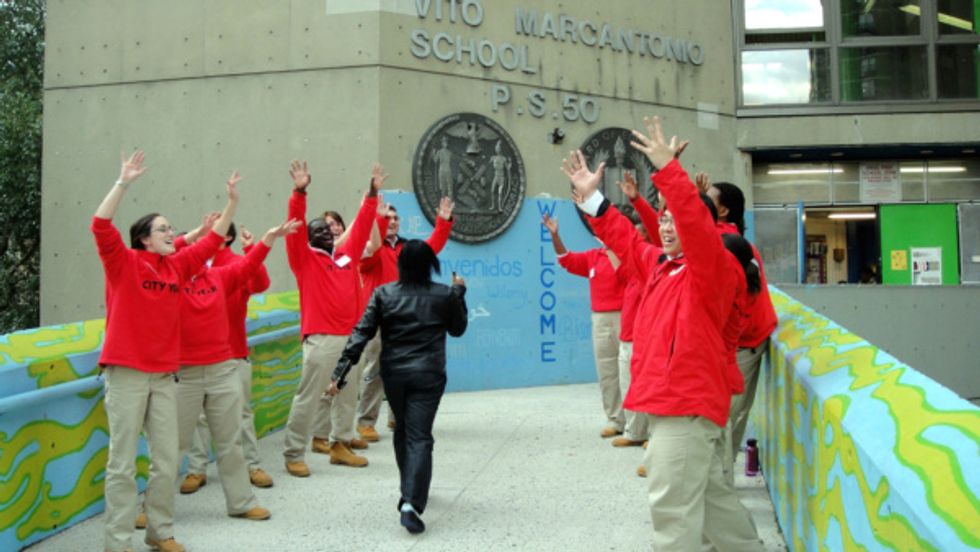 In our A City Education series, two City Year corps members share their experiences working as tutors and mentors in schools in hopes of closing the achievement gap and ending the dropout crisis.
For our most recent City Year New York community meeting—a gathering of all 254 corps members in the city—I was asked to share what motivated me to join City Year. I told my peers I joined because I thrive in a community environment where a shared goal and vision become a catalyst for action. One of the principles that City Year corps members look to for guidance and perspective is Ubuntu, a shortened version of a Zulu proverb that means, "I am a person through other people. My humanity is tied to yours."
---
But I admit that when I first started serving at P.S. 50, a kindergarten through eighth grade school in East Harlem, I worried about how well an external organization like City Year would be able to really integrate into the school community. In the three months I've served at P.S. 50, I've learned that it's possible to effectively connect students, parents, and community resources to ensure students excel.
My school is one of more than 20 Children's Aid Society community schools in New York City. Through partnerships with local organizations like City Year, each CAS school works to be a community hub that provides academic, health, and family services. Families look to CAS to provide resources—clothes, school necessities, and groceries—and teachers at P.S. 50 reach out to CAS for classroom supplies. CAS even runs an on-site medical office so students can get physicals without having to leave school, which helps students avoid absences.
Through the CAS after-school program, I help fifth grade students on their homework, run enrichment activities, and facilitate service learning programs. This has enabled me to build relationships with students who I may not otherwise see during the day. City Year corps members are also able to partner with the CAS staff on events like our Fall Field Day, school dances, and our upcoming Thanksgiving parent engagement event. Now I understand why studies of community schools have found increased reading and math test scores, improved school attendance and improved behavior in students.
Though the model is new, support for community schools is growing. In 2009, Secretary of Education Arne Duncan expressed his support, saying, "Where schools truly become the centers of the community, great things happen." Just last month, the New York Immigration Coalition plan, an effort to engage immigrant parents whose children attend New York City public schools, highlighted the importance of involving the entire family in a child's education. The New York Times' coverage of this announcement explored the trend of schools using public and private collaboration to benefit families.
Serving with City Year in a community school, I am reminded every day of Ubuntu as I experience firsthand a model that illustrates the importance of connecting our humanity to those inside the school and in the community. I have no doubt that helping students succeed requires a community effort, and I'm looking forward to seeing the results of our shared vision and collective action.
Photo courtesy of City Year